Retool is an incredible tool for building internal tools fast without needing to know a lot of code to operate it. But that doesn't mean it's the perfect tool for your business.
We've prepared a complete analysis of the best alternatives to Retool and its competitors for you to choose from. After reading it, you'll not only understand the differences between these internal tool builders but also know which one is the best option for your current situation — so let's begin.
Table of Contents
Overview of Retool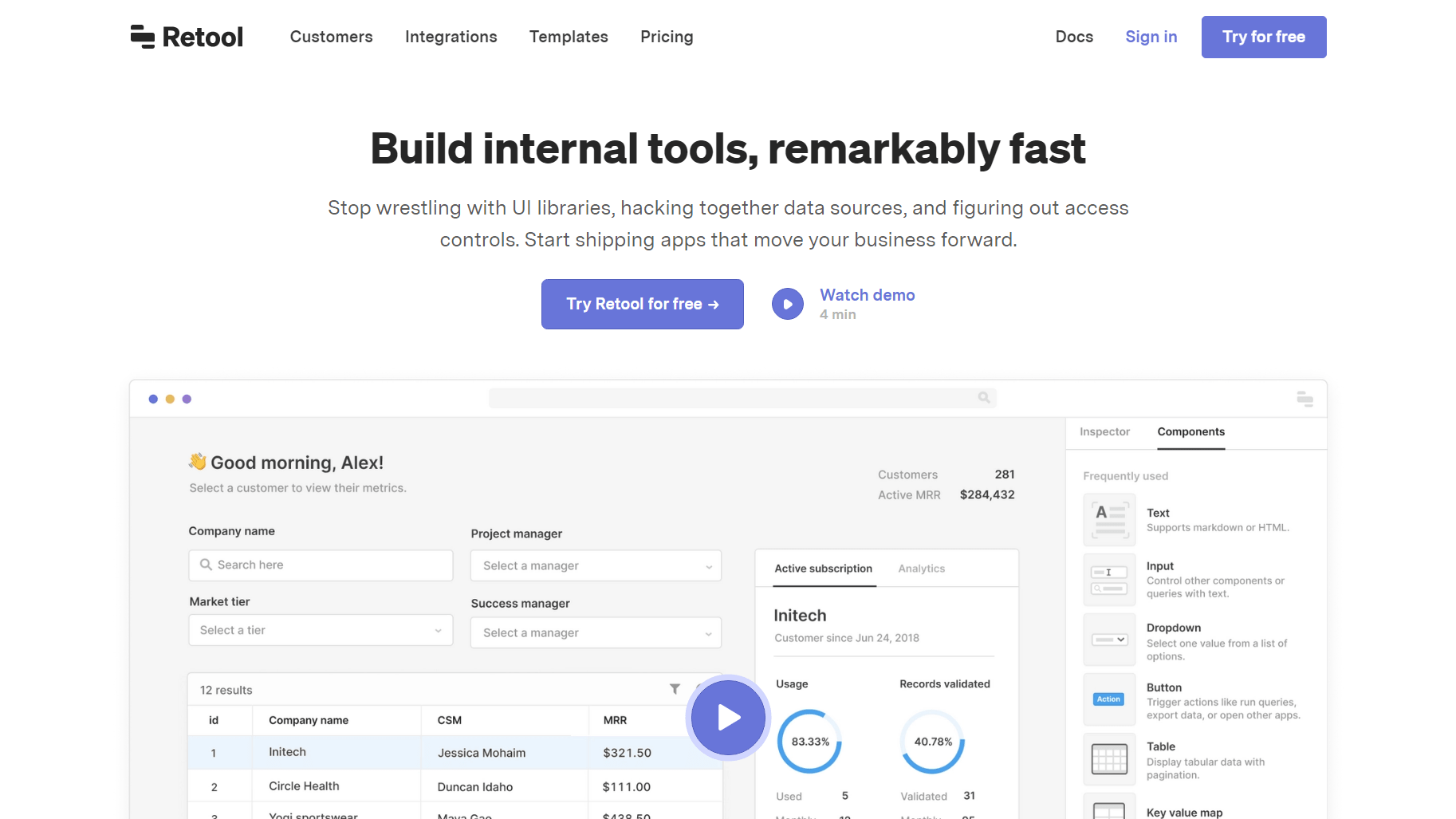 As they state on their website, Retool lets you build internal tools remarkably fast.
Retool is a low-code platform that helps startups and Fortune 500 companies create internal tools for their teams. Within the platform's editor, you can combine:
Tables
Lists
Charts
Forms
Wizards
Maps
And more out of the box.
They enable you to connect with many databases or pretty much anything with REST, GraphQL, or gRPC APIs.
Retool is best for IT departments and engineers, developers with a strong understanding of crucial databases such as SQL.
Once the internal engineers/IT team develop the internal tool, they simply launch it and share it with their non-technical colleagues, usually project managers, customer support teams, operations managers, and others, where they use the tool in "user mode."
Retool's advantages
Intuitive UI builder
A wide range of building blocks
Highly hackable - can write custom code in it
Many integrations with both databases but also APIs
Plenty of documentation
They offer a free plan
They have an engaged community of users who are supportive and offer help and suggestions.
Retool's shortcomings
Since they're low-code, in all cases, you will need someone that codes on your team in order to fully utilize Retool's potential and create the tools you need.
They have a limited free plan compared to our alternatives on this list. They allow you to play around with their editor toolkit but restrict you from sharing your designs or going public with your internal tools.
The UI palette might be ok for many internal teams. However, for cases like B2B portals, this might lack the richness and smoothness that is necessary for external users.
BI-wise, Retool is not the most suitable option. If you're reading only from your database and are looking for aggregate statistics you should probably be using Periscope, Looker, or Metabase.
Retool's pricing plans
Retool has four plans along with separate tiers for the self-hosted version.
The Free plan allows developers to try and test Retool for as long as they need to. It has all the DB and API integrations included, however, it's restricted to only builder-mode. With the Team plan, you now can use it in user-mode which allows you to create real production apps for a reasonable price. Scaling up to the Business plan, it's all about control: you'll now get a permission management system for access control, as well as audit logs and the ability to embed custom components. And the Enterprise plan, that's aimed particularly at enterprises where security, management, deployment, and priority support are needed to operate on a larger scale.
Who is Retool for?
At the end of the day, we think that Retool is not the right solution for you if you lack engineers or a developed IT department. By the same token, if you have plenty of developers who are comfortable with JavaScript and SQL, it might be a good fit for you.
Jet Admin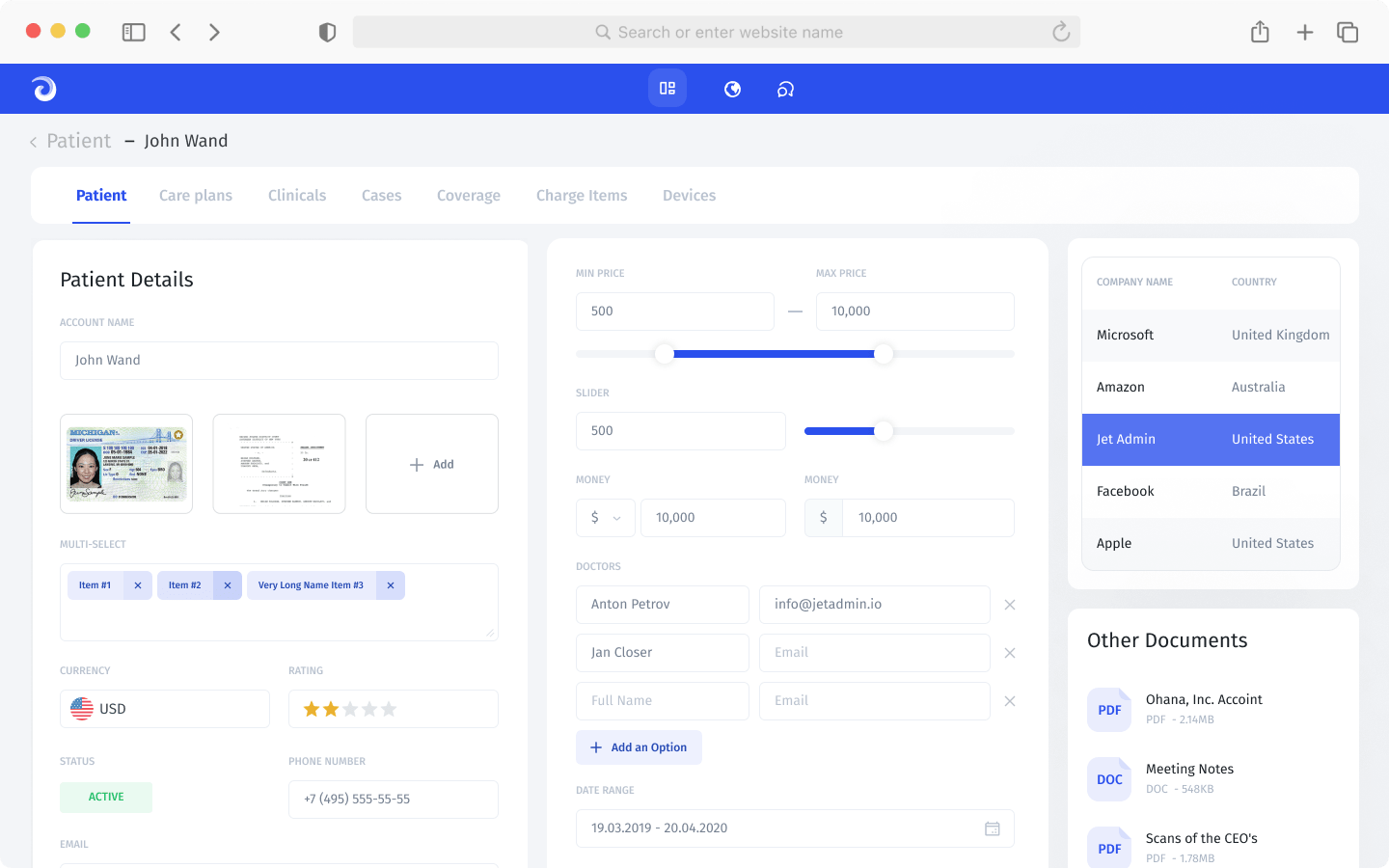 Jet Admin is a no-code business app builder that allows teams to build internal tools and client portals.
It enables you to build anything from a simple CRM to a complex Support tool with ease. A simple drag-and-drop interface allows you to assemble building blocks and build custom-tailored, powerful apps.
With a massive focus on managing all of your data from multiple sources in one place, Jet Admin offers plenty of data integration options from PostgreSQL, MySQL, and FireBase to Google Sheets, Sendgrid, Slack, Intercom, and Hubspot, entirely depending on your requirements.
They can also help you automate your workflow with tasks like sending an email to a user when their order status changes or when a payment goes through.
Advantages of Jet Admin
Intuitive UI builder: WYSIWYG
No-code business logic builder
CRUD out of the box
Special pricing for external portals
Lots of integrations: both databases and APIs
Written docs, guides, as well as Youtube video library
Free forever plan and a 14-day tailored onboarding program
Option to use JavaScript to create custom computed columns, and JavaScript as well as HTML/CSS to create custom components
Jet Admin's shortcomings
There's no MongoDB integration at the moment
There's no Git versioning at the moment
The same as with Retool, it's not suited for complex BI cases
Jet Admin's pricing
There are four plans for Internal Tools and five plans for External Portals. As we're focusing on the former in this article, will cover only that here.
First goes the Free-forever plan, which allows one user to use it in a user mode and create custom SQL and HTTP queries. The Starter plan provides granular field-level permissions and environments. The Pro plan is about customization - you have a white-label product for your branding needs, and you can create and embed custom UI building blocks. Finally, the Enterprise plan will allow larger organizations to reap the benefits of SSO, with on-premise deployment, and a personal solution manager.
Similarities between Jet Admin and Retool
Drag-and-drop UI visual builder for both
Both are suited for complex cases like custom CRMs
Both have free forever plans
Both have pre-made templates
Both have an extensive library of UI components
Both have plenty of DB and API Integrations
Key differences between Jet Admin and Retool
Jet Admin is a no-code solution at its core with the option to switch to low-code. It's built for those who want to free up their developer resources and allow non-tech or semi-tech people to handle internal tooling. On the other hand, Retool is primarily built for developers by developers and requires SQL and Java Script to get off the ground
Retool has Git version control unlike Jet Admin
Unlike Jet Admin, Retool doesn't have a hybrid deployment option – the deployment method that provides the same level of data security as on-premise but has more flexibility in terms of maintenance and updates
Jet Admin comes with the option to build external portals without paying a fortune for it. In Retool, you'll have to pay a minimum of 10 usd per external user
Conclusion
If you've used Retool before and loved the capabilities but found you still rely too much on your tech-savvy colleagues in order to make quick changes, then Jet Admin could be a perfect switch for you. If dev resources are not a problem for you, and you want the maximum flexibility possible, stick to Retool.
Bubble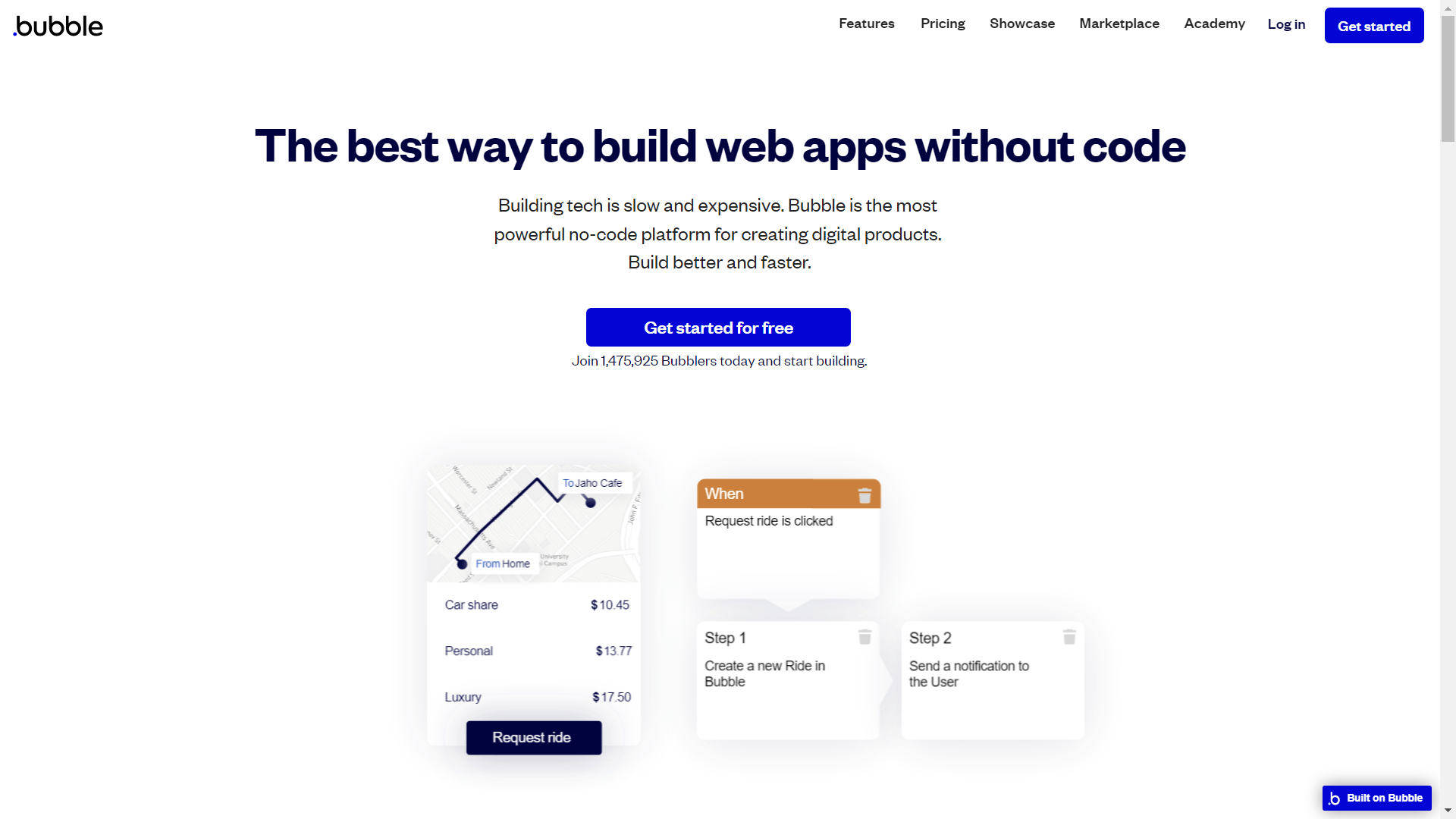 Bubble lets you create interactive applications for desktop and mobile, potentially as complex as Facebook or Airbnb, as Bubble also handles deployment and hosting with no hard limits on the number of users, traffic volume, or data storage.
Advantages of Bubble
Pixel-prefect UI builder with great customization capabilities
A large community of builders active both on Youtube and their forums
No-code; thus, no need for engineers or developers
Has a network of experts to build your app for a fee
Large database of plugins to extend the apps
Hundreds of templates for free and for purchase by third-party creators.
Bubble's shortcomings
Steep learning curve
Many common UI building blocks can only be obtained as add-ons
No direct integrations with databases and APIs, only through plugins
Only cloud deployment
Bubble's pricing model
There are four plans including a Free plan. The pricing is based on the usage, not the number of users.
On the Free plan, you can test the platform with limited functionality, with only the editor mode enabled, thus any sort of sharing with the end-user would not be possible. The Personal plan provides a bit more flexibility with an enabled live version, branding, and API integrations. The Professional plan will be a good fit for SMBs with versioning and increased server capacity. Finally, the Production plan has a significant increase in numbers for features like the number of versions, server capacity, and the number of editors.
Similarities between Bubble and Retool
Both are drag-and-drop app builders with a library of pre-built components
Both offer a free plan
Both allow for version control and allow for restoring past changes
Both have large communities with lots of resources
Core differences between Bubble and Retool
Retool is built for developers; thus, someone on your team needs to know code to utilize its capabilities and develop the internal tool. In Bubble, anyone who's willing to put in the work can build apps.
Retool is not designed for building public apps, while Bubble has all the functionality to support end-user public applications.
Retool allows you to build internal tools with a big emphasis on connecting your databases and APIs all in one place. On the other hand, if you need a simple hosted backend for your project, Bubble lets you connect and launch your app without touching code.
The templates both competitors offer differ in nature with Retool going laser-focus on internal apps like admin panels or inventory management systems and Bubble having a broader focus on marketplace, portal, and other web app templates.
Conclusion
If you are looking for a Retool alternative that doesn't focus mainly on data drill-downs and CRUD, Bubble might be an excellent solution to jump-start your idea as a prototyping tool without the need to know how to write code.
Internal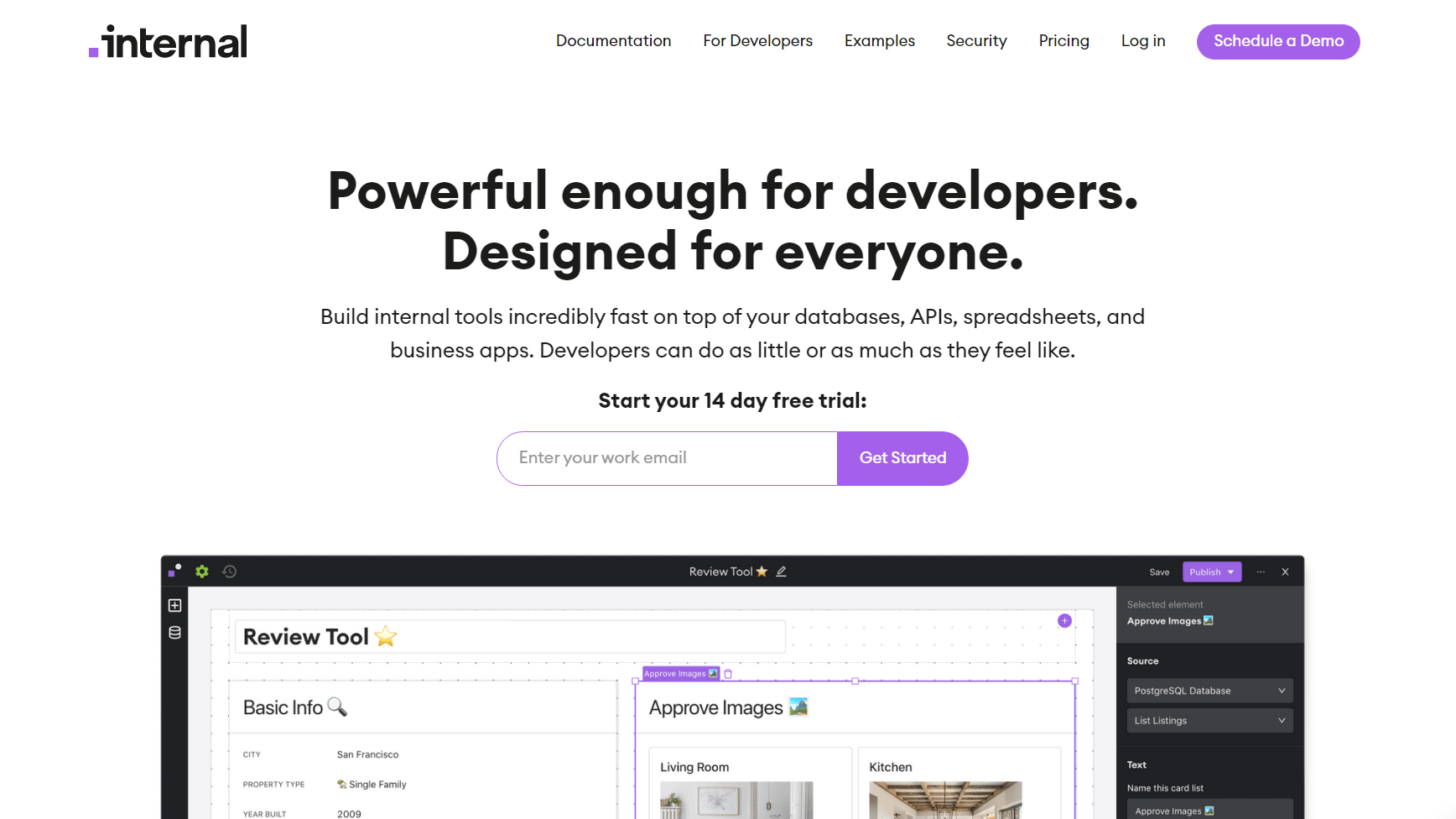 Internal is yet another tool similar in functionality to Retool and JetAdmin, with a core focus on allowing developers to do as much or as little as they need.
Advantages of Internal
Extensive UI building block library
CRUD functions out-of-the-box
Ability to add multiple sources of data into a single tool.
Thorough documentation
SOC II certified
Internal's shortcomings
Modest UI building block library
Very limited pool of 3rd party and API integrations
Gated application - you need to go through an approval before using it
You can't create and embed your own custom components
No templates
Internal's pricing model
Internal offers four plans that are based on the number of total users.
Like many on our list, they offer a free Starter plan, however, there's a limitation of 3 data sources maximum. Essentials plan allows for 2 APIs to integrate and, surprisingly enough, the same 3 core data sources. Also, environment and versioning become available. The next plan is the Growth Plan, which doesn't differ much from the previous one, just offering a greater number of integrations. Finally, the Enterprise plan offers the full package including onboarding and training.
Similarities between Internal and Retool
Drag-and-drop interface for building your internal tool
Both have free plans
Both allow for multiple database and API integrations
Both provide an on-premise deployment option
Core differences between Internal and Retool
Internal is primarily a no-code builder, allowing to implement certain pieces of in-app logic without code.
Retool has a decent templates library, while Internal doesn't.
It takes more effort to start testing things with Internal as they require you to submit a real work email address, unlike Retool, where you can just sign-up and start the testing.
Retool provides a community and a library of videos to learn, while Internal has only documentation.
Conclusion
Both Internal and Retool are focused only on internal applications and are quite similar in many ways. Having a bit smaller number of integrations available than Retool, Internal makes up for it by providing a no-code platform for non-tech builders to build and manage internal tools with ease.
Appsmith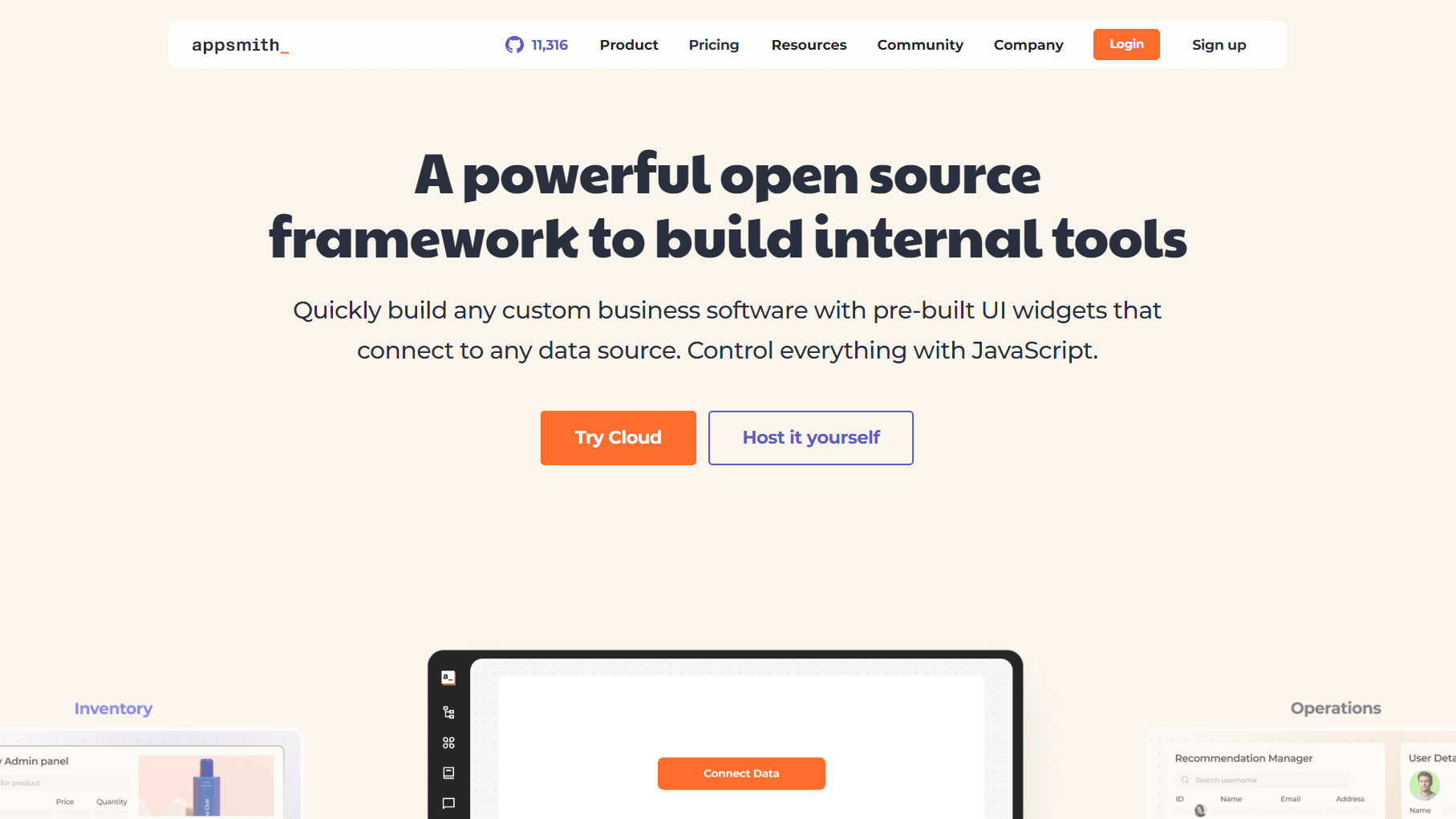 Appsmith is a great open-source alternative to Retool. So if you're not a stranger to GitHub, you should consider it as your main choice.
Advantages of Appsmith
Open Source
Big Github community
Robust UI builder
Unlimited number of users
Self-host Appsmith on any plan
Appsmith shortcomings
Requires developers to build (though it's built for them)
A modest set of data source integrations
Currently, there is no option to move apps from a cloud-hosted version to a self-hosted version. But if you contact them, they should be able to do it manually.
Some important UI building blocks, like charts, are missing.
Appsmith's pricing model
They don't have a pricing model per se. They only charge for enterprise-grade features like:
SSO
Audit logs
Custom theming
Custom domain
And other features
Similarities between Appsmith and Retool
Drag-and-drop UI building functionality
Build on your existing data sources and business logic
Integration of multiple data sources in one place
Both are low-code solutions
Core Differences between Appsmith and ReTool
Retool is a bit more extendable, offering a Java Script option pretty much anywhere with Appsmith having a JS editor only in beta.
On the other hand, Appsmith is free for most users, unlike Retool which gets pricy quickly as you scale in a number of users
Appsmith's model is open-source, while Retool's is SaaS
Conclusion
If you don't have any fancy integrations, you might want to switch to Appsmith to further reduce cost, enjoy the open-source benefits, and not be limited to any number of internal tool builders and end-users.

Forest Admin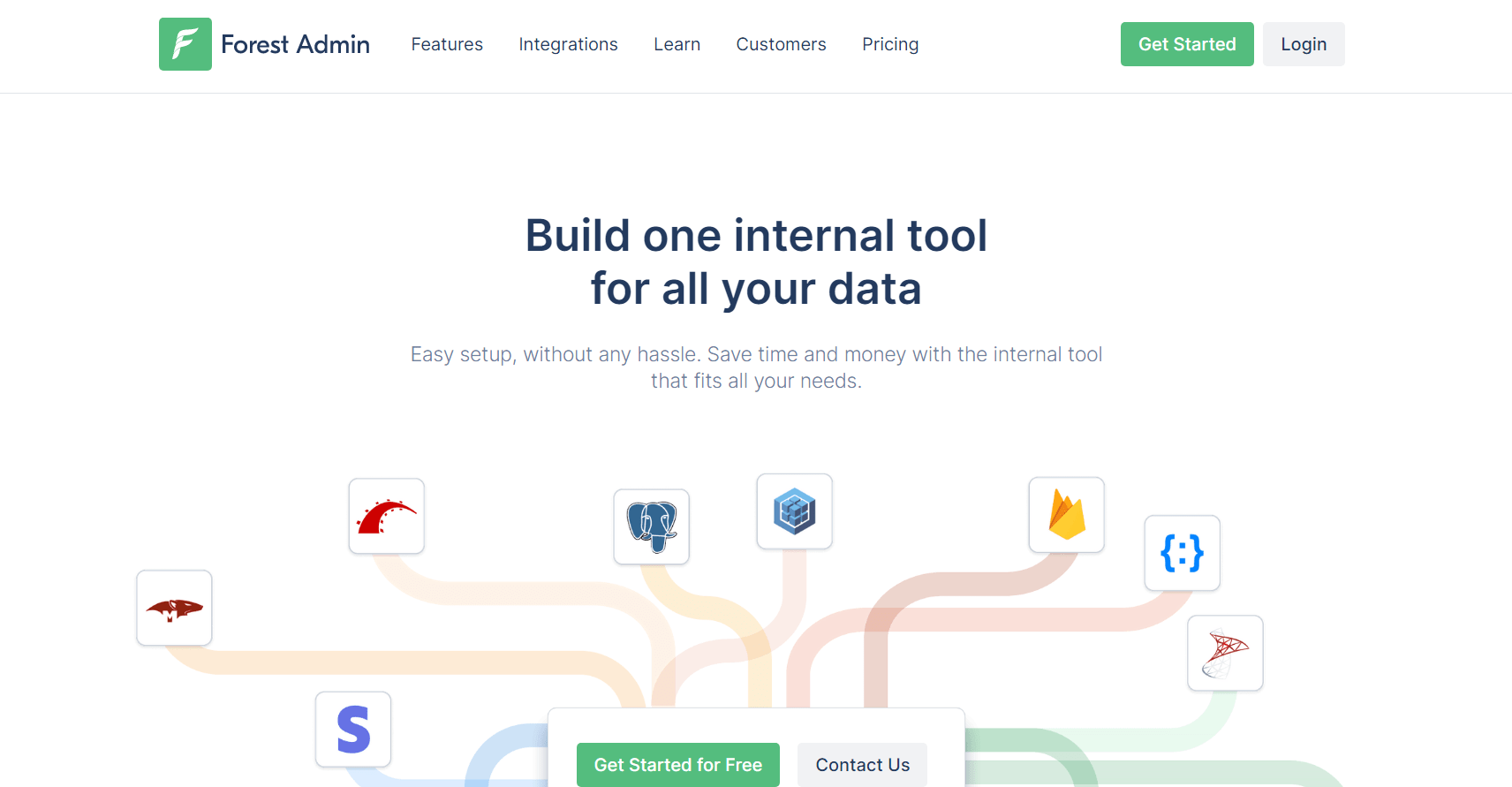 Launched in 2016, French startup Forest Admin has now become an admin panel framework for creating functional admin panels and internal tools.
Forest Admin's advantages
Out of the box Admin Panel
Familiar framework for Ruby developers
Hybrid deployment option
Suited for external portals
Create custom components inside Forest  Admin
ForestAdmin's shortcomings and problems
No templates
Limited UI customization
A very limited set of integrations
You must deploy Forest Admin before using it
Requires coding and deploying on many steps
No mobile views
Forest Admin's pricing model
The pricing model revolves around users, with four pricing tiers in total.
The Free plan goes with just one user, it's very similar to what you get from the rest of the list. The Team plan will not provide any additional features except email support. A substantial jump in the number of supported features happens within the Plus plan with an array of data privacy features and the white label. And the Enterprise plan delivers everything that all the previous plans include, as well as additional features like SLA and incident recovery.
Similarities between Retool and Forest Admin
Both Forest Admin and Retool are low-code solutions, with the former requiring significant deployment and backend expertise to get going.
Both provide granular permission management system
Both offer well-written documentation
Core differences between Retool and Forest Admin
Product-wise, Forest Admin focuses mostly on admin panels while with Retool you can create custom support tools, dashboards, approval flows, etc.
ForestAdmin is more of a framework for developers, compared to Retool which offers a standalone browser application
ForestAdmin has hybrid deployment while Retool offers only cloud and on-premise deployment options.
Forest Admin requires JavaScript + Node.js, while Retool focuses on JavaScript + SQL when building internal tools
Forest Admin offers a limited drag & drop UI building functionality - you'll have to code if you want to make custom views.
Conclusion
ForestAdmin is a well-designed dev framework for Node.js developers that want to start focusing on bringing results as opposed to wasting time building their admin panels, maintaining them, managing permissions, and never-ending optimization.
The Bottom Line
So we've analyzed 5 best Retool alternatives and here's the wrap-up:
FAQs
What is Retool?
Retool is a low-code development framework that allows developers to build business apps like admin panels, support apps, dashboards, etc. much faster compared to in-house development.
What is Retool used for?
Retool is typically used for creating different internal tools, front-office and back-office applications by citizen developers. Retool is great for apps where it's required to drill down into data and interact with it.
What is Retool not suited for?
Retool is not for building BI tools or complex analytics solutions. Retool is also not suited well for no-code building as it requires SQL and JavaScript knowledge.
Would you like to compare Jet with other tools?
No-code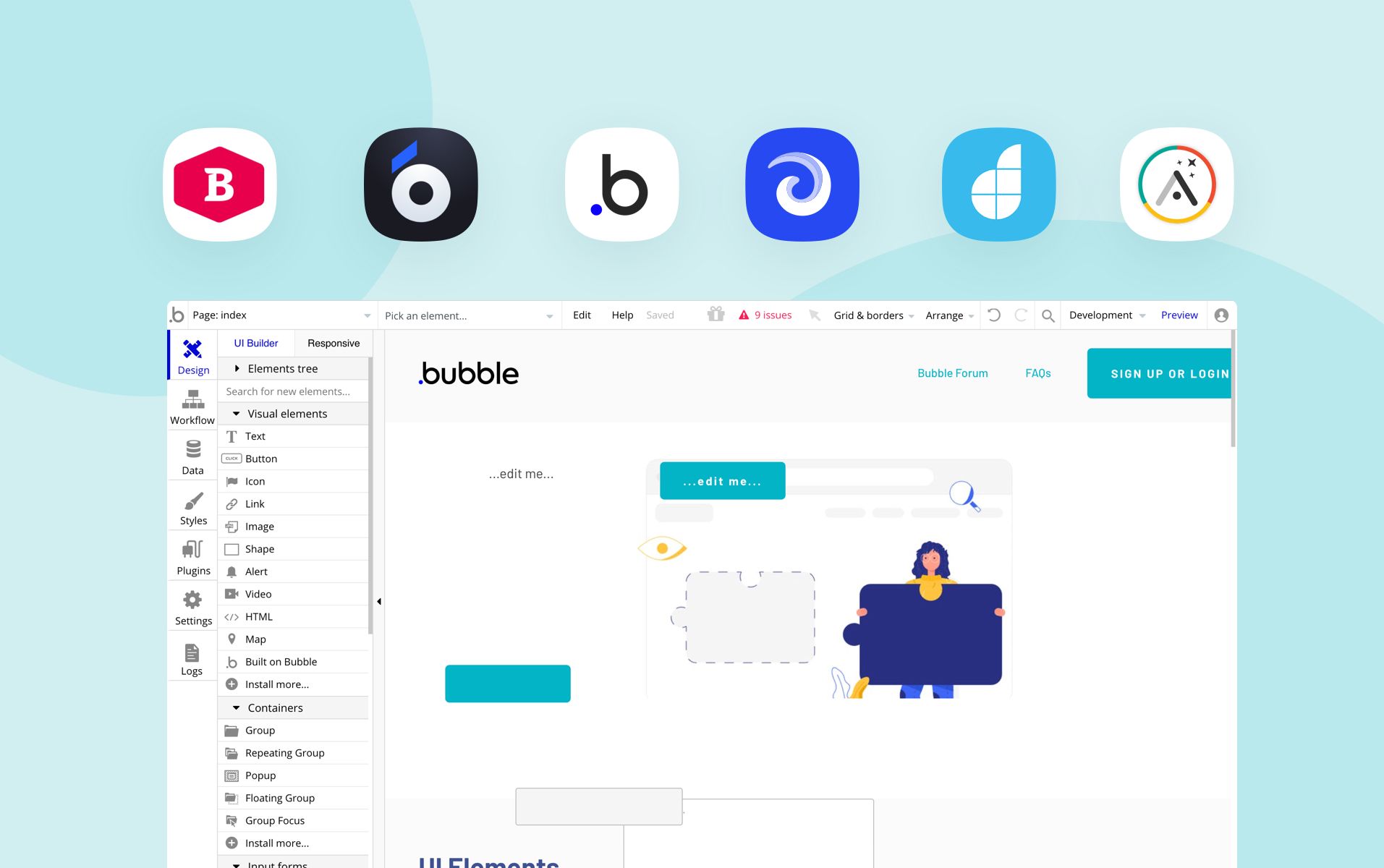 Admin Panel