If you are looking for an efficient tool that can help you build web apps without code and software developers, Bubble is usually the answer. However, like many tools, it has its pros and cons. In other words, it's not the best and the most powerful tool out there on the market. Luckily, we've done extensive research to find out what other similar tools there are which will help you overcome challenges and meet various requirements of your business.
At the end of the article, you'll have a clear insight into each tool, its features, capabilities, advantages, and disadvantages. What's more important, you'll discover the best app that will perfectly meet your needs.
Let's dive right in!
Bubble alternatives we've thoroughly analyzed are:
JetAdmin
BettyBlocks
UI Bakery
DronaHQ
Adalo

Before we cover these tools in detail, let's first take a look at Bubble.
Bubble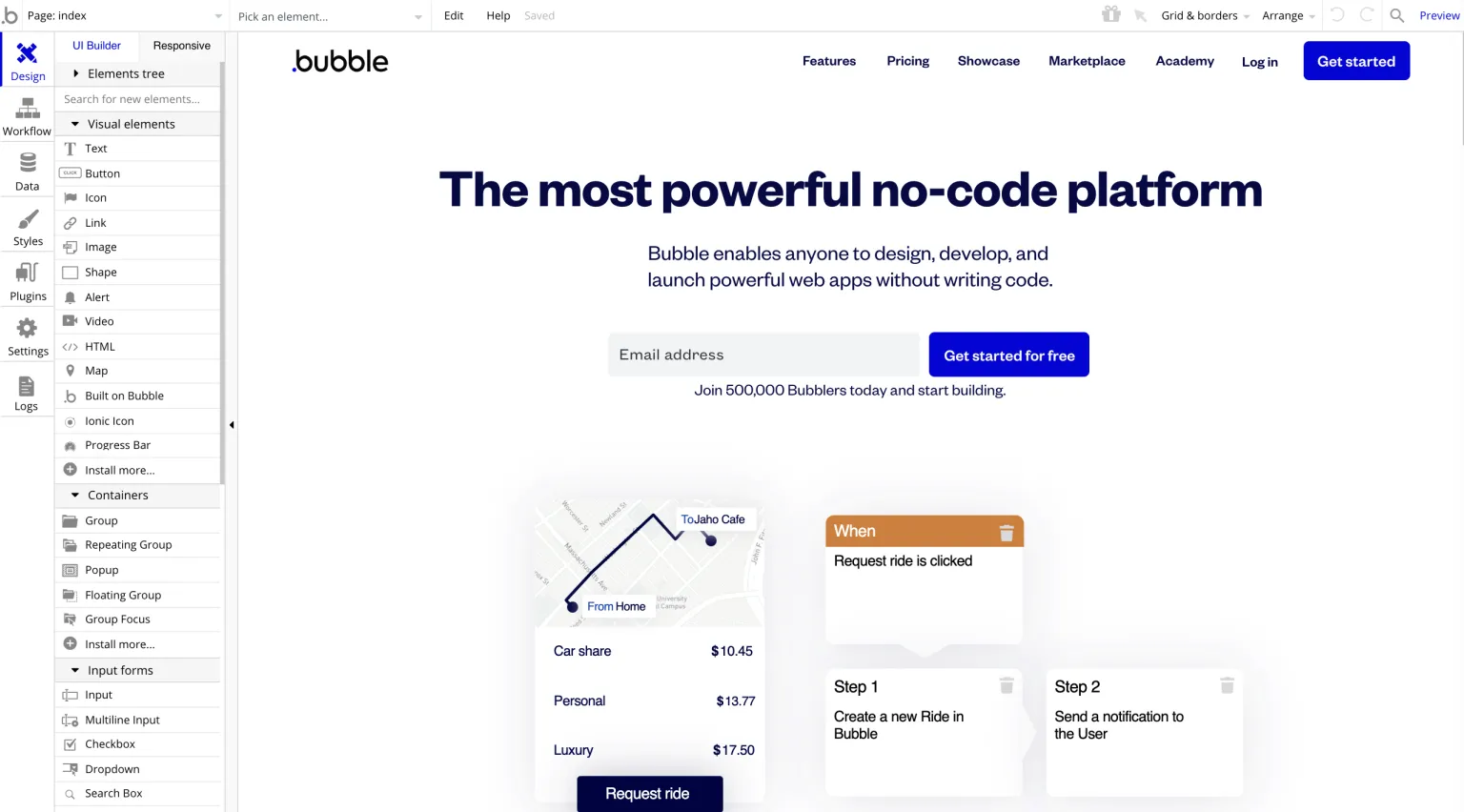 Bubble lets you develop apps, without prior coding knowledge, which includes everything from development and interface design to publishing. It makes the process much easier as it integrates all of the tools you need to build a fully-functioning website. It has a drag-and-drop functionality allowing you to have complete control over customization. With the Bubble platform, you can create a variety of apps, including progressive web apps, and if you don't have a specific feature you can integrate with third-party apps quickly and easily. To see some Bubble app examples, take a look at this showcase of websites built with Bubble.

Pros
Extensive library of plugins
Excellent for beginners
Numerous templates available
Enables using data outside of the platform
Quick app development

Cons
You'll be needing a designer to create an interface for your Bubble apps. Yes, you can use templates, but every time you need to change something or update it, you'll need a designer to make it look slick.
Long learning curve. It takes plenty of time to learn how to build apps, and when your company is growing fast, you'll be hiring Bubble developers to support your app, which isn't everyone's first choice.
Very slow performance
A lack of special game-creation tools
Data import/export does not come with a free version
No custom animation scripts
Bubble isn't the perfect solution for building enterprise apps and for businesses that rely heavily on sensitive data like fintech, healthcare, and so on.
Don't support: RCI DSS and HIPPA compliance
Not supported business components: Tables, Kanban, Timeline, Charts

Bubble.io pricing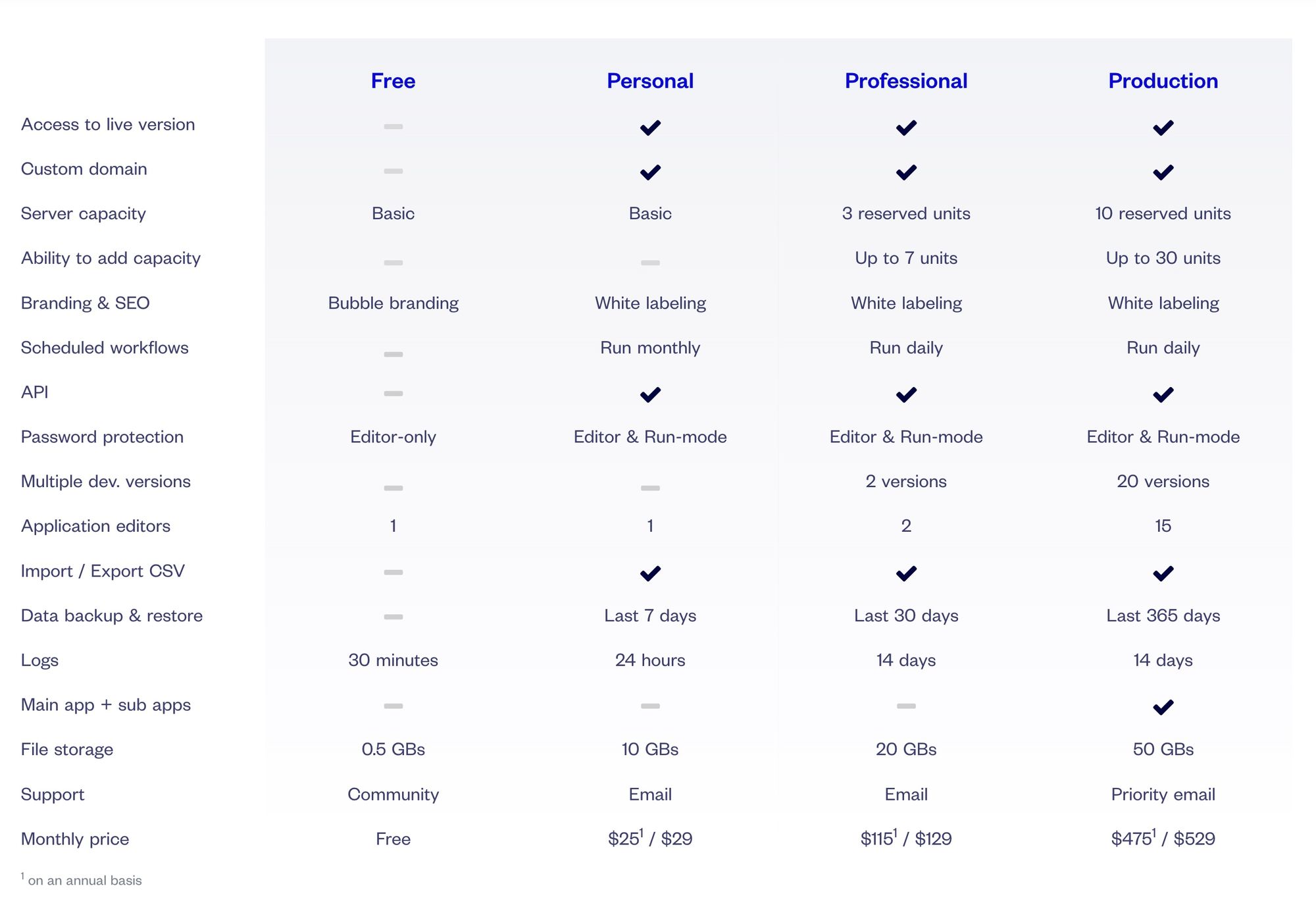 Hobby:
This package is free allowing you to use core platform features, Bubble branding and community support. However, this will only give you a taste of how the tool works. You would have to pay to really experience how the tool works.

Personal:
This package allows you to import and export as CSV, provide email support, and much more.

Professional:
This package allows you to use 3 units of server capacity as well as 2 application editors. It also gives you an opportunity to use 2 development versions and much more. This package allows you to manage Bubble app scale by adding server capacity.

Production:
This package allows you to use 10 units of server capacity (with the option to increase) and 15 application editors. By getting this package you are also able to get 20 development versions and much more. There is also the ability to use main apps  + sub-apps as well as 2-factor authentication that are exclusive for this package.

If you're someone who is not savvy with writing code, then a Bubble app might be a good solution for you in order to get a running prototype of your initial idea.
JetAdmin – Bubble No-code Alternative for creating internal tools without help from a designer
JetAdmin is a no-code app builder that enables users to create internal tools without engineers and designers efforts .

While JetAdmin doesn't have the same functionality or the same goals as Bubble, it focuses on helping you build apps for your teams and partners/clients.
If that's something that you recognize could make your team's lives easier, then we recommend you give it a shot!

JetAdmin allows users to build a whole range of apps ranging from CRMs, 360 views of your customers, onboarding tools to more complex examples with great ease. Its intuitive user interface enables users to connect different blocks and build custom apps using a drag-and-drop interface with small intuitive effort.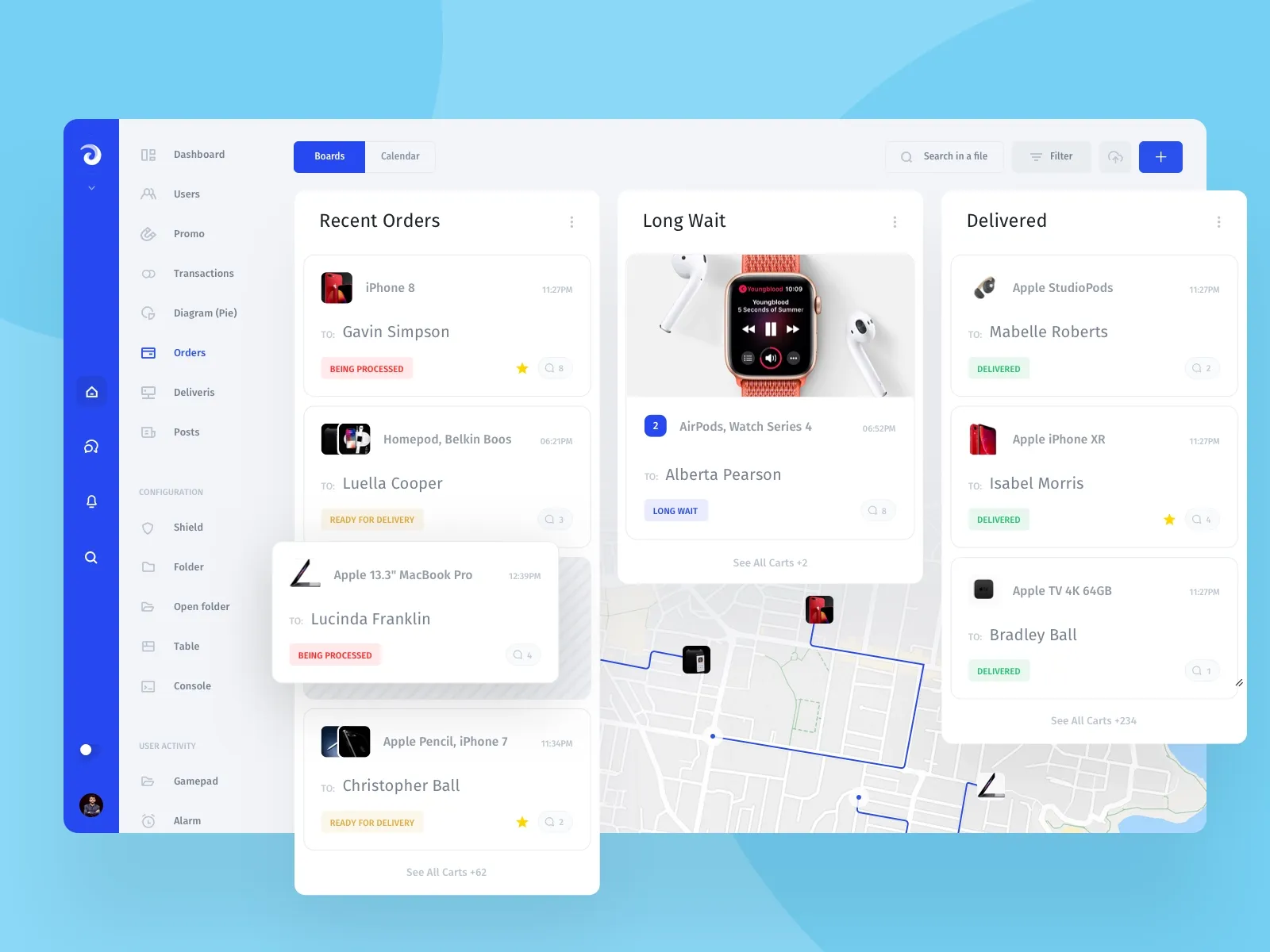 One of Jet Admin's main focuses is on managing user data from numerous data sources in one place.

Jet Admin turns your data from spreadsheets like Google Sheets, Airtable into actionable applications. You can consolidate all your business data in one place from different resources, including:
Hubspot
Slack
Intercom
SendGrid
MySQL
PostgreSQL
Firebase

Jet Admin is capable of sourcing data and seamlessly integrating it from Hubspot, Slack, and Intercom, Sendgrid, MySQL, PostgreSQL, Firebase to Google. This capability mainly relies on your specific requirements.

Jet Admin is also able to help you automate some of your workflows like sending automatic emails to someone who has, for example, changed an order status or processed a payment.
Advantages of JetAdmin
Customer support is available 24/7
Numerous integrations with APIs as well as databases
Very intuitive UI that allows users to manage tasks with ease
Availability of all of the documentation requirements
A supportive community of users who are willing to offer help and suggestions
Availability of numerous pre-made templates
14-day onboarding plan that is included with a free plan
The website offers a live demo that will allow you to get used to things and play around with different options

JetAdmin's shortcomings and problems
You can't build mobile apps or complex web apps for your customers – but these features are in development!
Limited number of components for building web applications

JetAdmin's pricing plan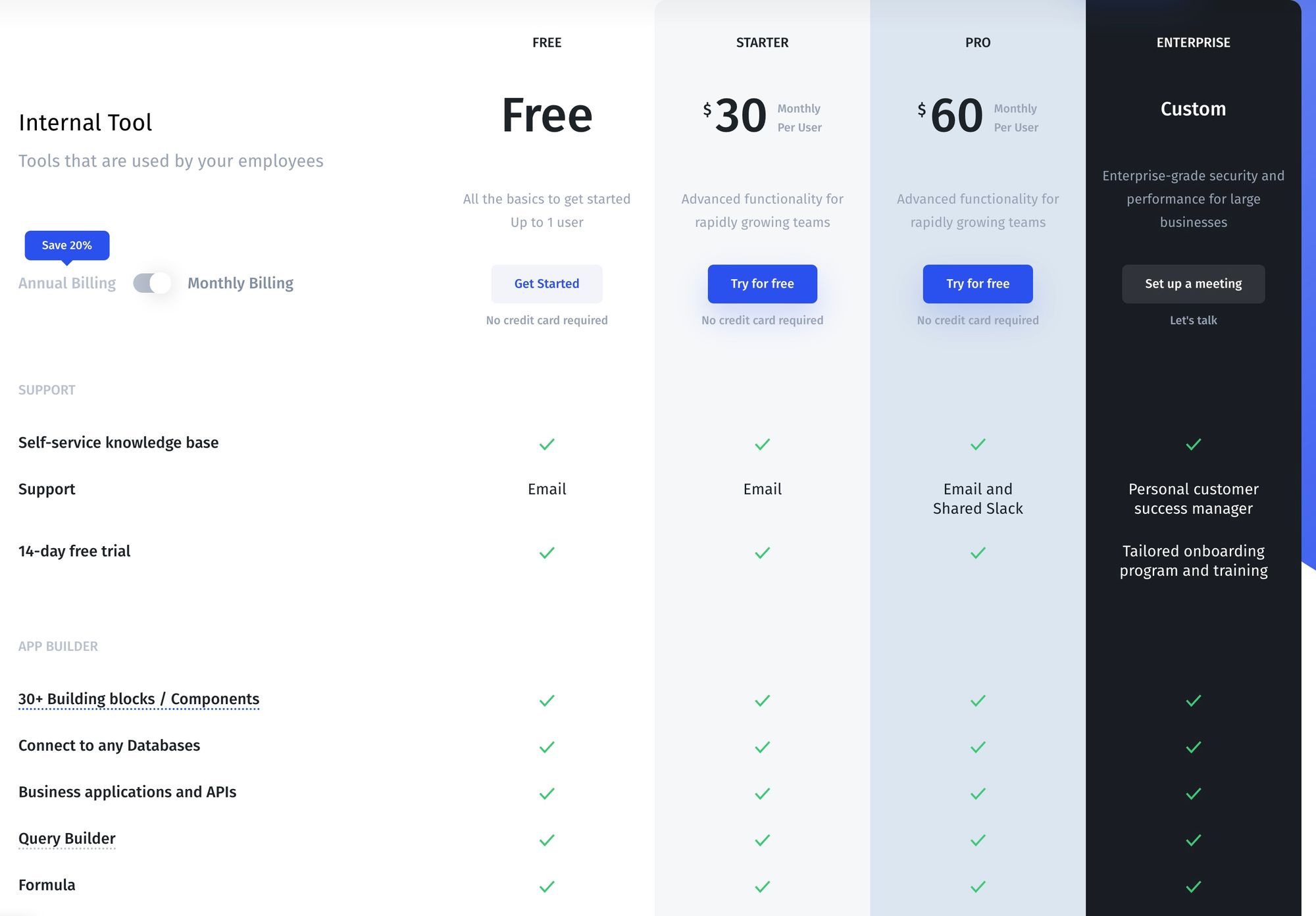 Free plan:

Features:
1 user
24/7 customer support
Self-serve knowledge base
Tailored onboarding program
A set of in-built widgets
Unlimited integration options with databases and APIs

The free plan basically allows users to get a sense of things on the platform with everything needed to get started

PRO plan:
Pro plan offers all of the things the free plan does plus...
Premium features:
Team-based permissions
Activity log
Custom automation
Custom Widgets
Alert Center
Tasks and comments

This plan is most suited for fast-growing teams that seek a bit more advanced functions of the platform without necessarily having to meet the requirements of large businesses when it comes to security.

This plan aims to increase the efficiency of your team by allowing them to have group-access segmentation, activity logs for tracking changes, and automation capabilities.

Enterprise plan:
This pricing plan varies depending on your needs and includes everything the PRO plan does plus...

Advanced features:
Custom domain & branding
On-premise setup
SSO (SAML, Okta)
Two-factor authentication
Incident recovery
99.9% uptime SLA
Personal Account Manager for your team

This plan is designed mainly for large businesses that usually require some extra steps of authentication, recovery, security, custom setups as well as personal account management system.

JetAdmin is more affordable than Bubble while providing 24/7 support, a 14-day onboarding program,  in all its plans as well as a bigger number of users per plan.
Final Conclusion
JetAdmin aims at users who don't want to rely on technically advanced coworkers in order to make quick changes. It will allow you to automate your team's processes and workflow as well as improve its productivity.

BettyBlocks – Bubble Alternative Compatible with Any Browser, Device, or Operating System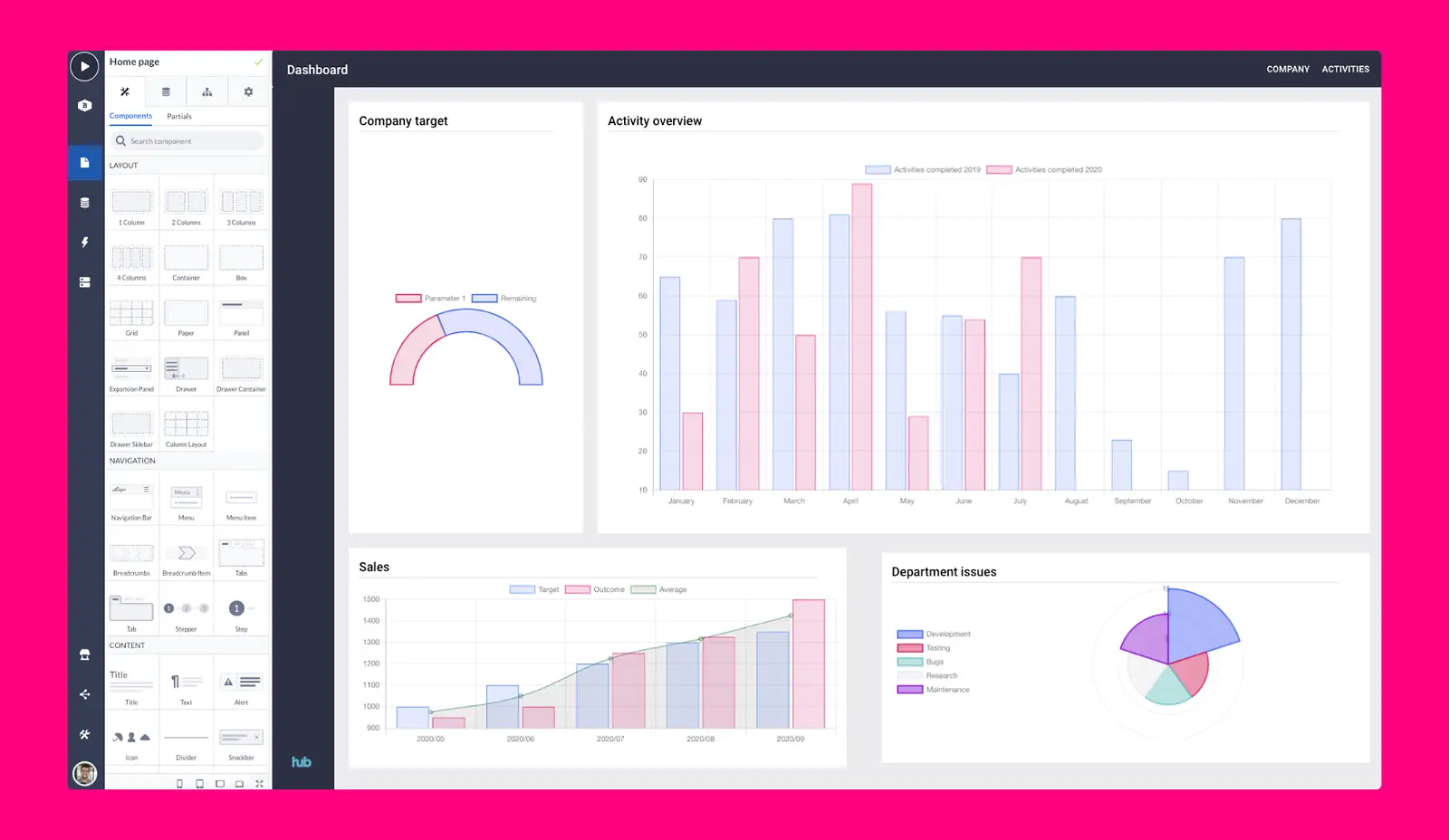 Betty Blocks is the Citizen Development platform designed for enterprises. It allows users to easily align business and IT together and bring innovation to your organization.
Advantages of Betty Blocks platform
Fully automated
Number of end-users
Compatible with any browser, device, or operating system
ISO 27001 certification for information security

BettyBlocks shortcomings and problems

Missing per-API grouping
Workflow issues which lead to losing the overall view of how automated processes work.
No free plan

BettyBlocks pricing plan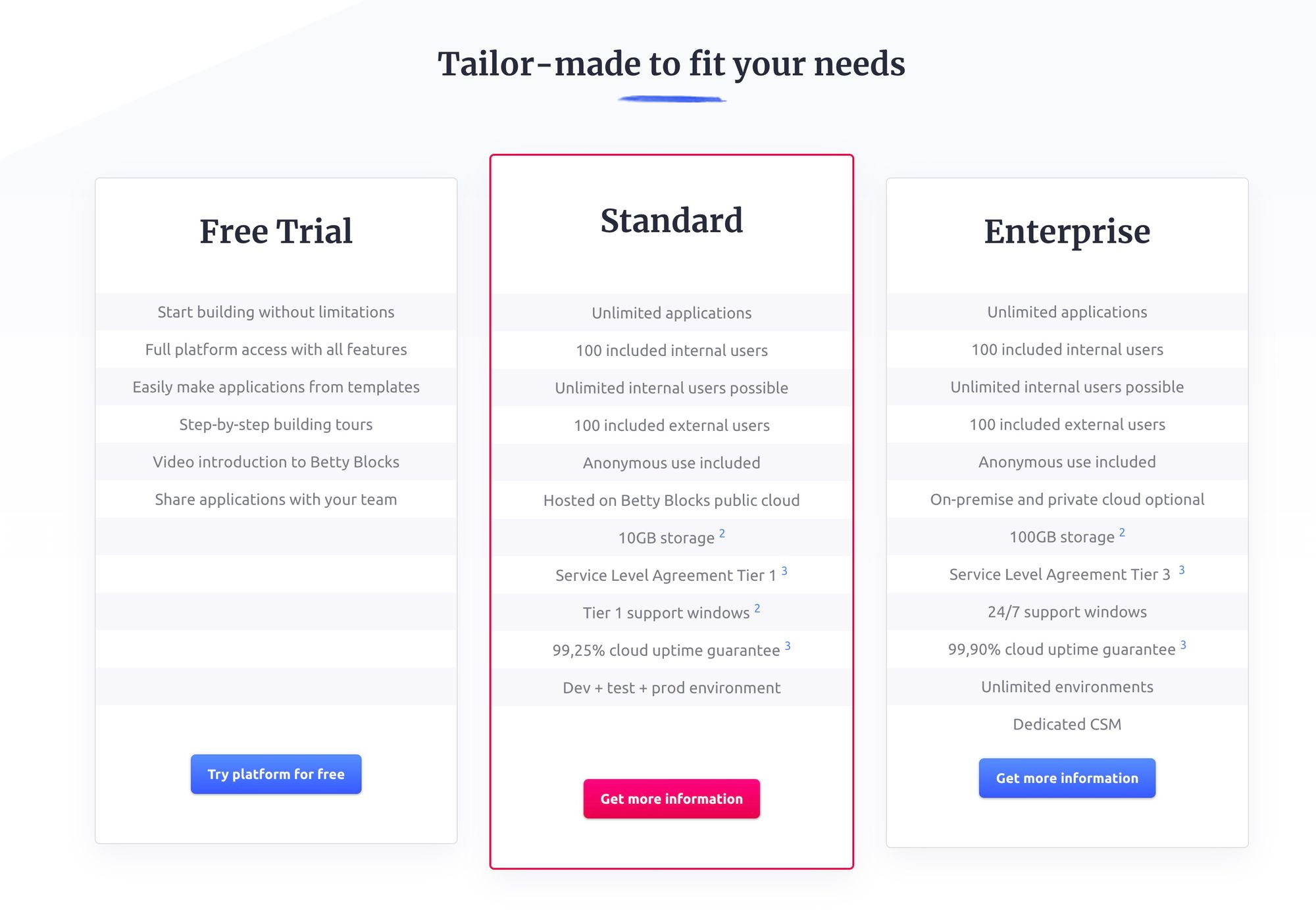 Bettyblock offers only an Enterprise level plan that features…
Cost-free ability to build and expand solutions
10gb storage with additional storage available
Although both BettyBlocks and JetAdmin are no-code apps, users can simplify development processes using drag-and-drop type interfaces. Also, both platforms can be connected to other services and technologies.
Final Conclusion
BettyBlocks shares a lot of features with Bubble but lacks a lot of them as well. One of the main disadvantages is not offering free plans in order to try things out, and it's costly compared to other competitors.
UI Bakery - Bubble no-code alternative for building cutting-edge solutions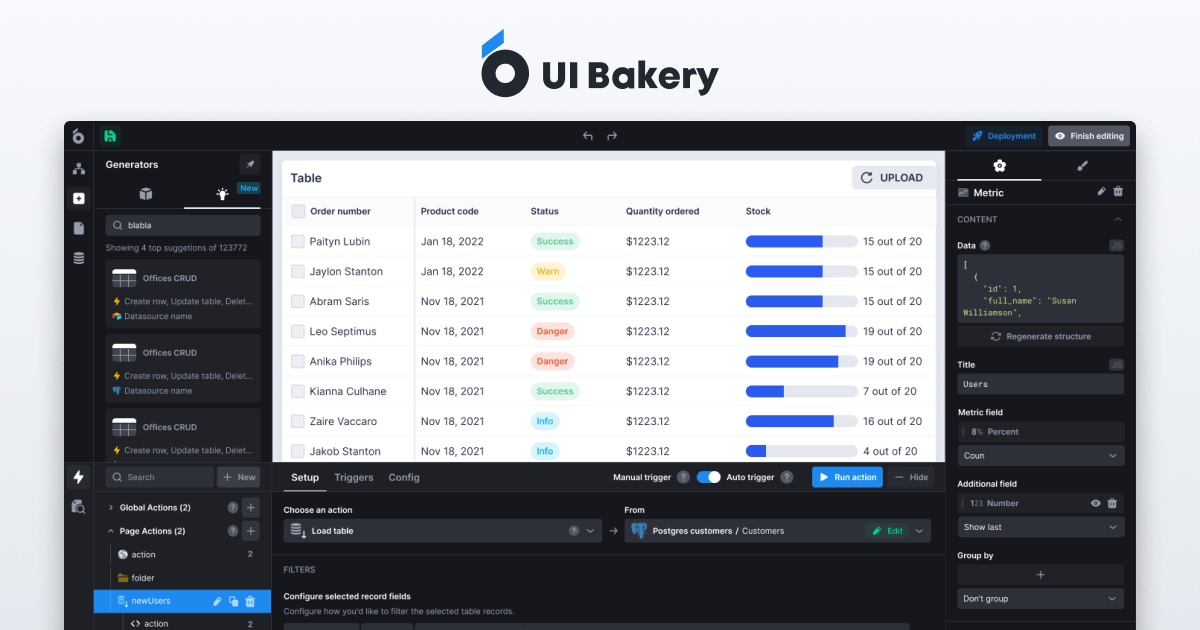 UI Bakery is an intuitive web app builder that can be used by citizen developers and designers. It allows users to build anything from simple CRM to complex refund tools.
Advantages of UI Bakery
A customizable design system allows users to match apps with their branding
API integration and data connection are available within the platform
Users can deploy and host apps on UI Bakery or custom domains
Based on open-source UI library
App code can be exported and used outside the platform
Predefined widgets and layouts
UI Bakery's shortcomings and problems
There is no ability to construct a custom backend
Very few ready-made templates
UI Bakery pricing plan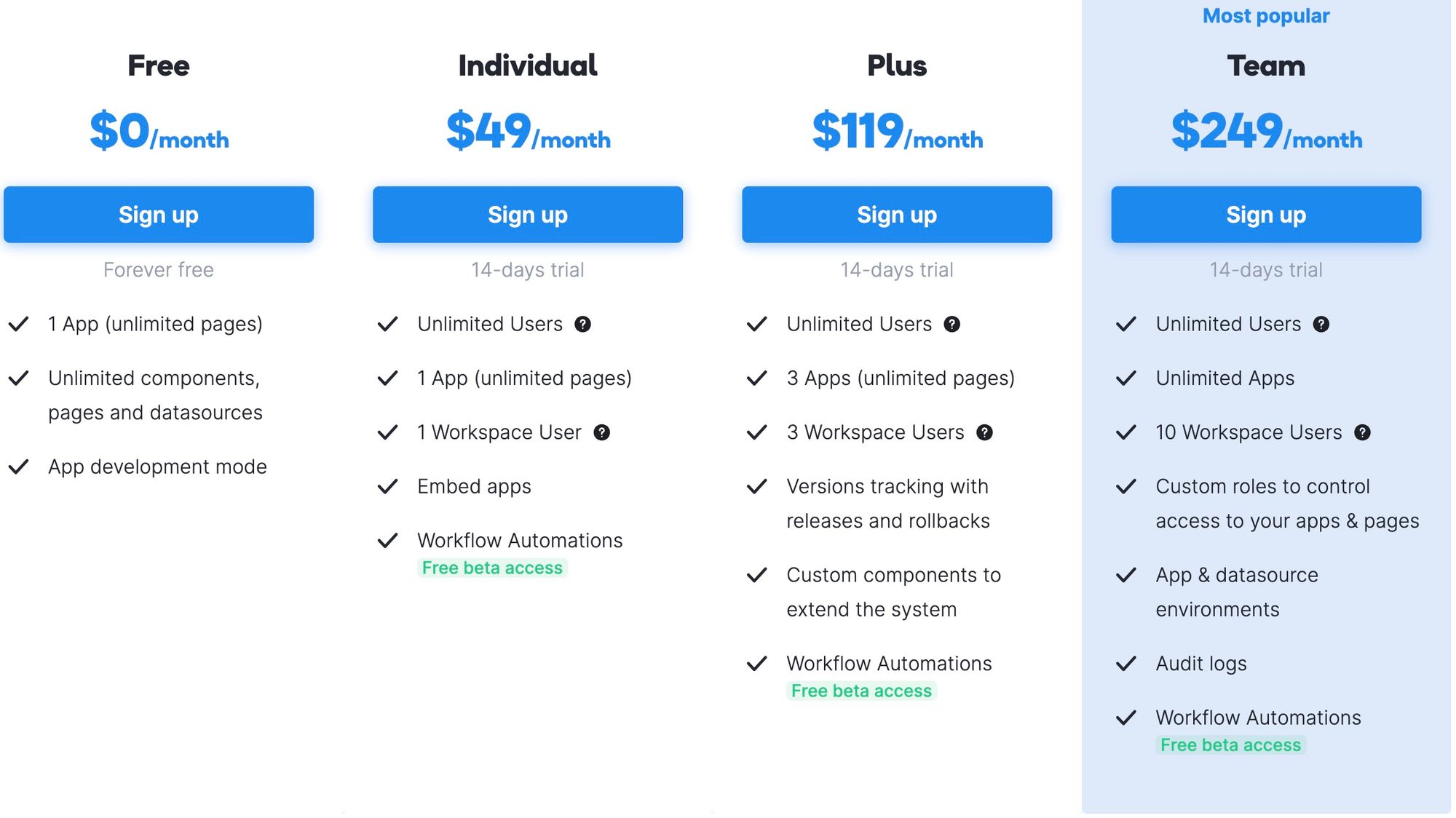 Free plan
1 project available
Unlimited pages
Unlimited components and widgets
Available branding
Only standard app & dashboard templates available
Available app sharing
Available data connection
Available template code export

Template maker plan
Offers everything a free plan does plus...
Up to 6 projects available
Export frontend
Email support

Frontend maker plan
Offers everything Template Maker Plan does plus…

Unlimited number of projects
Unlimited number of themes available

Web app maker plan

Offers everything the Frontend Maker plan does plus…
Data connection code export
Email support priority

Conclusion

Although both Bubble and UI Bakery offer free plans, Bubble's free plan doesn't provide the whole range of features that the paid plan does, compared to UI Bakery, which does this by default. UI Bakery is also easier to use than Bubble, and it also offers custom branding compared to Bubble. On top of it all, it allows code export where Bubble does not.
DronaHQ - Bubble no-code alternative that offers simplicity and exceptional support
DronaHQ is a low-code platform used for rapid-speed building and cloud-based app deployment.

Some of the use cases are:
- Data collection apps
- Online forms
- Online database apps
- Process apps
- Automation apps
- Internal tools
- Custom business apps
Advantages of DronaHQ

It allows users to workflow design processes
Available third party API integration
They provide drag-and-drop functionality to create and design UI for your apps
Available ready-made templates in the platform
Opportunities to customize and match your app to your guidelines
ISO 270001 and SOC-II certification
Ability to use formulas and functions to write business logic
DronaHQ shortcomings and problems

No payment plan for an increased number of users. Each new user has to pay separately, which can become highly expensive
There is no option available to download your app code
DronaHQ offers no free plan

DronaHQ pricing plan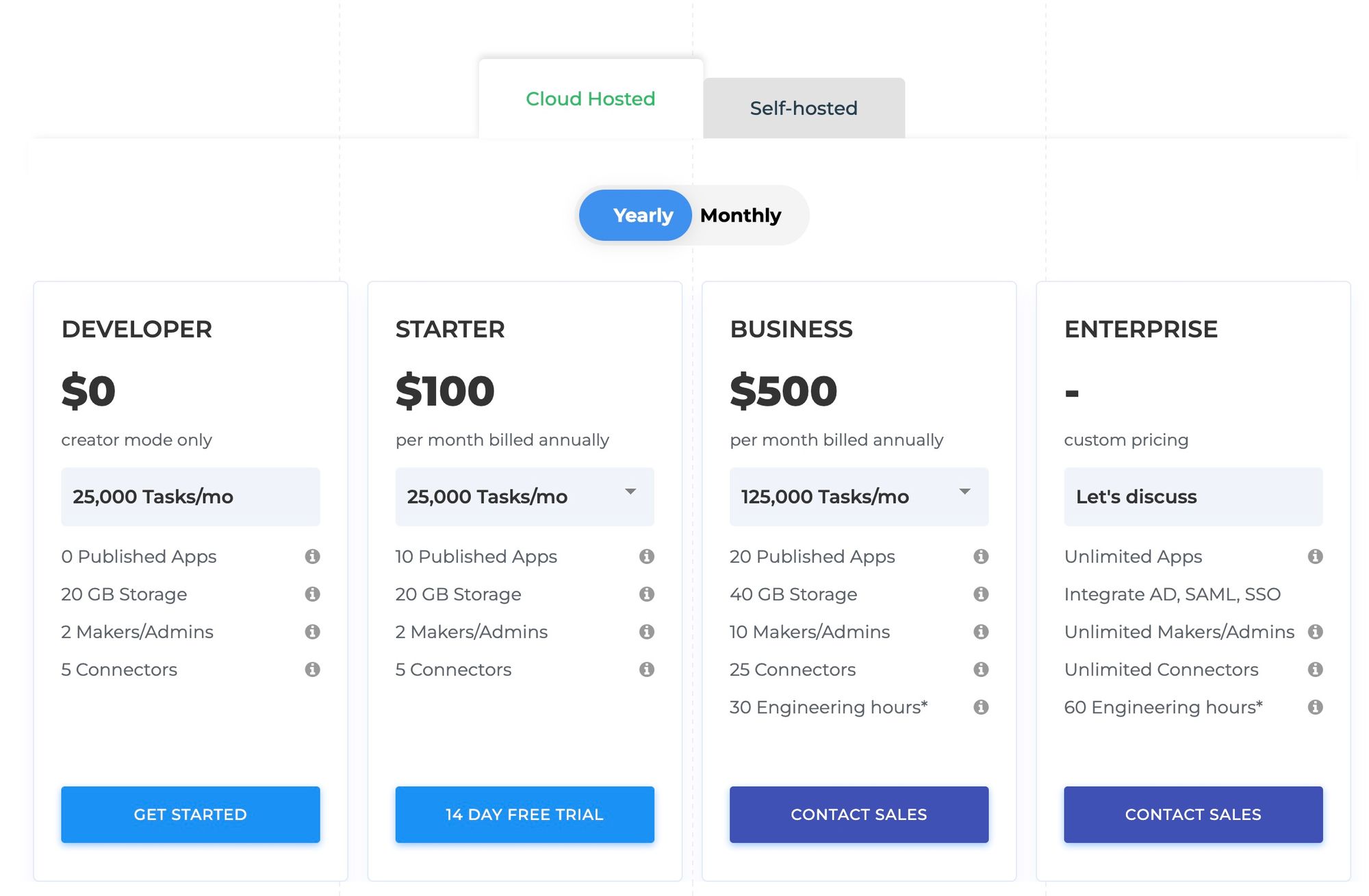 Free plan:
200 tasks per month
1 published app
1000 records available for storage
2 automation workflows available
1gb of storage
1 maker/admin allowed
1 connector

Starter plan:
25.000 tasks per month
10 published app
125.000 records available for storage
20 automation workflows available
20gb of storage
2 maker/admin allowed
3 connectors

Business plan:
250.000 tasks per month
20 published app
750.000 records available for storage
40 automation workflows available
40gb of storage
10 maker/admin allowed
25 connectors

Enterprise plan:
This plan provides unlimited access to all categories, as mentioned earlier, plus the ability to deploy apps on-premise or on private virtual clouds.

Conclusion
Although DronaHQ is twice as expensive when we look at the monthly fees per end-user compared to Bubble, it is still far more comfortable to use. It gets more costly when it comes to app branding and custom domain hosting compared to Bubble. Also, one of the significant disadvantages compared to Bubble is that it offers no email support.
Adalo - Bubble No-Code Alternative Platform for Advanced Access Control and Integrations Management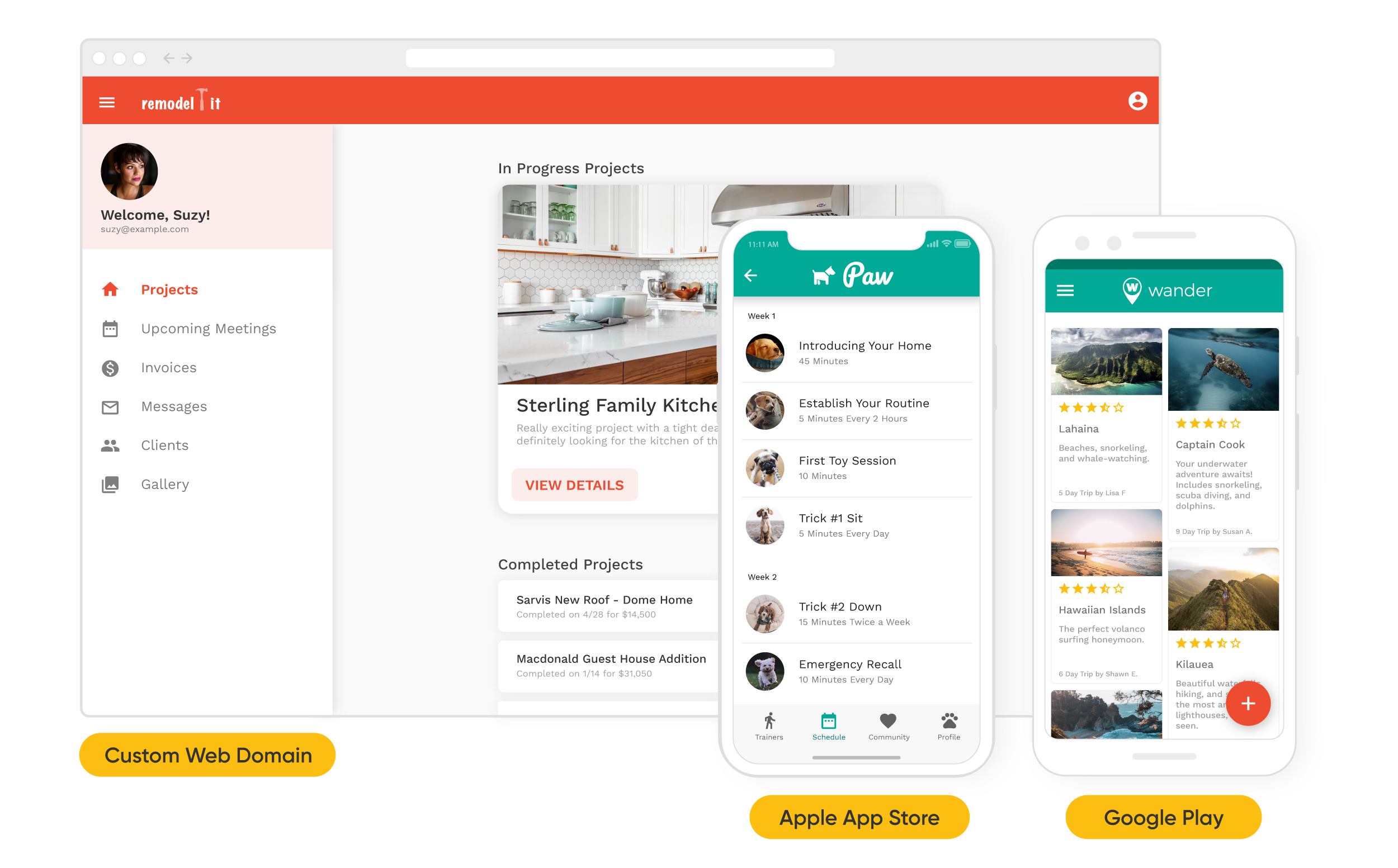 Adalo is a no-code platform for building a powerful web and mobile native apps that can include payments, notifications, and more and can also publish to the App Store, Google Play, and the web.

It offers users a very intuitive workflow with a zero learning curve. This platform mainly aims at small and medium businesses, startups, freelancers, and hobbyists. It allows novice users who are new to web development to realize their ideas regarding building their new app or site.

Advantages of Adalo
It has a free plan option
It has freelance experts available to help you build your app for a certain cost
It offers free templates to help you jump start your app creation
Suitable for users with expertise but no coding abilities who want to create apps used in niche areas like inside institutions, companies, etc.
Unlimited apps
Design freedom
Ability to develop for both mobile and desktop
Includes a variety of features like Access Control and Integrations Management
Adalo's shortcomings and problems
Adalo currently lacks custom actions, but they are working on fixing these issues
The starting price of 50$ a month is a lot considering not that many web development enthusiasts are ready to pay such an amount



Adalo pricing plan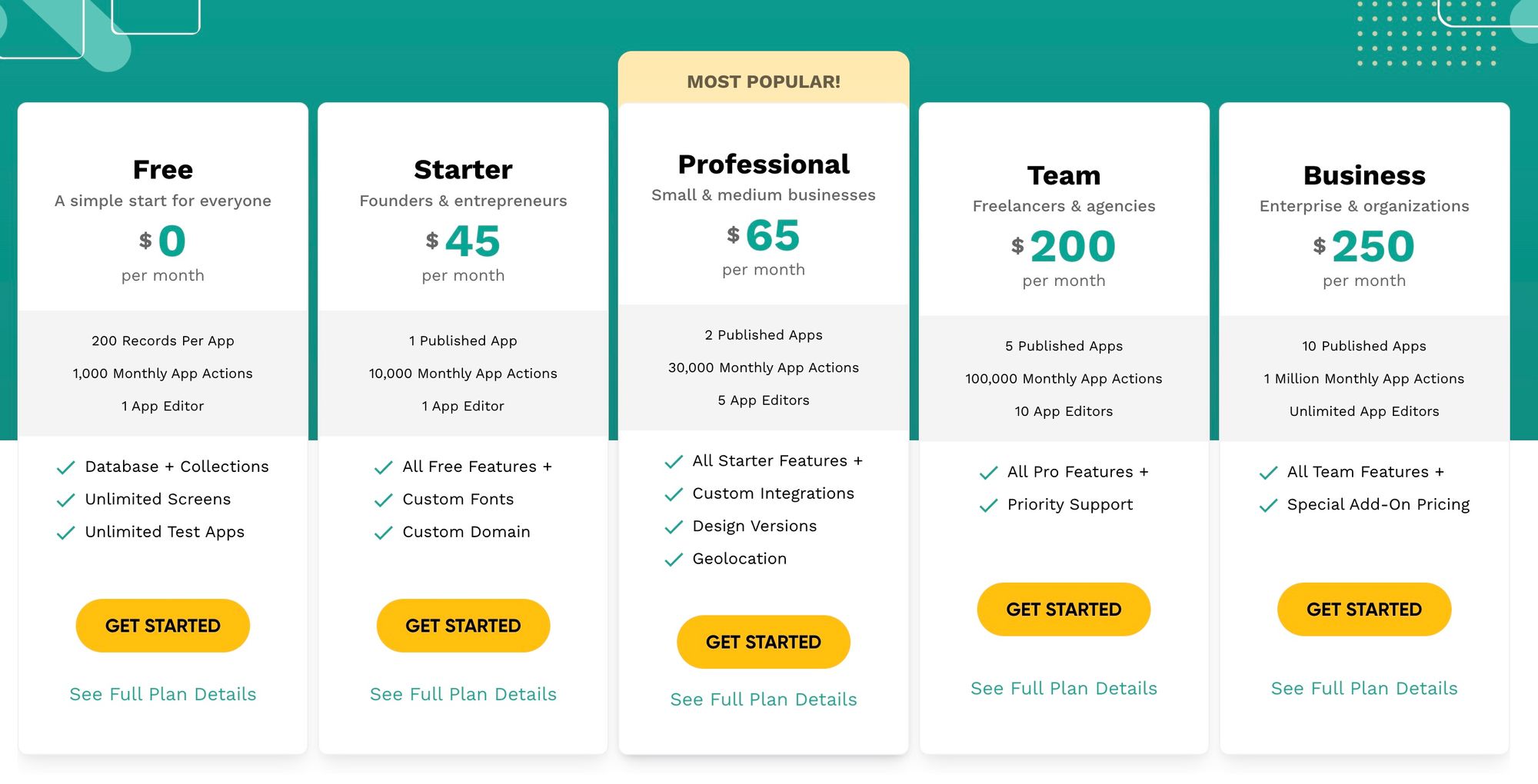 Explore plan:
Explore plan represents Adalo's free plan tailored for users who want to try out their product without paying, and it offers

Unlimited apps
Publishing to Adalo domains
Adalo branding
Limited to 50 rows of data per app
Access outside API integrations
Pro plan:
This plan is perfect for users who are launching their new app.

Unlimited apps
Publishing to google and apple stores
Available custom web domain for publishing
5gb of data storage
1 seat


Business plan

This plan is tailored for teams who are aiming at scaling and reaching wider audiences with your app. This plan offers everything a pro plan does plus…

20 GB of data storage
5 seats
Dedicated account manager

Final Conclusion

Both Adalo and Bubble are platforms that allow users to create and organize data and workflows to build their apps without code and without any programming languages. Also, another thing to note is they both have free plan options, and with both, you're able to publish responsive web applications.

When it comes to integration, Adalo is falling behind on Bubble since the latter has over 900 plugins to choose from. This app allows users to publish to mobile app development stores directly from the platform, making native app development easy.

Thank you for reading!

We hope you found this article insightful enough to fulfill your web development needs more thoroughly. Although many of the earlier apps offer numerous different options, it was in our interest to provide you with the most relevant information to streamline your desired workflow and no-code web development goals.