FoodBerry is an online marketplace that allows users to easily book a table, get food delivered to them, or order takeaway from their favorite restaurants. No standing in lines, no waiting for cooking or billing.

In our recent article, we discussed how the company is using Jet Admin to effectively manage their back office operations. Now, it's time to cover how FoodBerry's restaurant partners are utilizing Jet Admin as their CRM system.

In the admin panel aka CRM system, restaurant agents can view order and transaction history, process payments, and see their KPIs at-a-glance on a dashboard. Thanks to Jet Admin, the restaurants now have all the tools needed to study and influence customer behavior, gather feedback, and make better decisions.

"We've developed an Android app first, but later found out that some restaurant representatives didn't own any Android devices. FoodBerry urgently needed iOS and web-based solutions. Thanks to Jet Admin, we can now operate on all digital platforms",

Vasiliy Mazanyuk, CEO at FoodBerry
Order processing management

Customer managers are using Collection widgets to display orders in the most appropriate to the task form. For instance, it's great to have a Kanban board in place to track the status of each order.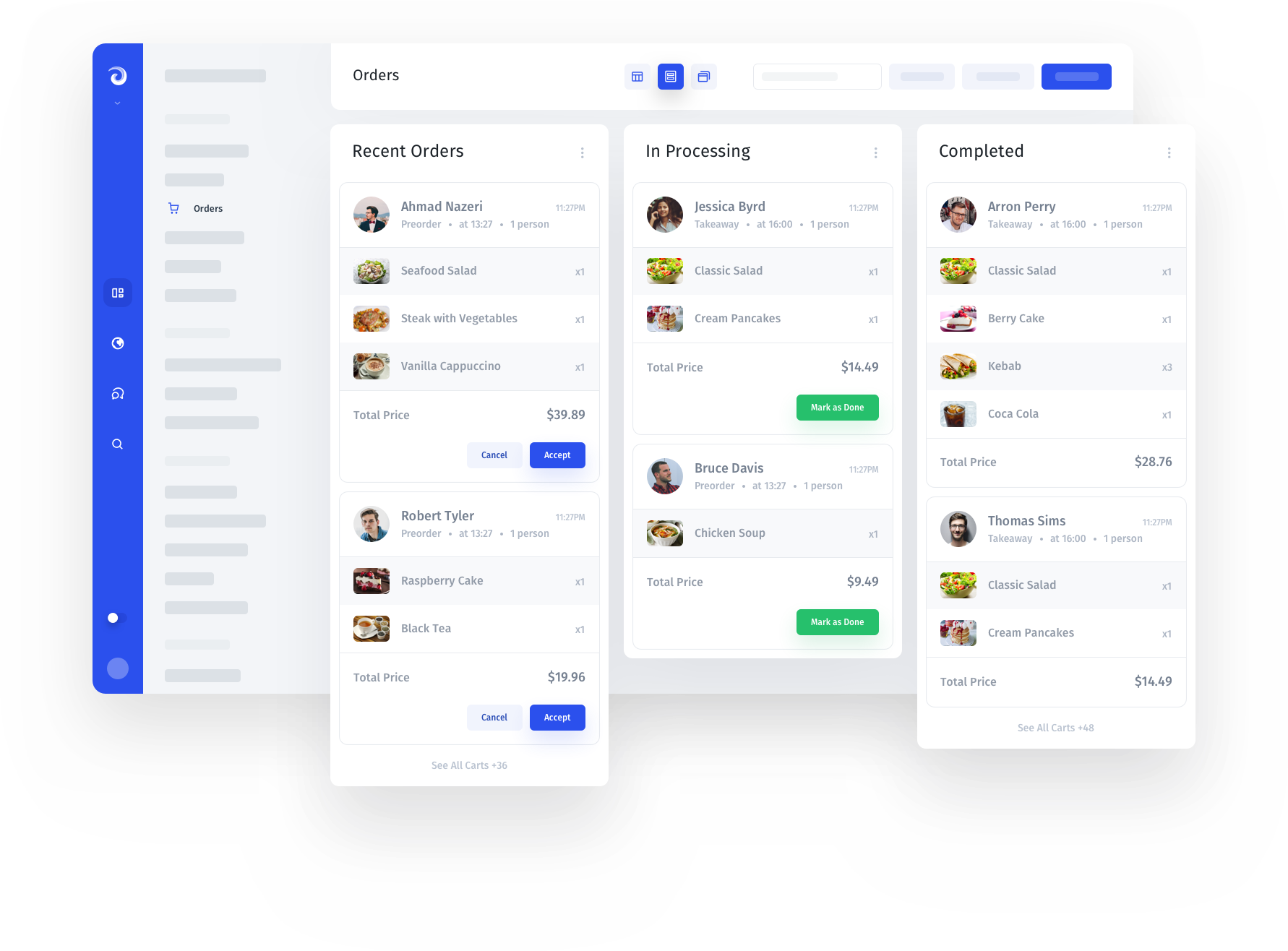 For food businesses, it's crucial to respond to customers as quickly as possible to build brand loyalty. Thanks to the Flex Action feature, restaurant agents can accept or reject orders and notify clients about preparation time or explain a rejection reason in a single click.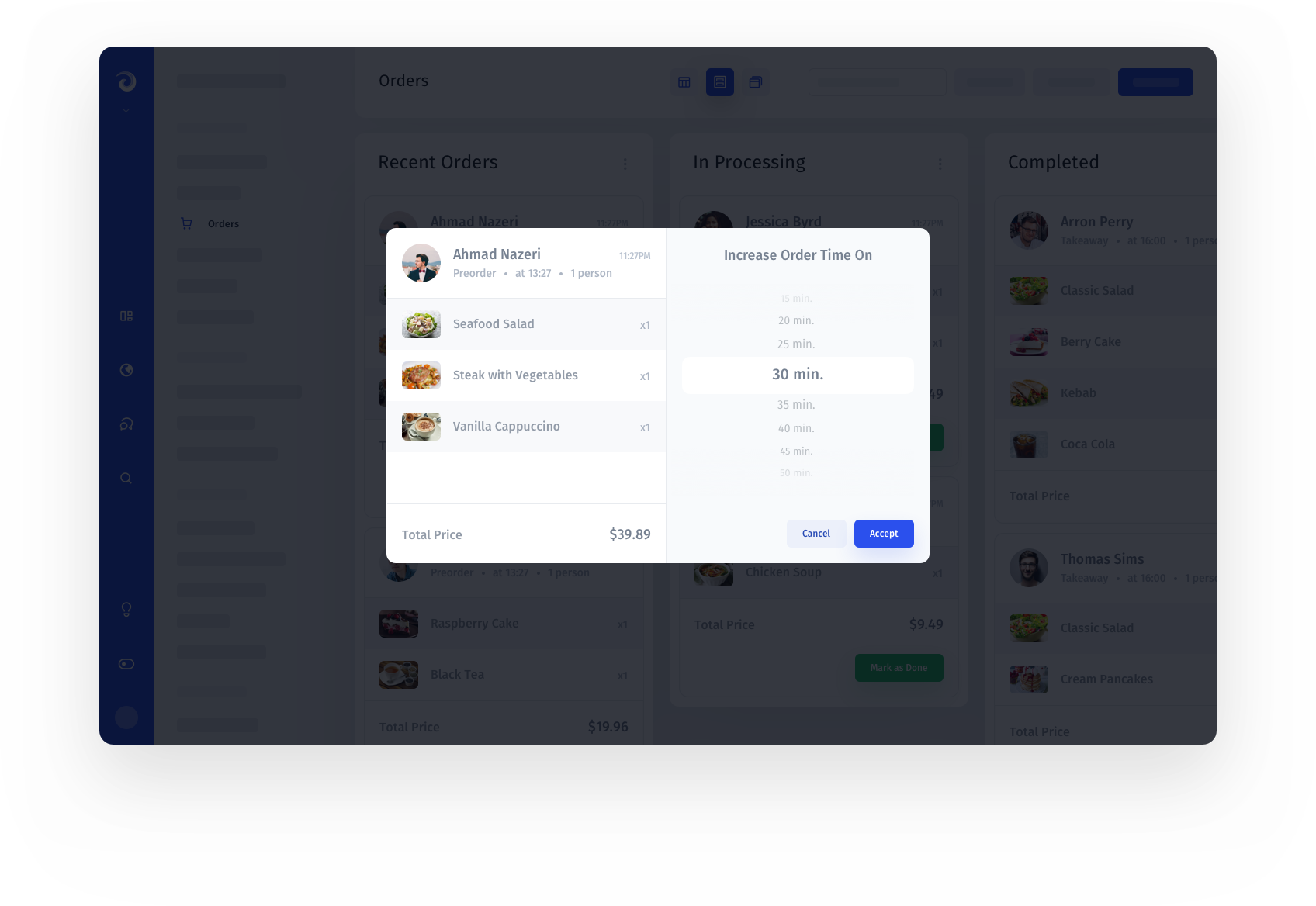 Notifications & Alert center

In the delivery game, it's all about how quick you are. FoodBerry's partners stay ahead of the competition thanks to Jet Admin's alert center and third party integrations.

Each time an order has been placed, the restaurants instantly receive an email or a push-notification informing the managers about the purchase details. The same applies to when orders get canceled or customers demand a refund.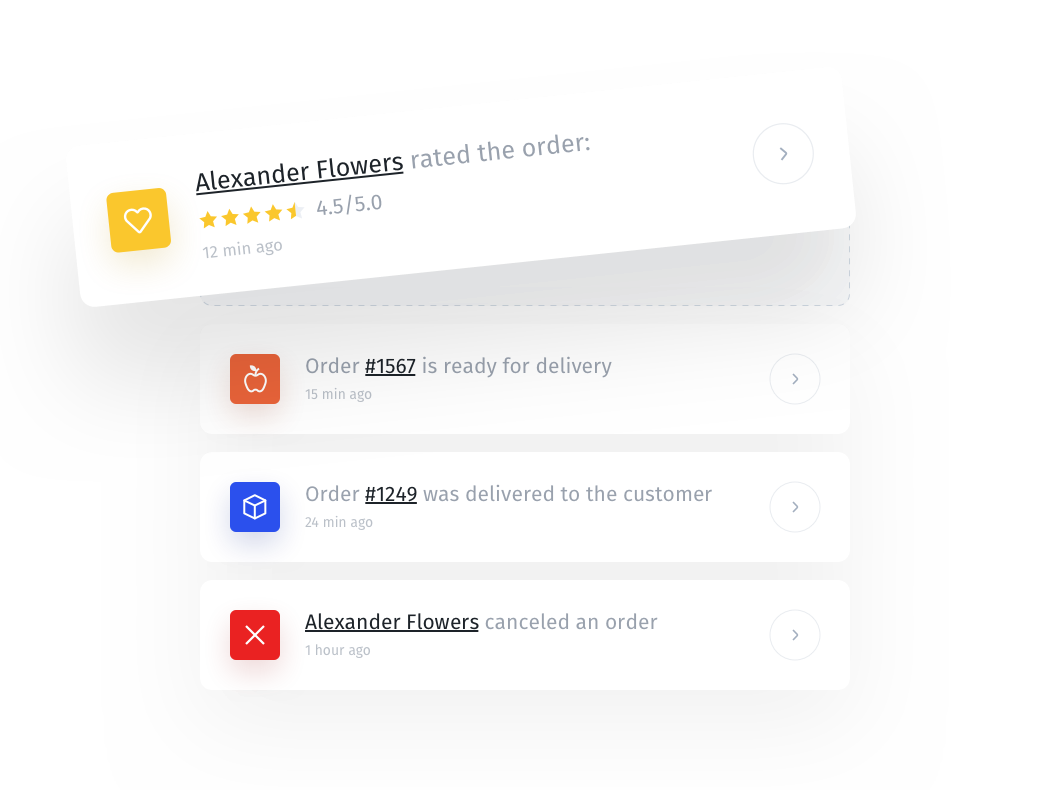 Managing permissions for agents

Since information about all orders comes from one application, technically all restaurants have to access the same CRM system to manage their operations.

Though it's possible to manage permission rights for different collections in Jet Admin, we had to enable advanced permissions by Dynamic Segments (IDs...) to let restaurant agents access only their own order data. What that means is that all restaurant partners can access their portion of data by logging in to the admin panel with a personal ID.

Segmentation and targeting

Not all customers like the same things, but it's a company's job to find approach to each and every one of them. The best way to target your audience and send personalized deals that really work is to create segments with different user groups first.

Thanks to filters and segments, FoodBerry's restaurant partners can easily split their customer base onto several groups according to their average bill, type of orders they place, etc.  Restaurant agents can even label clients as vegetarian, sportsmen, etc. to improve the recommendation system.

What's more, agents can set up SMS or push-notification marketing campaigns from the admin panel by implementing a Flex Action.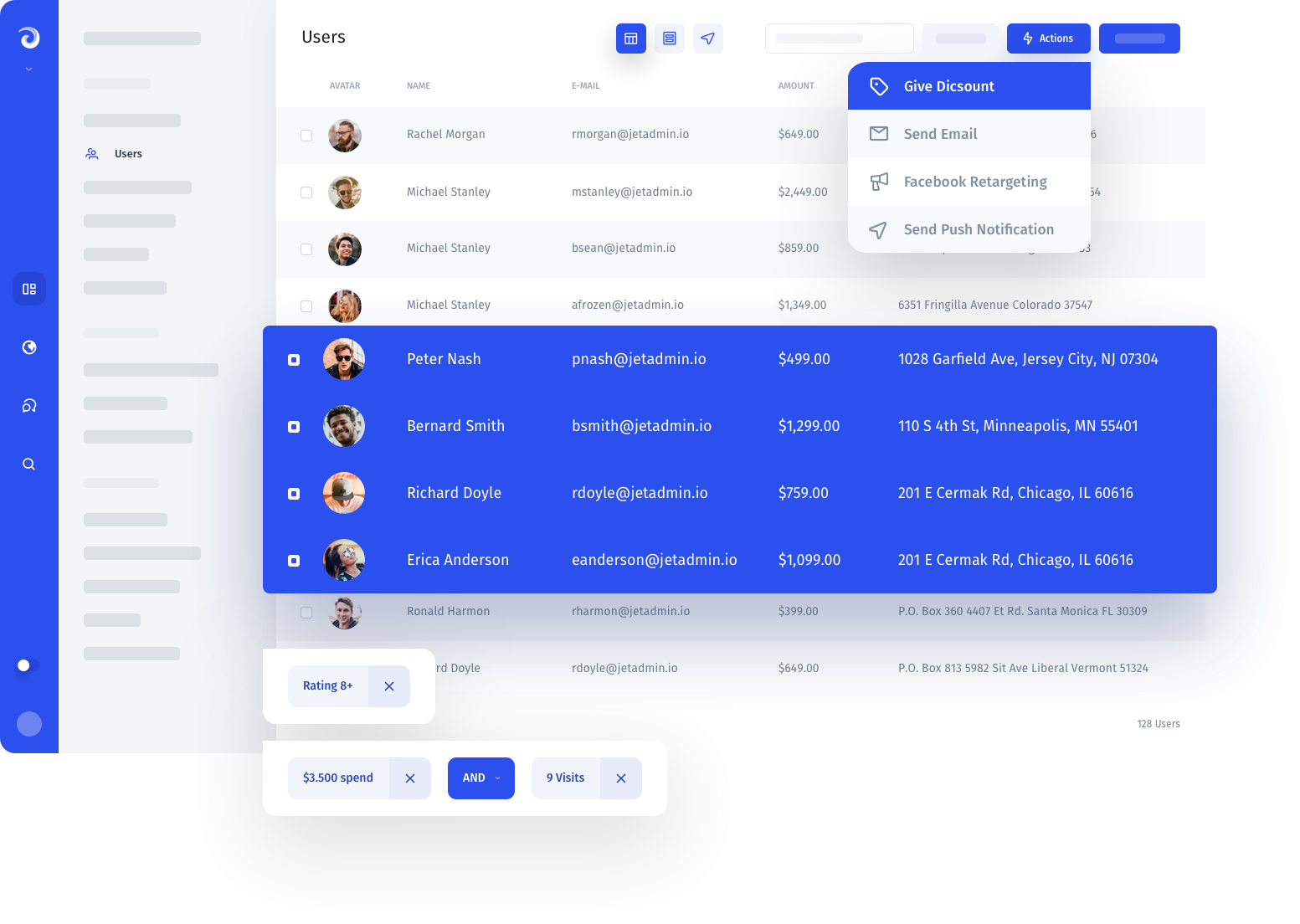 Loyalty campaign management

According to Adobe, returning customers generate three times higher revenue per visitor than first-time shoppers. Better yet, the report says that 40% of revenue comes from repeat purchasers, who represent only 8% of all visitors. As you can see, customer loyalty campaigns are a pretty big deal.  

In Jet Admin, restaurants can run and analyze loyalty campaigns that will be active in the FoodBerry application. The admin panel already has a pre-existing set of 8 most popular campaigns, such as welcome bonuses, birthday discounts, and special combo offers. Any campaign can be started in one click by simply selecting a suitable segment with users.

Once a campaign has been set up, all the metrics about customers and usage will start appearing in the admin panel.

Dashboards & advanced analytics

Dashboards display charts on important metrics and KPIs of a given restaurant, such as a number of receipts, review and rating analysis, average bill per person, and customer loyalty programs success.

This helps swiftly identify trends in menus, customer preferences, and the results of promo campaigns to see the whole picture and make data-driven decisions to increase revenue and customer satisfaction with the restaurant.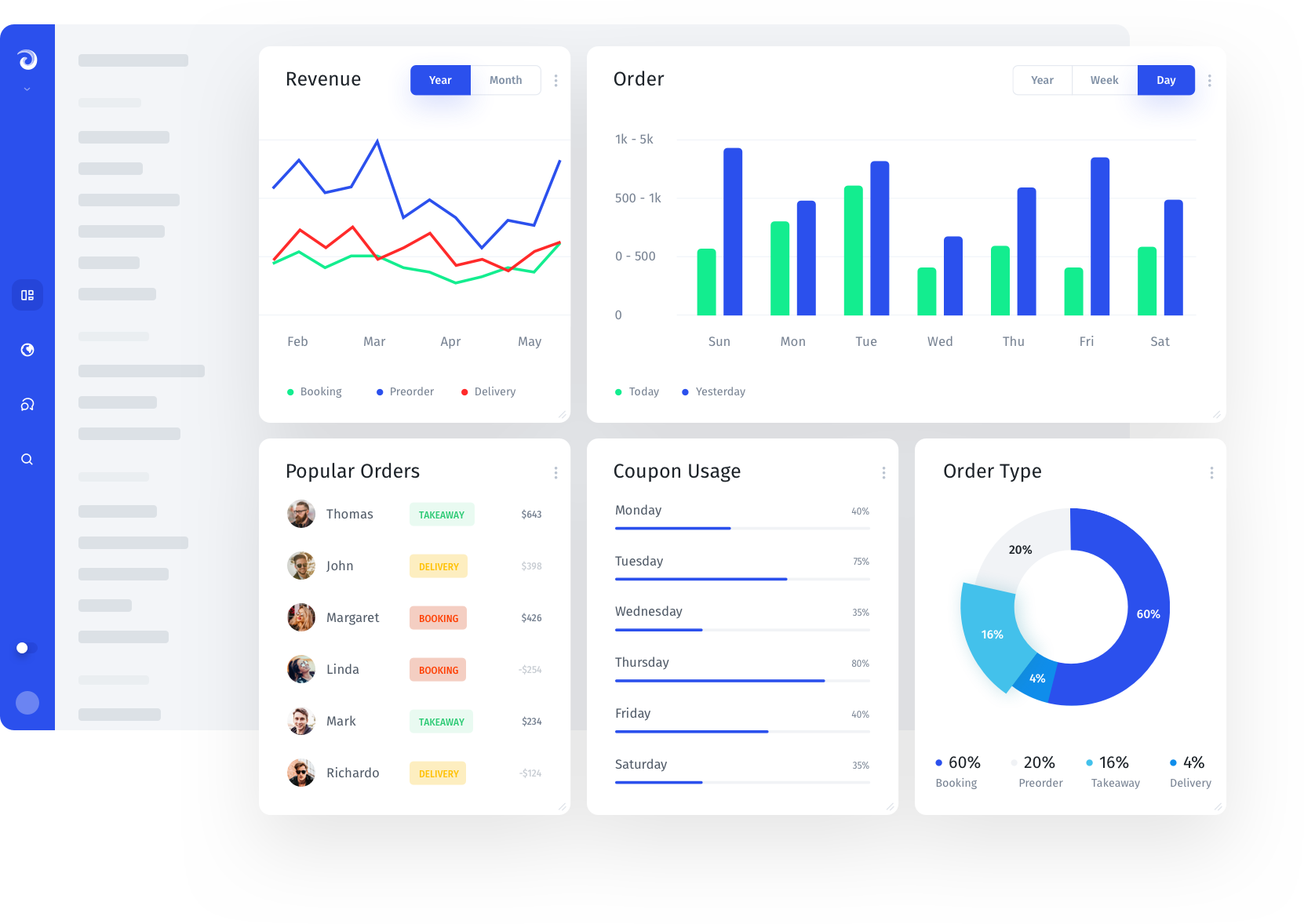 Customer success management

The importance of customer feedback in foodtech can't be stressed enough – the number of stars under a restaurant's name in the app determines consumer likelihood of purchase. In Jet Admin, FoodBerry's restaurant partners have all the necessary tools to quickly communicate with clients and resolve issues.

Thanks to the Flex View feature, restaurants can process complaints via a live chat integrated into the admin panel. To monitor the process of problem solving, customer managers are using a labeled Kanban board as an issue tracking system.

Results

Jet Admin has helped both FoodBerry and its partners set up a supreme back office and CRM system in just two weeks. The restaurants have been able to process orders, communicate with customers, analyze revenue, and track down reviews and ratings from a single workspace of their Jet Admin Panel.