There's a growing number of tools, such as Forest Admin, that allow different teams and companies to build custom business apps such as Internal Tools, Admin Panels, External Portals, and more on top of the existing data and business logic.
In this article, we've gathered a comprehensive list of top Forest Admin competitors for 2022 and will look in detail at their features, pricing as well as their pros and cons. In the end, we'll share our top picks for different segments and the easy-to-read comparison table to evaluate all the alternatives in one view.
Table of Contents
Conclusion - Best Forest Admin Alternatives
Comparison Table
To help you better and quicker navigate the landscape of internal and business app builders, we've put up the table of comparison:
Product Name
Builder Type
Deployment Options
External Portals
Instant CRUD
External Integrations
Custom APIs
UI components
Free Plan
Monthly pricing from
Jet Admin
No-code +
Low-code
Hybrid,
Cloud,
On-premise
✅
✅
30+
✅
50+
✅
24usd/internal user
0.1usd/external user
Retool
Low-code
Cloud,
On-premise
❌
❌
40+
✅
50+
✅
10usd/user
Appsmith
Low-code
Cloud,
On-premise
❌
❌
16
✅
30+
✅
By request
DronaHQ
Low-code
Cloud,
On-premise
❌
❌
50+
✅
90+
❌
100usd
Internal
No-code +
Low-code
Cloud,
On-premise
❌
✅
20
✅
20+
✅
25usd/user
Bubble
No-code
Cloud
✅
❌
0
Via Plugins
20+
add-ons
✅
25usd/user
UiBakery
Low-code
Cloud,
On-premise
❌
❌
18
✅
20+
✅
10usd/user
Buildbase
Low-code
On-premise
❌
❌
17
✅
30+
✅
By request
ToolJet
Low-code
Cloud,
On-premise
❌
❌
14
✅
30+
✅
5usd/user
Stacker
No-code
Cloud
✅
✅
3
❌
5
❌
59usd
Softr
No-code
Cloud
✅
✅
20+
❌
20+
✅
24usd
Forest Admin Advantages
Forest Admin is a great tool for the right audience. It provides developers and tech-savvy entrepreneurs with a framework to build and deploy admin panels instead of creating everything in-house. Let's look at its major strengths:
Ready-to-use Admin Panel - After deployment, Forest Admin generates a working admin panel that you can start using right away. From the start, it has most of the necessary admin functionalities: navigating through the tables, in-line editing and creating new records.
Hybrid deployment - It combines the security of the on-premise and the simplicity and speed of the cloud. The backend is hosted on your side and can be hidden behind the VPC while the frontend stays on the Forest Admin's servers, alleviating the burden of maintenance and allowing for quick updates.
External Portals - They provide separate pricing and functionality that allows you to create externally-facing user interfaces such as Vendor, Merchant, Partner, Supplier Portals, and so on. Sometimes they are called multi-tenant applications, but the idea is the same: one UI and the data that's separated for different users or groups of users.
Custom components built-in editor - If you need a custom UI component, you can create it right inside of Forest Admin with the convenient "Flex View" editor. However, it works only with Ember and React.
Forest Admin Shortcomings
There are several to mention:
Rigid UI structure - Forest Admin is optimized for creating simple admin interfaces rather than for creating really custom views. There's some flexibility in how you can assemble the UI building blocks in the record view, but it's still within just several default layouts.
Tough to create complex apps - It isn't much you can easily create on top of the initial admin panel. You can customize the record view to some degree, but there's no simple way to create custom pages with custom views. To achieve that, you have to do a lot of coding and then deploy that code.
Limited UI customization - There's no out-of-the-box functionality to adjust spacings, colors, etc. to make the app look great, which is especially important for externally-facing portals. Once again, unless you code it.
Binding data is not easy - Fetching, passing, and manipulating values across different UI components also requires coding, there's no quick way to, say, concatenate two columns in a table or fetch values from the input and pass it on into another component.
Slow start - You'll need to know how to handle the deployment and hosting process yourself in order to even get started with Forest Admin. If you're a no-coder, you will not get past the installation.
Forest Admin Price
Forest admin comes with four plans, including the free plan. Each plan caters to a different audience, from early-stage startups or solo entrepreneurs up to large enterprises. The lowest tier starts with 24 USD/user per month.
To sum up, Forest admin is more of an administration framework for developers, and is typically suitable for companies who have abundant tech resources. If you're looking to save significant amount of resources on developing business web applications, you might want to look at the alternatives:
Jet Admin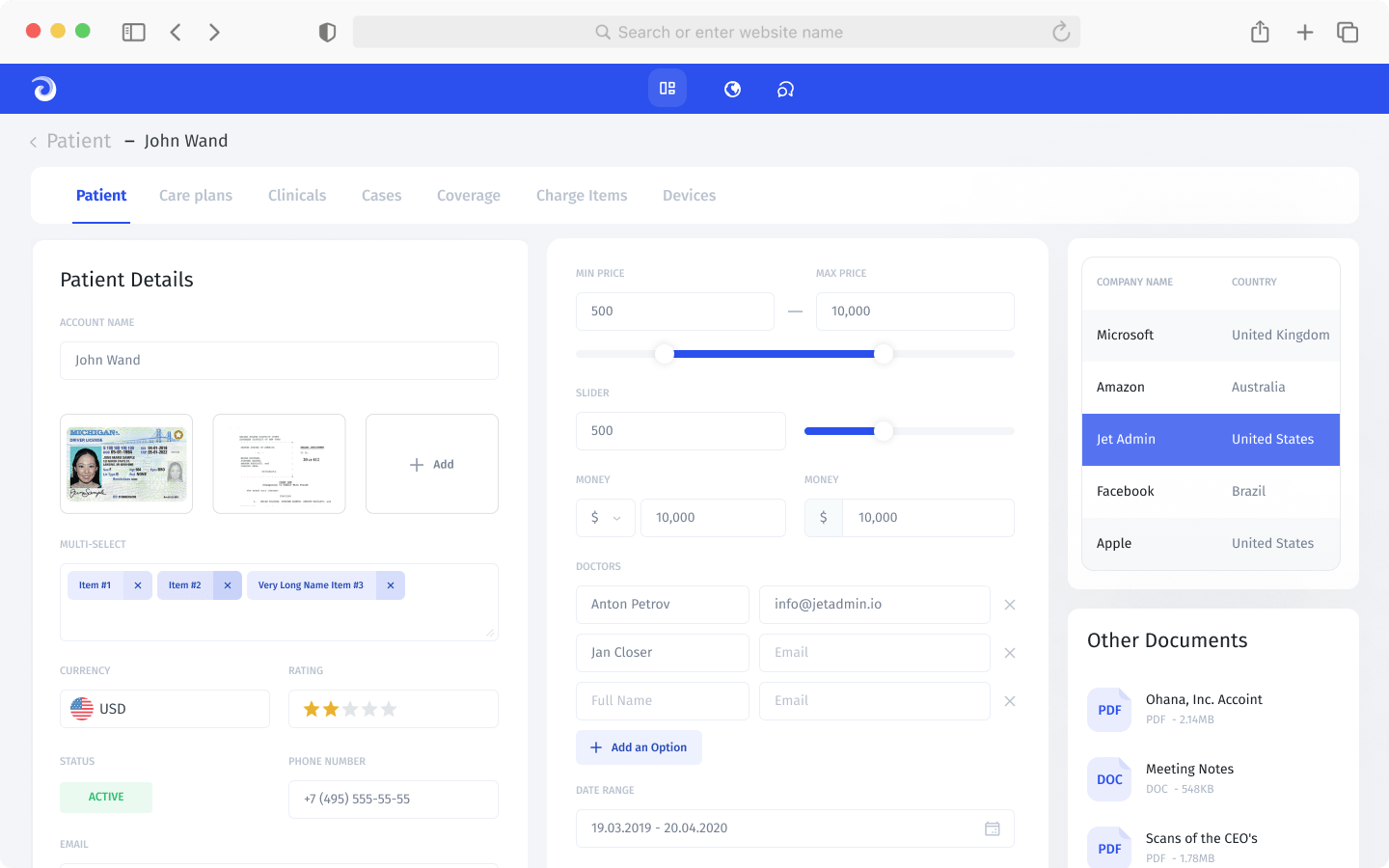 Jet Admin allows anyone to create custom Admin panels, Client Portals, Custom CRMs, Support tools, and so on really fast and without coding. For extra flexibility, there's an array of developer tools that can be utilized in-app at any point.
Jet Admin Advantages
Easy to get started - Connecting data sources takes just a few minutes and for the most part can be done by a non-technical person. Once connected, Jet automatically generates a CRUD app that can be used right away.
Building without code - Jet offers an intuitive drag-and-drop UI builder with more than 50 pre-made components. Linking the data across components, fetching and manipulating dynamic values, and adding the logic layer - all can be done through the point-and-click interface and with excel-like formulas.
Complex use-cases - Jet is well suited for creating complex apps and workflows. You can create an unlimited number of custom pages, link them into multiple drill-downs with multiple custom actions and consolidate data from different data sources with 30+ native integrations.
Flexibility for developers - Even though many apps can be implemented without a single line of code, you can switch to low-code at any moment and embed custom components, create HTTP and SQL queries, write JavaScript to make complex transformations.
External portals - Clean UI and the separate plan starting from 0.1 USD/user allow building not only internal tools but also external portals for clients, partners, vendors, etc. On top of that, there's an option to white-label the whole user journey from the sign-up page to the password reset emails.
Jet Admin Drawbacks
Limited analytics applications - it's hard to build a full-blown analytics tool in Jet as the out-of-the-box charts might not cover complex cases. So if you're looking for complex analytics apps, you should look at the likes of Tableau.
Customer-facing app limitations - You can build public apps as well as client-facing apps in Jet, however, it's not suited well for some specific cases, such as implementing subscription flows in your app or building native mobile apps.
No Version control - As of now the Git versioning is only planned but not implemented yet.
No MongoDB - For those whose main data source is MongoDB, building in Jet might take some extra effort as you'll have to create an API layer on top of your DB.
Pricing
Jet Admin offers two pricing buckets: Internal Tools and Client Portals (The product functionality is the same, they differ only price-wise). After the Free plan, there are four plans, starting from 24 USD/user for the "Internal Tool" bucket and from 0.1 USD/user for the "Client Portal" bucket correspondingly.
Best For
Teams that want to build truly custom Internal Tools and External Portals and are looking to involve non-developers in the process of building and maintaining the internal apps.
Bubble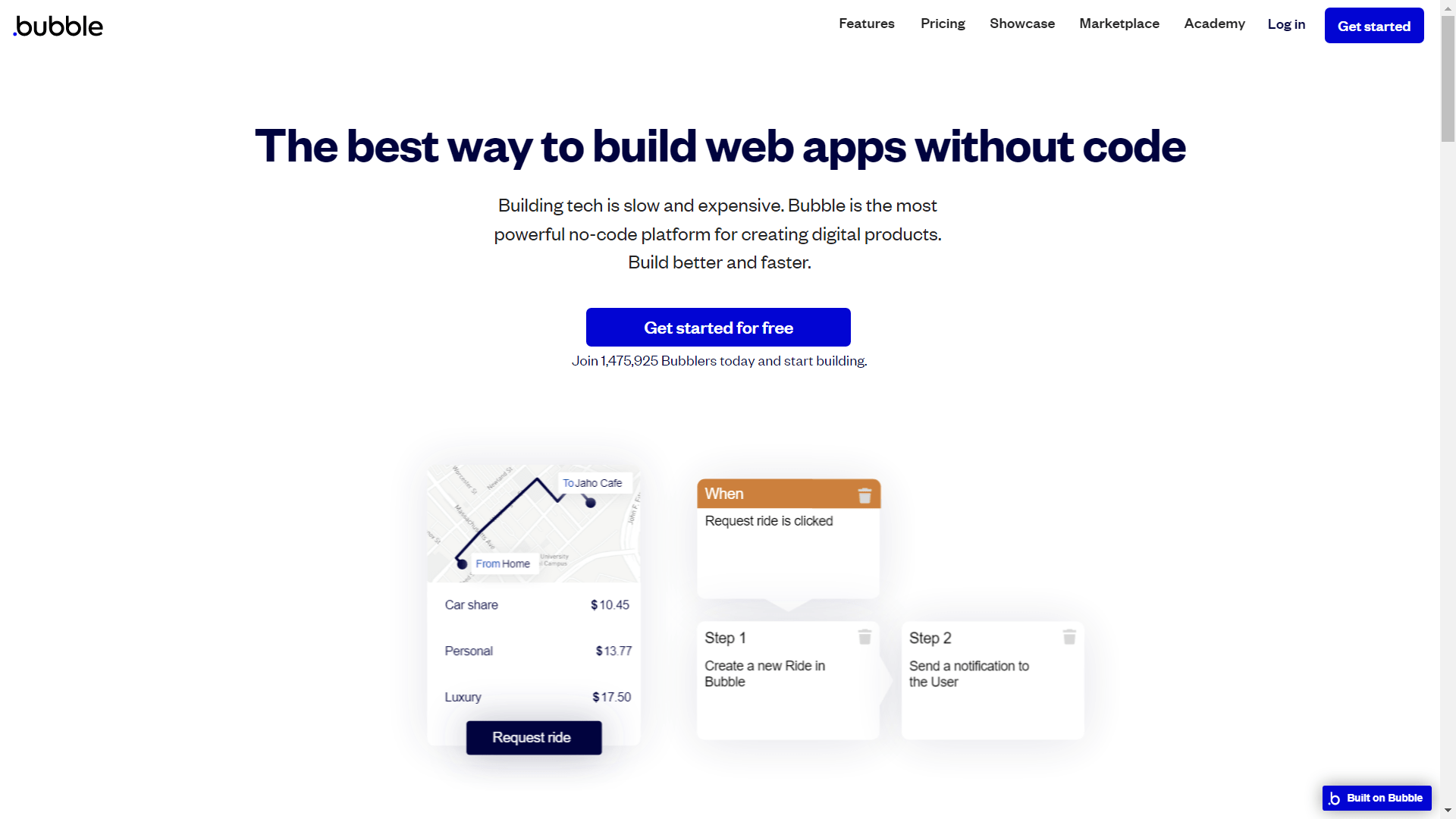 Bubble is a visual development platform that allows users to build all kinds and sorts of web and mobile apps. Bubble has a robust pixel-perfect design engine and a vast array of plugins used to make up for any missing functionality.
Bubble Advantages
Built-in Database - If you don't have a data source at hand, you can easily use the built-in DB. It's a simple sheets-like data source that you can manage from Bubble.
Complex interfaces - Even though building really complex apps most definitely will require using plugins, some of which are not free, we have to give it to Bubble. At the end of the day, there's almost no limitation in terms of the complexity of apps you can build in it.
Workflow builder - To create custom multi-page user flows, you can utilize Bubble's robust workflow builder. It has a wide range of triggers, scheduling schemas, and more.
Strong design capabilities - It comes with a pixel-perfect design engine. There are almost no limitations in terms of page design: colors, shapes, forms, and Figma integration allow you to create beautiful customer apps.
Large marketplace - one of the coolest things about Bubble is its large base of freelancers and agencies who fill in the gaps with things like plugins that allow you to write JS or whole app templates covering a very specific case.
Bubble Drawbacks
No native integrations - to connect Databases, API, or 3rd-party apps, you have to use additional plugins, some of which are paid. This also creates an additional friction point which leads to latency and a higher chance of malfunction.
Only Cloud deployment - If you're building for one of the industries with high data-privacy standards, such as Fintech or Healthcare, you might want to use on-premise or hybrid deployment to ensure the HIPPA and GDPR compliance, which you can not achieve in Bubble.
Steep learning curve - Typically only those with a design background would be able to adopt the functionality quickly enough. For the others, it typically takes from several days to several weeks to familiarize themselves with the tool.
Not optimized for internal apps - There's no table component out of the box as well as there's no easy option to set the drill-downs and pass and transform values across the user flow. Once again, you'll have to use 3rd-party plugins for it.
Pricing
Bubble has a usage-based pricing model and offers four pricing tiers starting from 25 USD/month. There's also a free forever plan. For Agencies, there's a special plan that has a fixed 71 USD/designer price.
Best For
Bubble is typically great for building customer-facing web and mobile apps where there's a need for pixel-perfect design on top of raw functionality.
Internal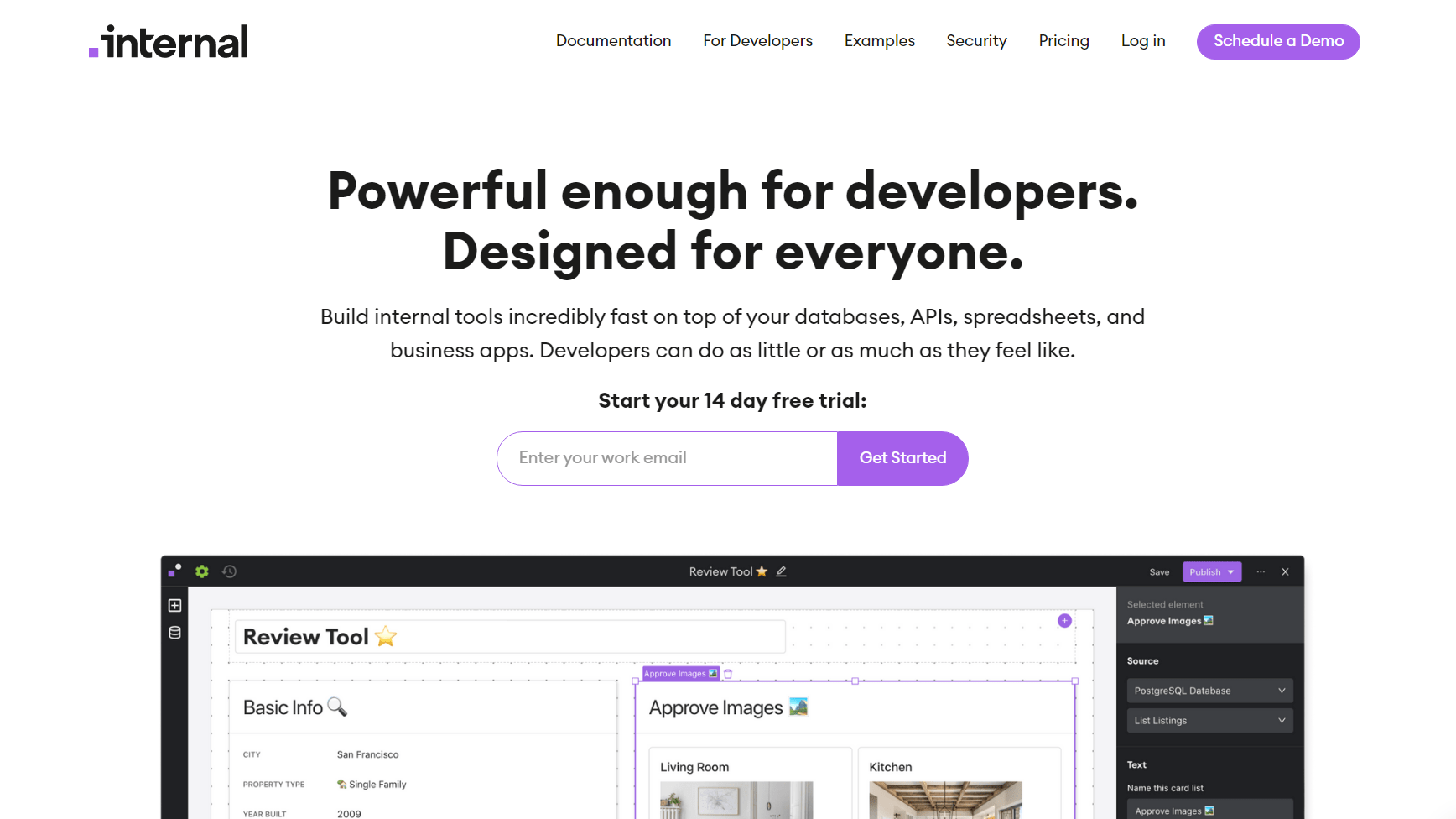 Internal is an app builder that allows developers to create internal tools on top of your databases, APIs, spreadsheets, and business apps almost entirely without code.
Internal Advantages
Instant CRUD - After having connected the database, Internal generates all the create, read, update, delete functions based on the data structure that you can later use in the building process.
No-code friendly - Assembling the UI, adding logic, linking components, consolidating data, etc. is typically done through selecting from the dropdowns and changing flags.
Developer tools - You can create HTTP, SQL queries, use Javascript, and embed custom components if you need or want to. You don't have to deploy this code either - all that can be done inside of Internal.
Customization capabilities - Internal comes with a number of customization options for the UI. You can adjust the colors, spacing between the elements, and their shape.
Internal Drawbacks
Gated app - You have to provide work email and other info to get access and test it. That might cause inconvenience for some people who want to try the app but don't want to disclose any company-related info.
Not many 3rd-party integrations - In many cases, there's a need to connect not only the core database or API, but also get the data from business apps and 3rd-party APIs. In that scenario, you'll have to implement the REST API to get that functionality.
No custom components - If at any point you'd need a UI component that's not available in the library, you'll have to wait for it or find the workaround as there's no option to code it on the side and embed it in the interface.
No templates - There's no option to start with the template, you'll have to assemble the UI from scratch for any case.
Pricing
Internal offers three pricing tiers after the Free plan, starting from 25 USD/month per user (only annual contracts)
Best For
Internal is well suited for companies that need to quickly build or rebuild their internal tooling but don't have extra development resources.
Appsmith
Appsmith is an open-source low-code framework that allows technically-savvy people to build and maintain internally-facing web applications.
Appsmith Advantages
Large Github community - If you're a developer and are used to working with Github, then you'll be able to familiarize yourself with the tool pretty easily. The repository is well organized and provides all the information and tools for developers.
Great free tier - Self-hosted version along with the cloud version is provided for free. There's no limitation for the number of users that can build, maintain or use the app.
Suited for complex user flows - It allows the creation of custom pages. That, combined with the option to write Javascript almost everywhere in the app lets you implement really custom multi-page workflows.
Appsmith Drawbacks
Somewhat outdated UI - If the look-and-feel of back-office and front-office apps matter to you, then you might find the interface a bit old-fashioned.
Only for technical users - You have to understand JS, and SQL to build tools in Appsmith. To link components, pass, and fetch values you'll need to write JS every time. Even if you directly connect to an SQL database, you'll have to write queries for all the pieces of functionality.
No API or 3rd-party integrations - If you're looking to consolidate data from multiple data sources including apps like Zendesk or Stripe, you'll have to go with a custom REST API to do that.
No environments - As of now, there's no option to create environments in Appsmith to manage the development cycle and control the updates.
Pricing
At the moment, Appsmith is an open-source solution with the enterprise paid plan. They declared they will partially move to a freemium model in 2022.
Best For
Appsmith is great for early-stage startups looking to get started for free or for the tech teams with plenty of front-end developers.
Retool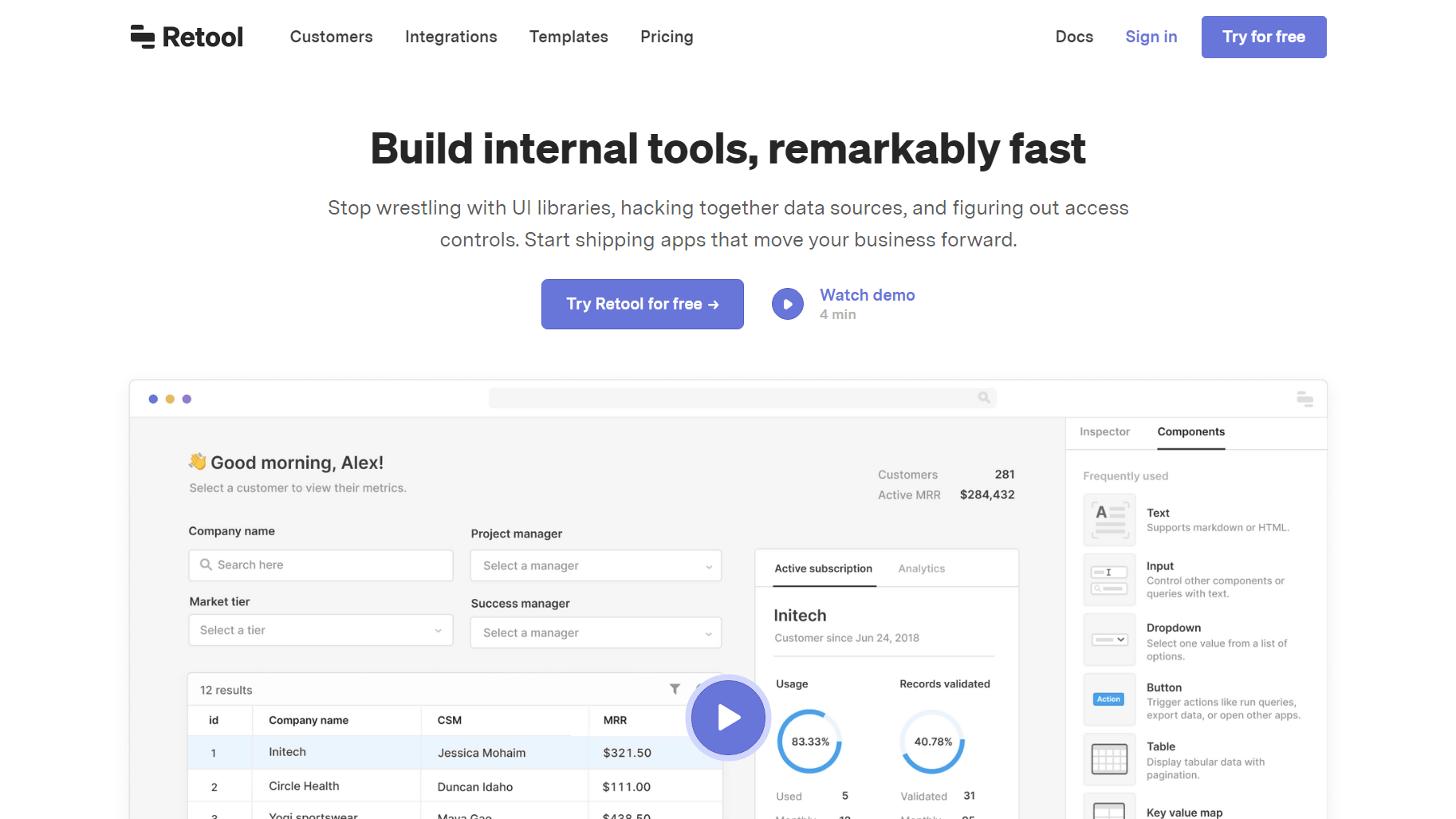 Retool is an internal tool builder that allows engineers and semi-technical people to build front-ends on top of different databases and APIs.
Retool Advantages
Reasonable learning curve - Developers and people with technical backgrounds typically get used to it in a span of several hours to a few days.
A wide array of integrations - It comes with 40+ native integrations, Including quite the niche ones like Vertica and gRPC. A decent amount of 3rd-party integrations allows for the creation of different kinds of CS and support apps.
Works well for complex cases - If you have lots of related data, you'll likely need to build multi-page flows with complex business logic. Here's where Javascript and custom pages will come in handy.
Git revision history - To have control over the development cycles, you'll likely need some sort of version control. Retool comes with the Git versioning which is widely accepted as a gold standard.
Retool Drawbacks
Dull UI - The UI has an overall grey palette and lacks richness and vibrancy. Also, there's not much look-and-feel customization, which is typically ok for the internal tools but might be a nice-to-have feature for some.
Mostly for tech folks - You can create apps in Retool without knowing Javascript. But it's unlikely that you'll be able to do that without knowing at least some SQL. Linking components, passing, and fetching values will require writing queries.
Not for external portals - the pricing structure almost completely eradicated the possibility of using Retool for client or partner portals. Even in the case of the B2B portals, the price tag gets unreasonably big quite fast.
Pricing
Retool pricing comes in four tiers, including a Free-forever one. The cheapest plan starts at 10 USD/user per month. For the self-hosted version, there's a separate set of plans.
Best For
Retool works well for developers who can get the most out of it with JS and SQL. Company-wise, the bigger companies with established development processes are likely to benefit from it.
DronaHQ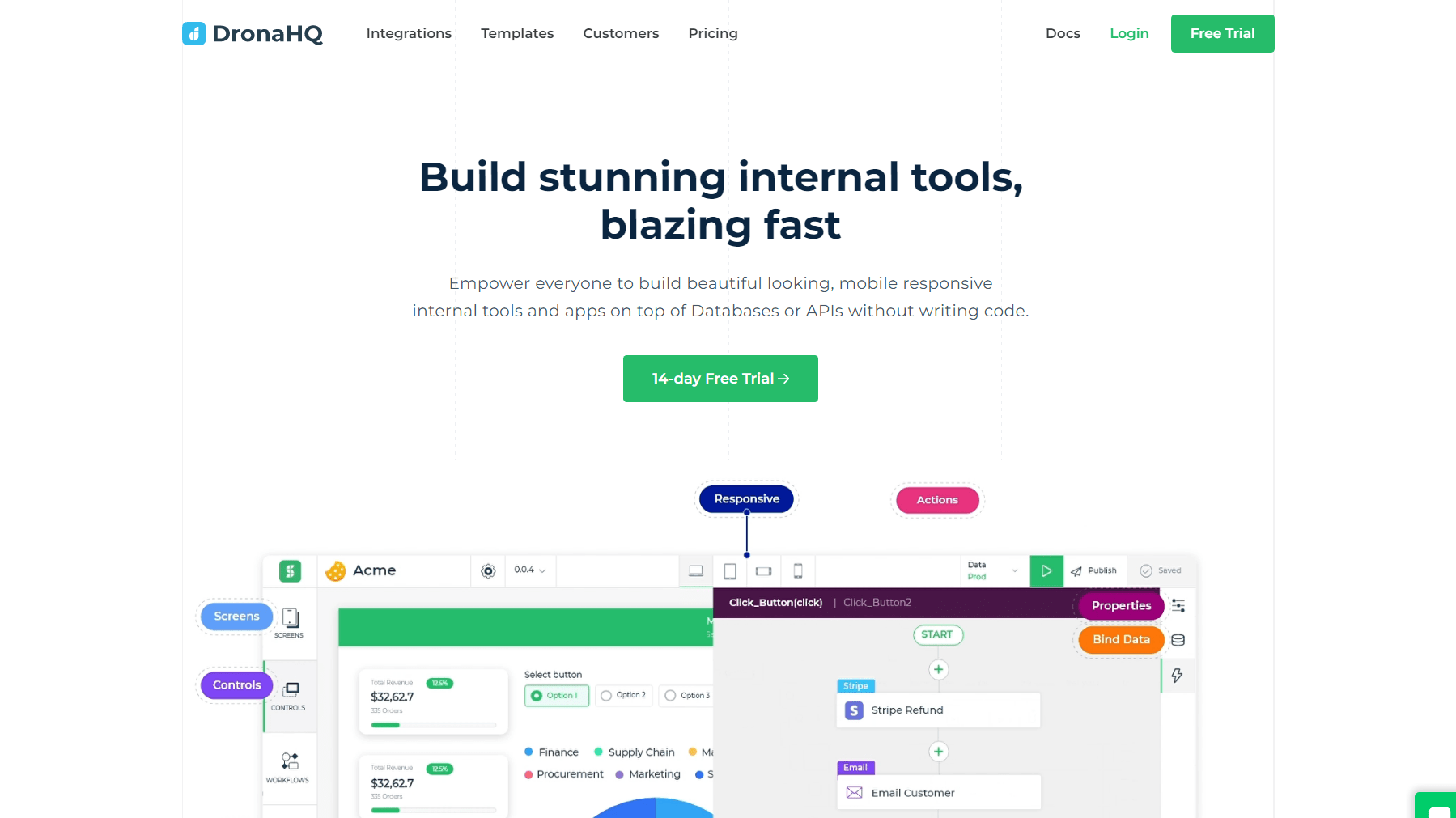 DronaHQ is a cloud-based low-code platform that allows users to build internal tools faster and save on in-house development.
DronaHQ Advantages
Built-in database - There's a Sheets-like database that comes with it. It can be used for quick prototyping or by those who don't have strong preferences for the data sources.
Lots of integrations - Out of all the tools listed here, it has the most integrations, Including the less common ones such as SAP HANA or Supabase, which might be important for a specific group of users.
Optimized for complex cases - As long as you know Javascript, you can build custom flows. On top of that, they provide a quite powerful workflow builder with a library of on-screen and server-side actions.
Wide range of UI building blocks - 50+ building blocks can be used out-of-the-box, including the rare ones like slide-bar and signature. Plus, there's a marketplace where you can shop to further extend the UI.
Additional built-in features - DronaHQ provides several additional tools like PDF creator or the "App store" and the "Google play" container apps
DronaHQ Drawbacks
No free tier - After the initial free trial ends you'll have to stick with one of the paid plans. This might be a blocker for early-stage startups as the pricing ledder is quite steep.
For the tech-savvy users - Even though there are some no-code functionality pieces such as formulas to transform values, you still have to write Javascript code to get off the ground with DronaHQ.
Basic API builder - the HTTP query builder is quite basic and for some use-cases might lack functionality.
Pricing
DronaHQ uses a usage-based pricing model where you can choose from two plans, the cheapest of which is 100 USD/month.
Best For
DronaHQ is best suited for those teams who have enough development resources and who build Interfaces mostly on databases rather than APIs.
UI Bakery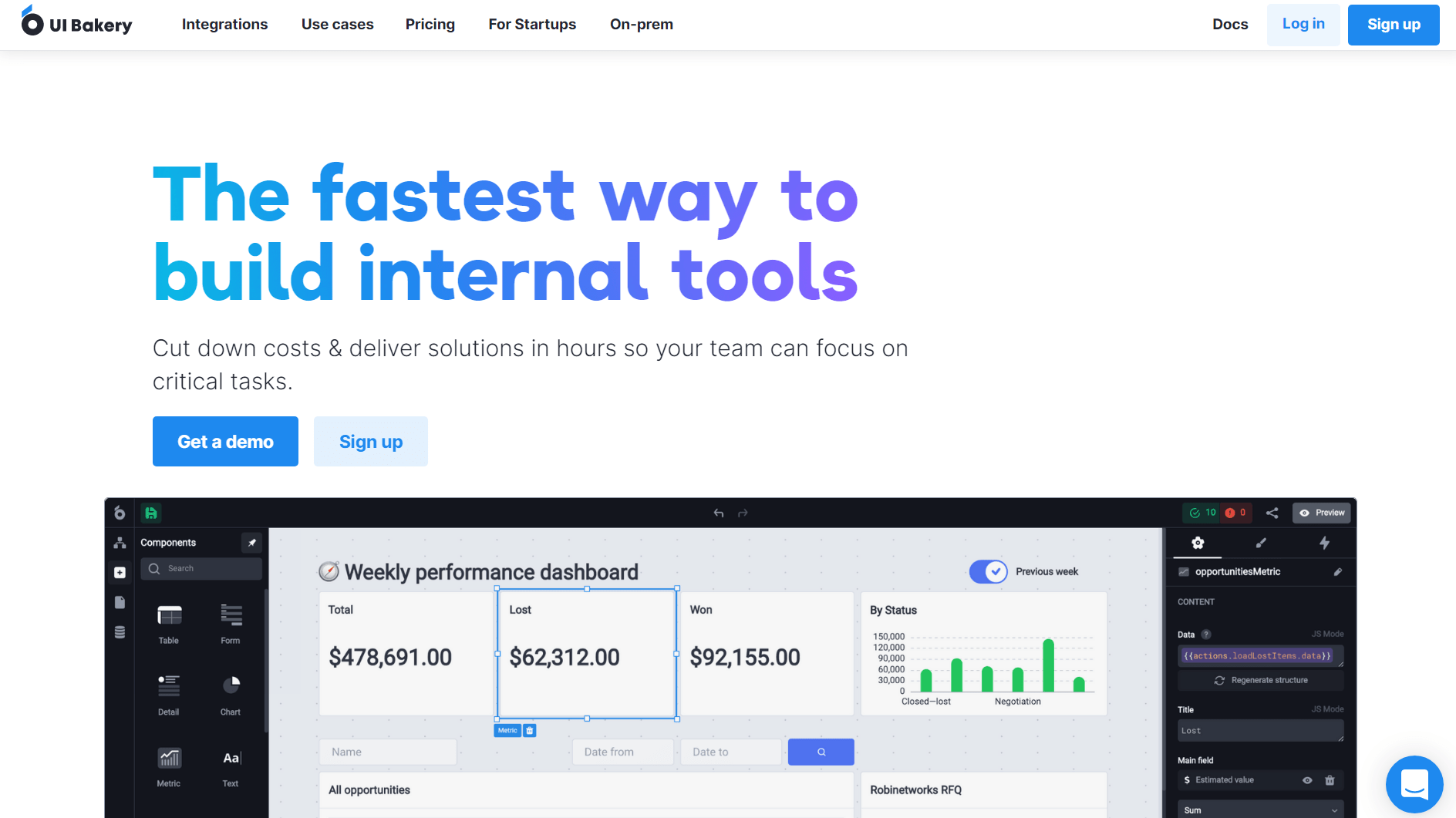 UI Bakery is an internal tool builder that helps teams build back- and front-office apps on top of their existing stack.
UI Bakery Advantages
Solid portfolio of DBs - If you're building mostly on top of the databases, it should get you covered. The most popular ones, such as MySQL or Firebase are in the deck.
Drag-and-drop UI builder - It's reliable and provides the means to quickly assemble all the building blocks on the canvas. The UI components library covers most of the standard use-cases.
Design flexibility - UI Bakery can offer a decent level of UI customization, which should pass the "good enough" threshold for most teams. You can set spacing, colors, and layouts as well as field parameters such as decimal placements and prefixes.
Video tutorials - Their Youtube channel provides quite a few how-to videos and can be a great assistant along the journey.
UI Bakery Drawbacks
No Cloud Storage integrations - For those who're looking to implement pictures or documents in their workflows, it might be difficult to get around introducing that functionality into the tool.
Requires developers - Even though some of the functions like displaying the table from the database involve only point-and-click experience, you'll have to wrestle with curly brackets to bind the components, bind the dynamic data and transform values.
Modest UI library - Some of the common UI elements are lacking, such as Kanban, Cards, or Calendar views which could be important in some cases.
Pricing
UI Bakery offers three plans on top of the Free one, with the lowest one being at 10 usd/user per month
Best For
UI bakery is likely to work well for smaller teams and startups with several developers in the core team.
Budibase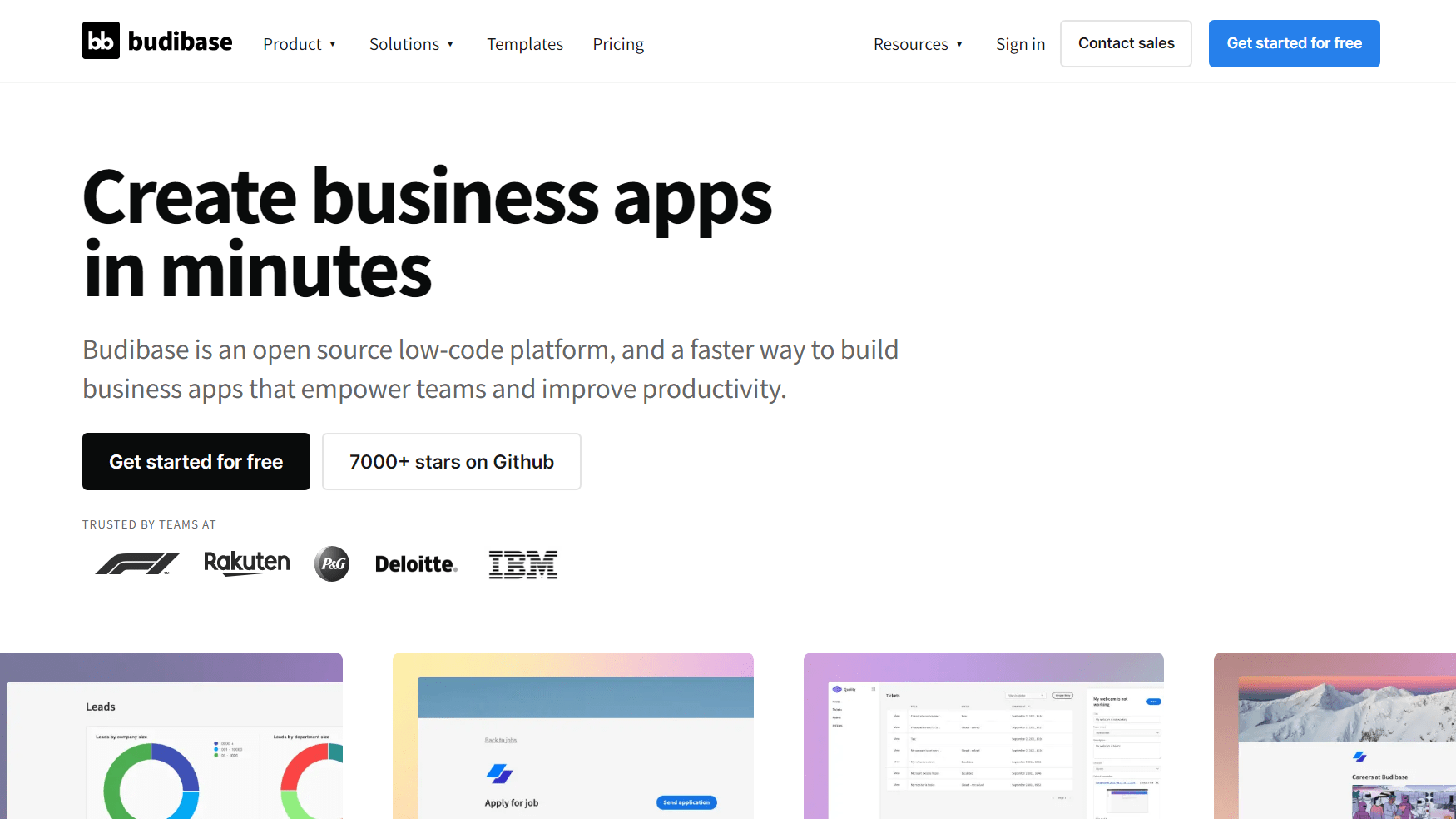 Budibase is an open-source low-code platform that allows developers to create business apps and save time on development
Budibase Advantages
Large Github community - The Github repository provides all the information and tools for developers as well as a quite active forum
Self-hosted deployment - They offer a variety of deployment options, including Docker, Kubernetes, and Digital ocean
Built-in DB - There's a database that Budibase provides which can be a great tool for simple projects and prototyping. Or just for testing purposes.
Free unlimited users - Cloud and On-premise free versions provide unlimited users and some nice features like SSO
Budibase Drawbacks
No drag-and-drop - The interface building process is quite limited as there's no option to put a given UI element whenever you want on the canvas. Instead, there's a set of predefined placements that one can use.
Only for basic use-cases - Limited flexibility in terms of passing and transforming dynamic values across components undermines the ability to build complex cases.
A modest number of integrations - Even though the most popular databases are covered, some are missing; for example, there's no option to create very popular apps such as the Firebase Admin panel. As for the APIs, you can only use REST but not GraphQL.
Pricing
Budibase offers two free plans: self-hosted and cloud. There's also a commercial license within the Enterprise plan
Best For
Early-stage startups or solo entrepreneurs looking to implement simple, non-mission-critical tools.
ToolJet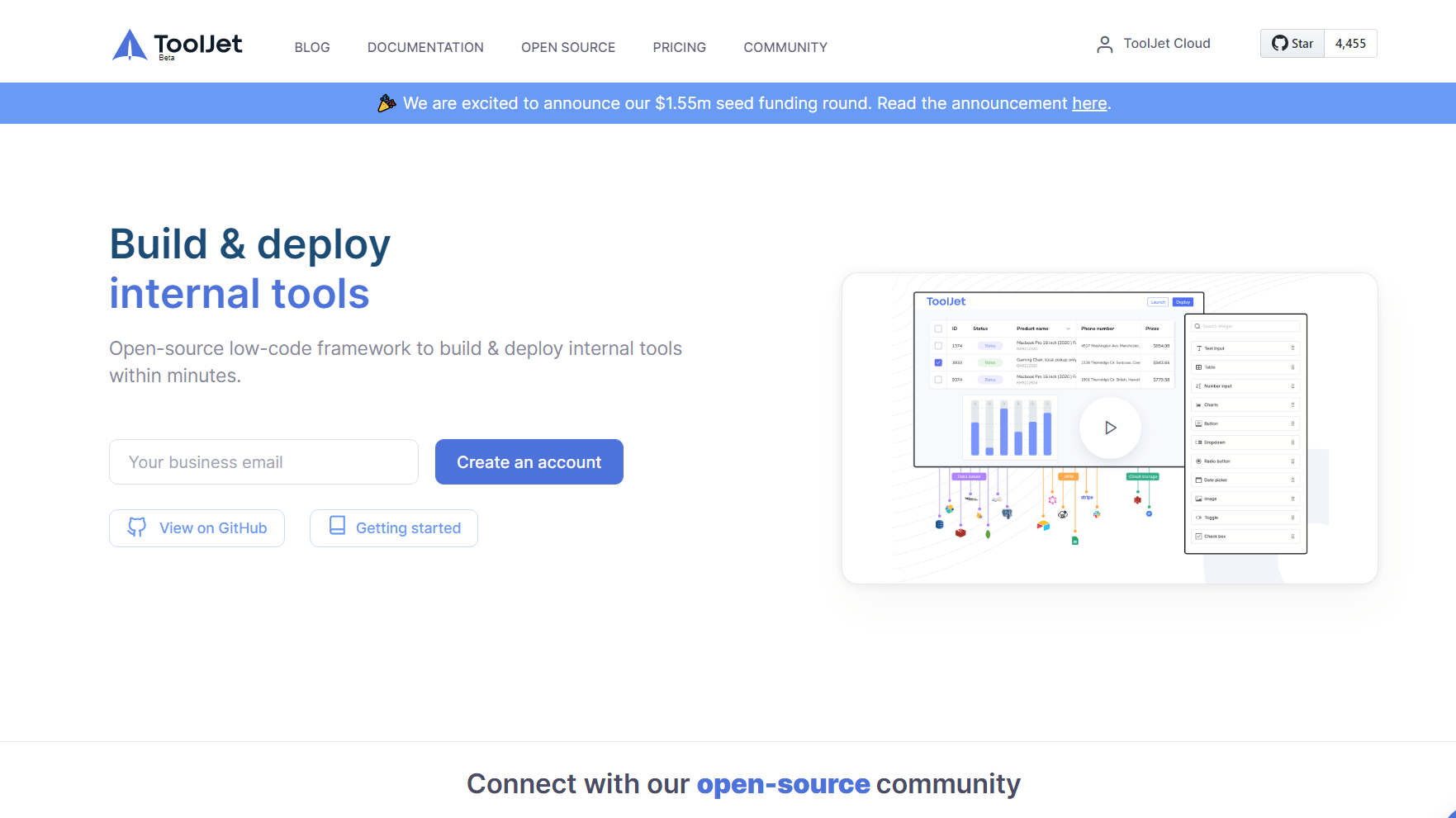 ToolJet is yet another tool in the cohort of open-source internal tool builders.
ToolJet Advantages
Free on-premise version - As with the most open-source apps, it comes with the free self-hosted version and with an unlimited number of users that can access the project.
Github community - The Github repository provides developers with a familiar framework for building internal apps. It's active and regularly updated.
Drag-and-drop builder - Even though it's not the most sophisticated on the list, it delivers on what you'd expect from it - dragging and dropping Ui components to assemble the UI views
ToolJet Drawbacks
Writing lots of queries  - You have to write queries to get pretty much anything done - fetch and pass dynamic values, transform responses and connect resources. All that eats up additional time and makes it impossible to use for non-tech people
No multiscreen apps - There's no option to create multi-page apps as the concept revolves around apps and there's no menu UI component
Limited UI building blocks - Some of the popular UI components are missing, such as charts (There's only a linear chart) and there's no option to embed custom components.
Pricing
ToolJet's pricing model is based on the number of users and has three tiers plus the Free forever plan. The lowest tier is 5 USD/user per month.
Best For
Early stage startups or solo entrepreneurs looking to implement simple one-page apps.
Stacker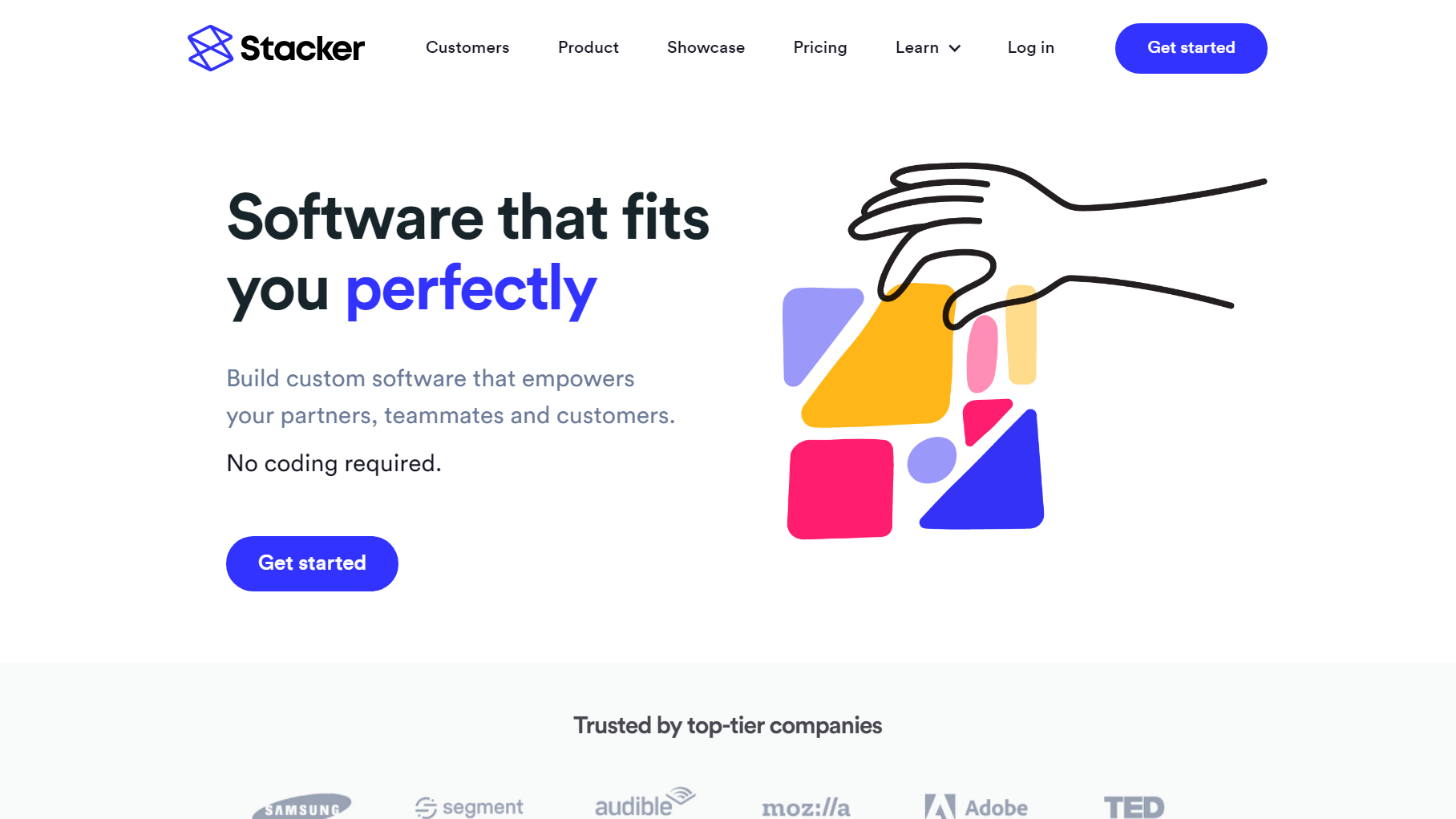 Stacker is a no-code app builder that allows non-technical users to create Internal tools and portals on top of Sheets and Airtable.
Stacker Advantages
Fully no-code - Typically anyone who's familiar with business apps like Sheets and Airtable will be able to get around quite easily. All the set-up and building experience is essentially point-and-click.
Great Airtable integration - Stacker provides a solid Airtable integration, supporting all the native functionality
Suited for building external portals - You can build apps that easily can be used by external users, even if there are thousands of them. There's unlimited usage starting from the "Plus plan" so that you don't have to worry as you scale
Automatically generated basic app - For all the databases that you connect to it, the create, read, update, delete functions are created automatically. You can use them anywhere in the app and avoid having to write queries for simple actions.
Stacker Drawbacks
Limited UI customization - The assembling UI components is heavily limited by the default views. In essence, you can only operate within the given templates and if none of the templates suit your case, there's nothing you can do.
No complex apps - It is very limited in terms of creating the custom user flows. There's no option to create drill-downs and multi-page apps. There's no option to implement custom data binding and workflows.
Very limited Integrations - As of now, only three data source integrations are available - Airtable, Sheets, and Salesforce
No free plan - Stacker doesn't offer any free plan which might be inconvenient for those just starting out.
Pricing
Stacker offers four plans, all of which are paid plans. The lowest tier costs 59 USD per month.
Best For
Teams working exclusively with Airtable and Sheets and those who need a very basic internal app or portal.
Softr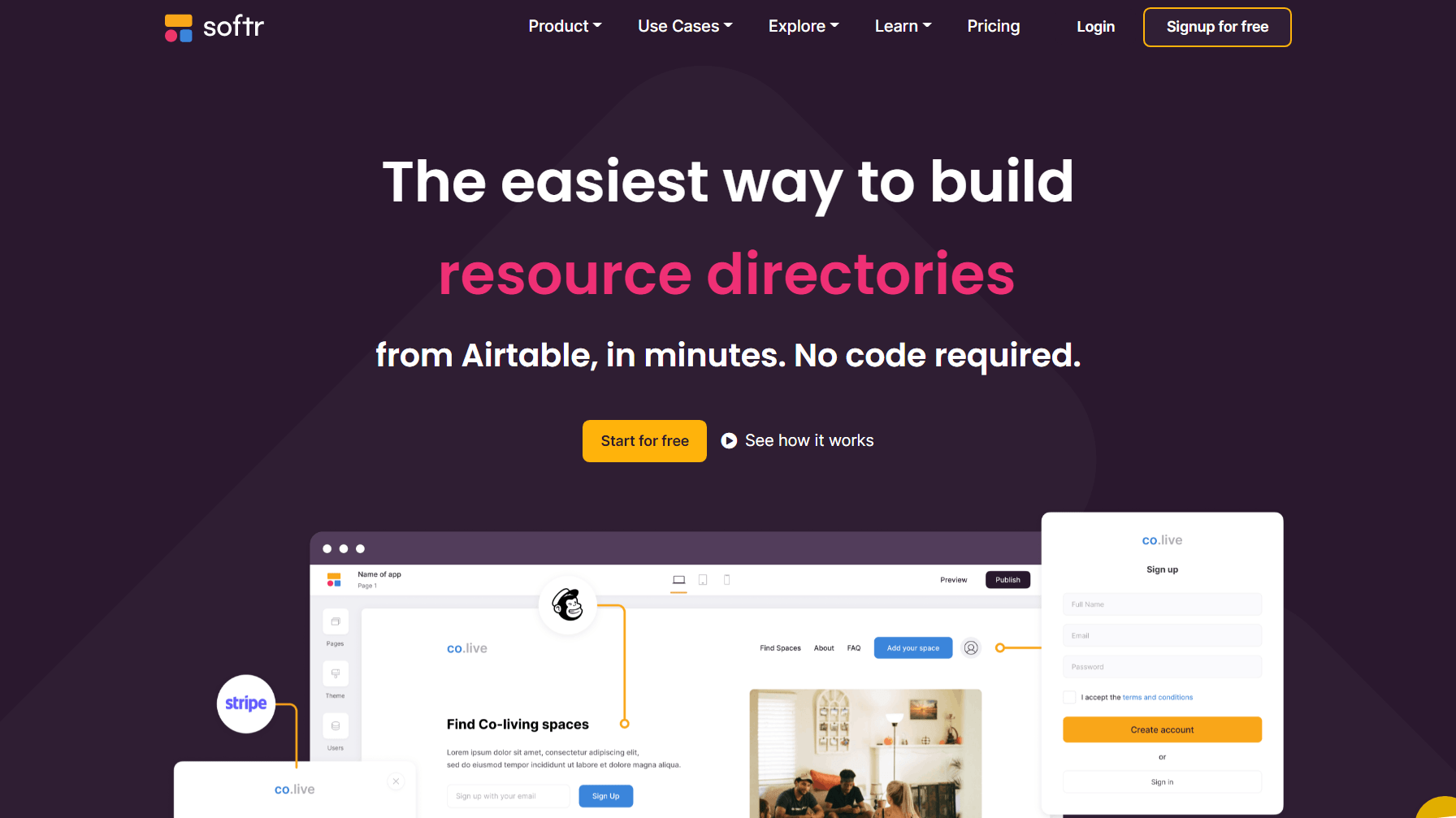 Softr is an app builder that allows non-technical people to create internal tools, portals, communities, marketplaces, and so on.
Softr Advantages
No-code friendly - Even if you're not a developer, you'll find building apps in Softr quite simple. It's mostly choosing from the dropdowns and ticking the checkboxes.
Client portals - Starting from the "Professional" pricing plan, you can easily build client portals with a 10k+ user base. There's also a subset of UI components suited well for portals.
Built-in SEO - Some of the basic SEO and Social settings can be set right in the app which is very useful for any public apps.
Softr Drawbacks
Rigid UI structure - Even though they offer more UI components compared to Stacker, there's no drag-and-drop builder and you still can not build custom pages. All the building blocks can be only stacked one on top of another.
Missing crucial UI building blocks - Some components such as inputs are missing which makes it impossible to build custom apps, where drilling down into the data and editing it is required
No DBs or APIs - They don't provide the means to connect a database other than Airtable or implement custom API
Pricing
Softr offers four pricing tiers including the free plan. The plans differ by the features with the lowest starting at 24 USD/month.
Best For
Those building simple B2C portals, marketplaces or communities.
Conclusion - Best Forest Admin Alternatives
As we have seen, there is a whole plethora of tools and platforms that help teams and companies build business apps, internal tools, admin dashboards and panels, and client portals easier and faster than with traditional in-house development.
All of these tools differ on several levels. Some of these tools are on the "easy and simple" end of the spectrum, while the others are going in the direction of "complex but robust". To sum up the analysis and guide you properly, here's our version of TL;DR:
If you're in the "heavy lifter" category, have lots of related data from multiple data sources, and want to implement truly custom complex use-cases, these are the tools we'd recommend to look at:
Retool is the one you should lean towards if you have enough developer manpower and/or want the developers to own the whole development and maintenance cycle for all the Internal tooling. Jet Admin would be a great fit if you need the flexibility of the low-code but want to introduce non-technical or semi-technical people to the internal tool building process.
If you're looking for something cheap and simple, then we recommend looking at UI Bakery - you can get started for a reasonable price or use a feature-rich free tier.
In the open-source category, Appsmith looks like a solid choice with its free (at that point) cloud version and a quite extensive list of integrations.
And finally, if you're looking to build an external portal for vendors, merchants or partners, you should try Jet Admin (best suited for B2B Portals) and Stacker (best for simple B2C Portals).
Would you like to compare Jet with other tools?
No-code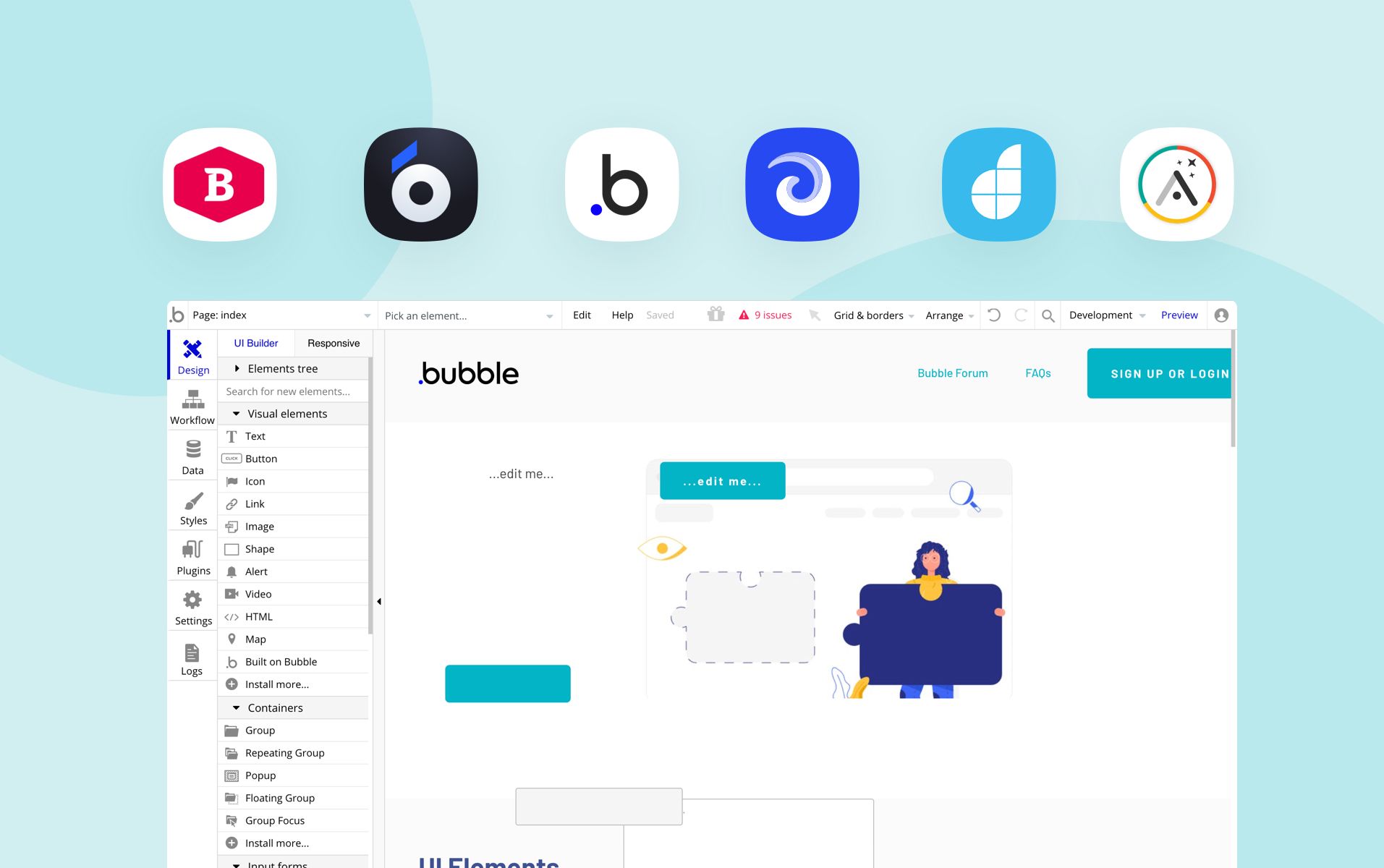 Internal tools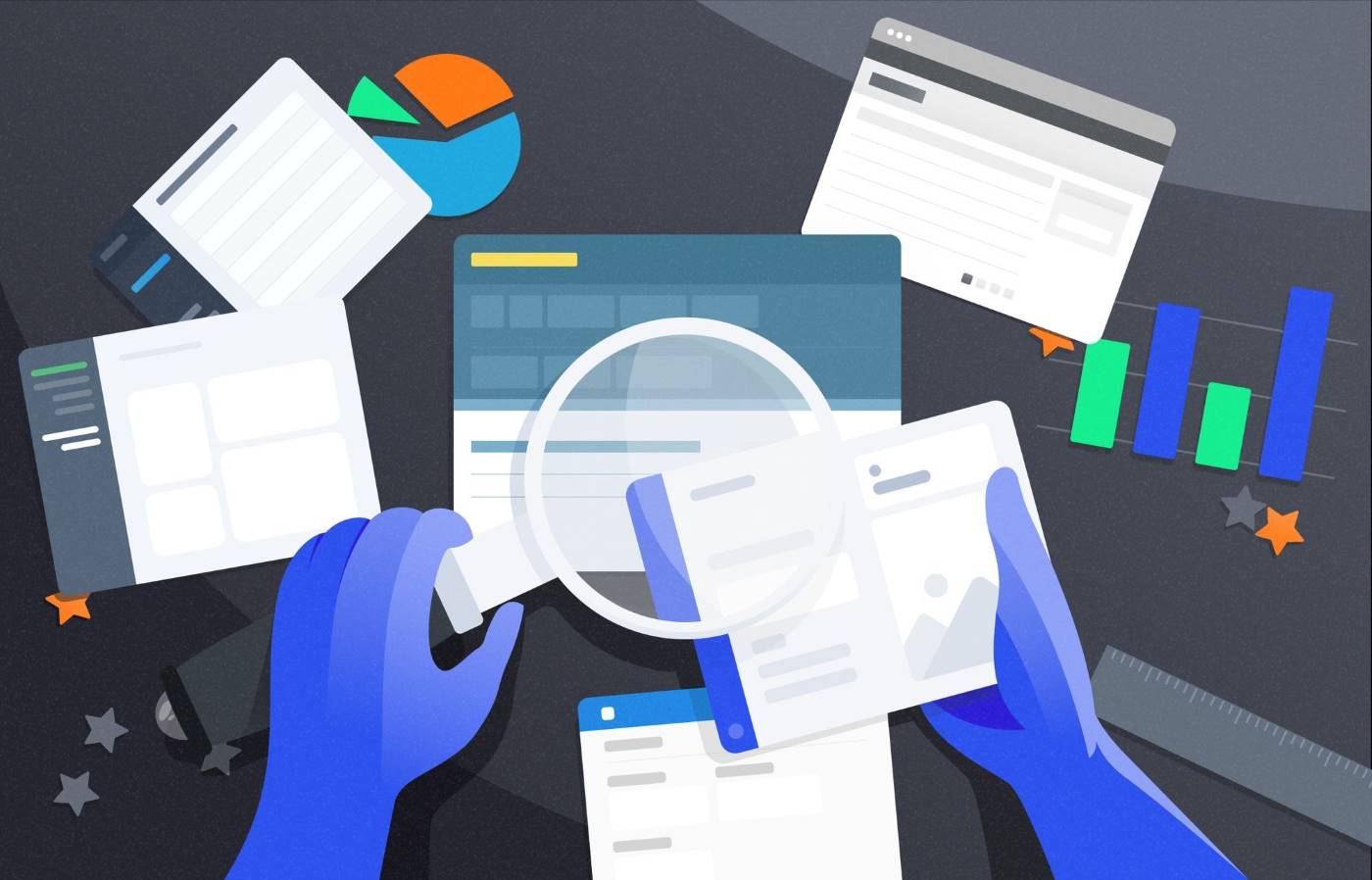 Admin Panel