VIVART is an e-commerce marketplace for artists and art lovers. The idea is ordinary: customers buy paintings, and artists offer their works. What's not so ordinary is that iOS users can hang a painting on the wall before even making a purchase! The AR technology behind the iOS-application helps art fans choose the best fit for their interior design.


Since its very start, VIVART has been using an open source admin panel to manage their daily business operations. As in many cases of growing companies, the admin panel wasn't a priority as the customer-facing product needed continuous improvement. However, as the business kept growing, the out-of-the-box solution required constant refinement to implement the necessary features. This is when the team decided to switch their operations to a universal SaaS admin panel – Jet Admin.


Painters' Onboarding
The process of painters' onboarding is fairly simple, as described on the picture below. Tom (Customer success manager) uses the Jet admin interface to add every new painter to VIVART's database using Record page. Thanks to our Visual Builder, he can effortlessly add painter's information (name, address, telephone numbers, …), their work, and set up an appointment.
Not so complicated but time-consuming when you don't have the right system to manage this data.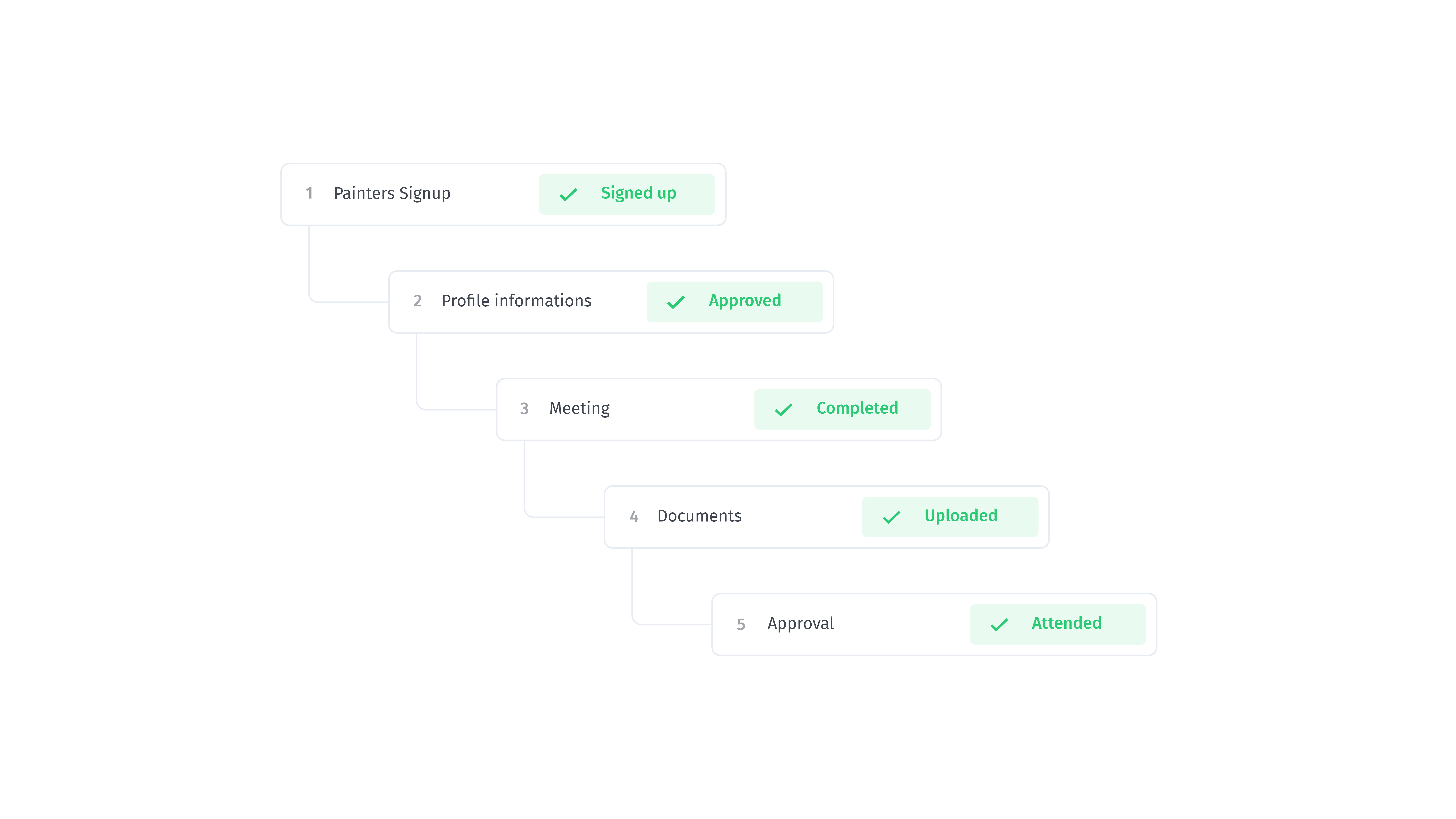 First rate customer support
Tom is also using his Jet admin interface to help the Customer Support team manage painters' information, reset passwords, modify phone numbers, or cancel an order when required. All these actions are technically defined as Flex Actions and can be easily integrated into Jet's interface as custom buttons. Tom can activate a certain process or access and modify painters' information in a single click using Flex Actions.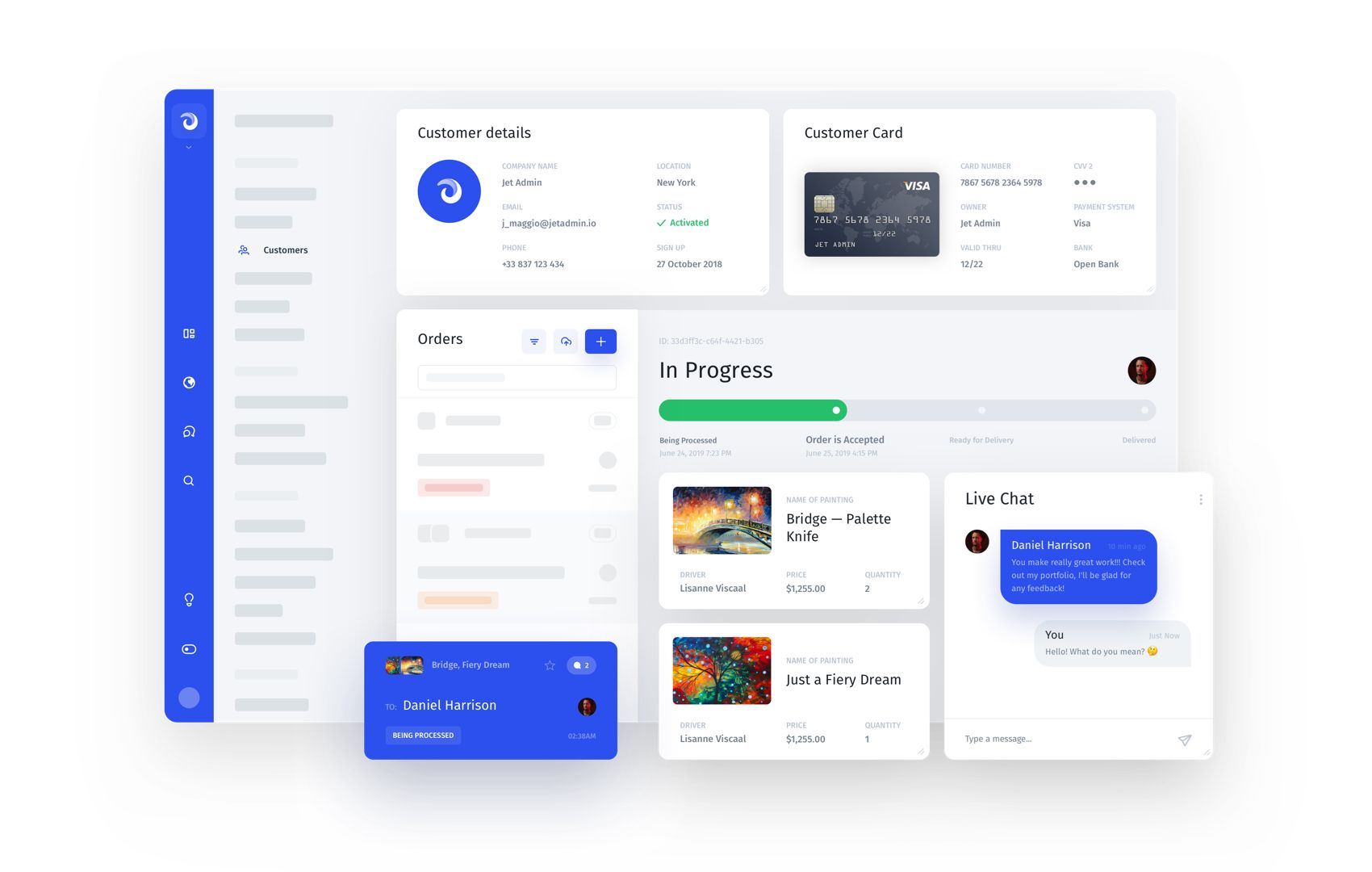 Order Processing Management
Using Jet's set of Collection widgets, the VIVART team has been able to organize the orders data in a smart, yet visually attractive way. All existing orders are displayed in the form of individual cards in a Kanban board, which makes it easier to differentiate the paintings and follow their statuses. The approach has significantly sped up the coordination of order processing, packaging, and quality control, since it all can be done from one admin panel.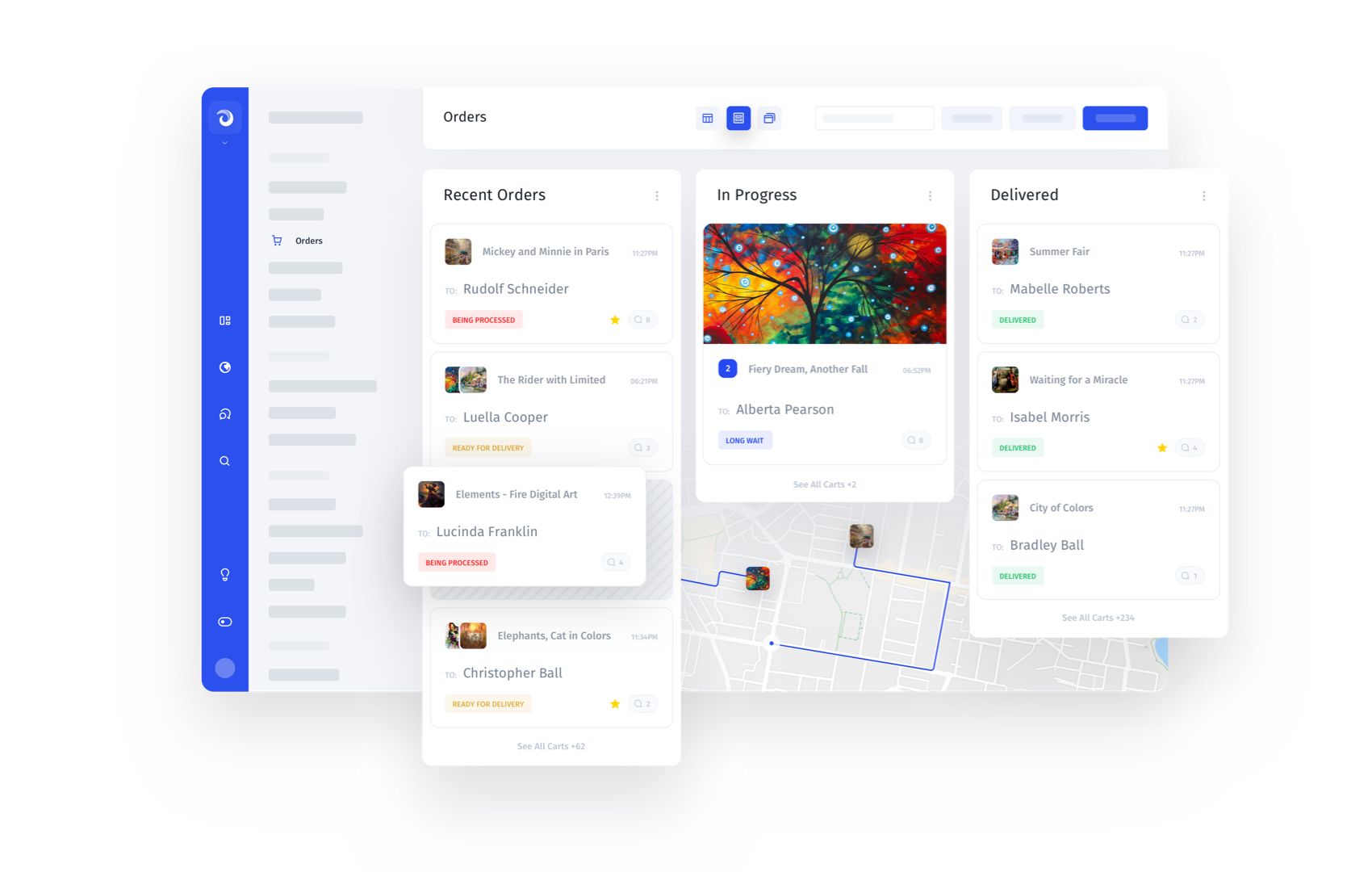 Shipping Management
With Jet, Tom doesn't need several different platforms to keep track of every order. Tom is able to trace every step of the delivery process on the Map, monitor the data from shipping partners with Flex Segments, and immediately act upon the received data with Flex Actions.
Also, he can send a pre-written email to a shipping partner or customer, notify about a delay or submit documents required for shipment.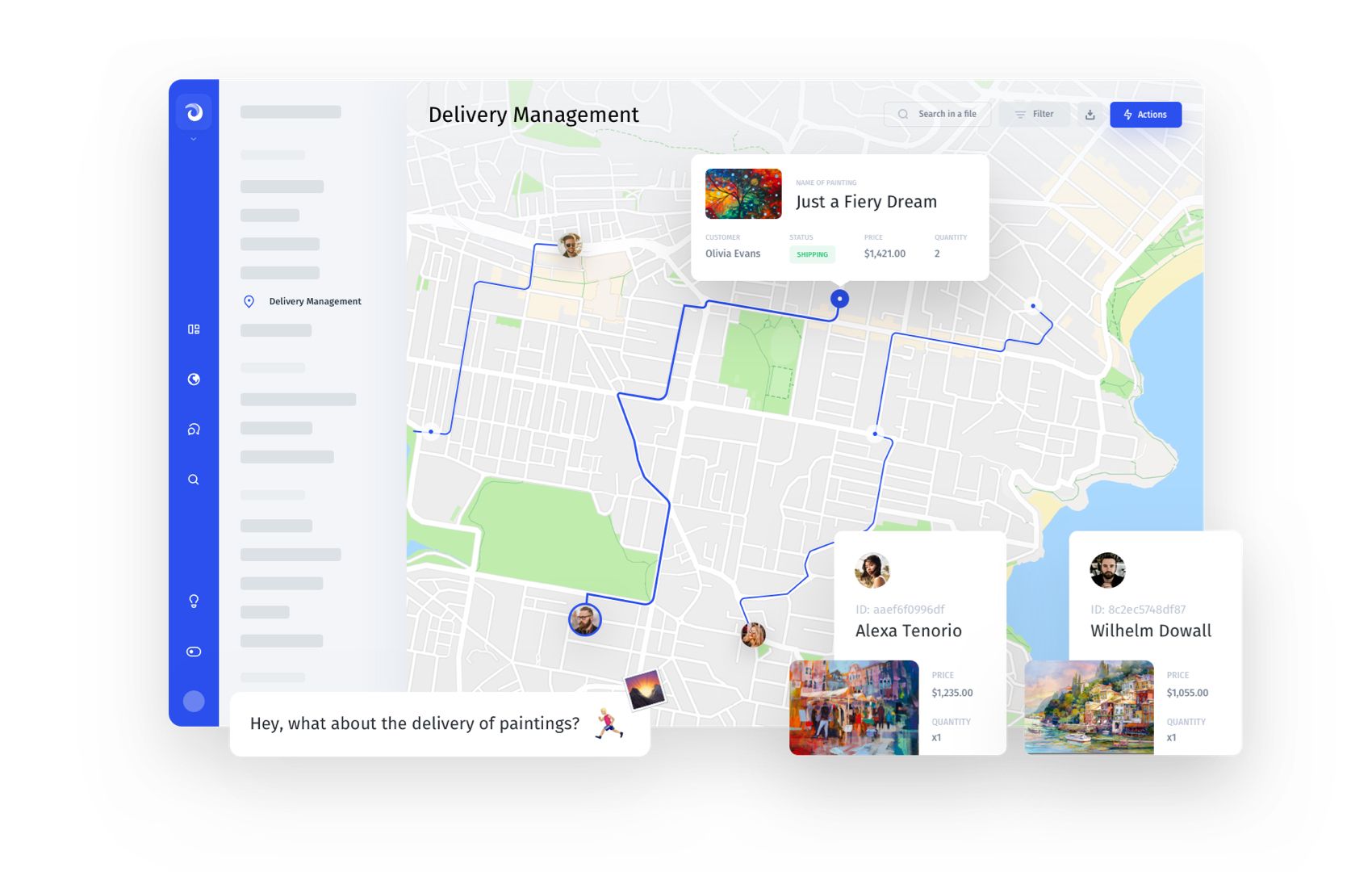 Inventory Management
The team is now able to effortlessly search through and update their inventory database right from Jet's interface. All the paintings are neatly organized in one Collection view thanks to the Gallery widget. Here any team member can add, edit, or delete new art works, their descriptions, credits, and any important data. What's more, it's even possible to link your inventory data to customer and order information in case you're using third-party services.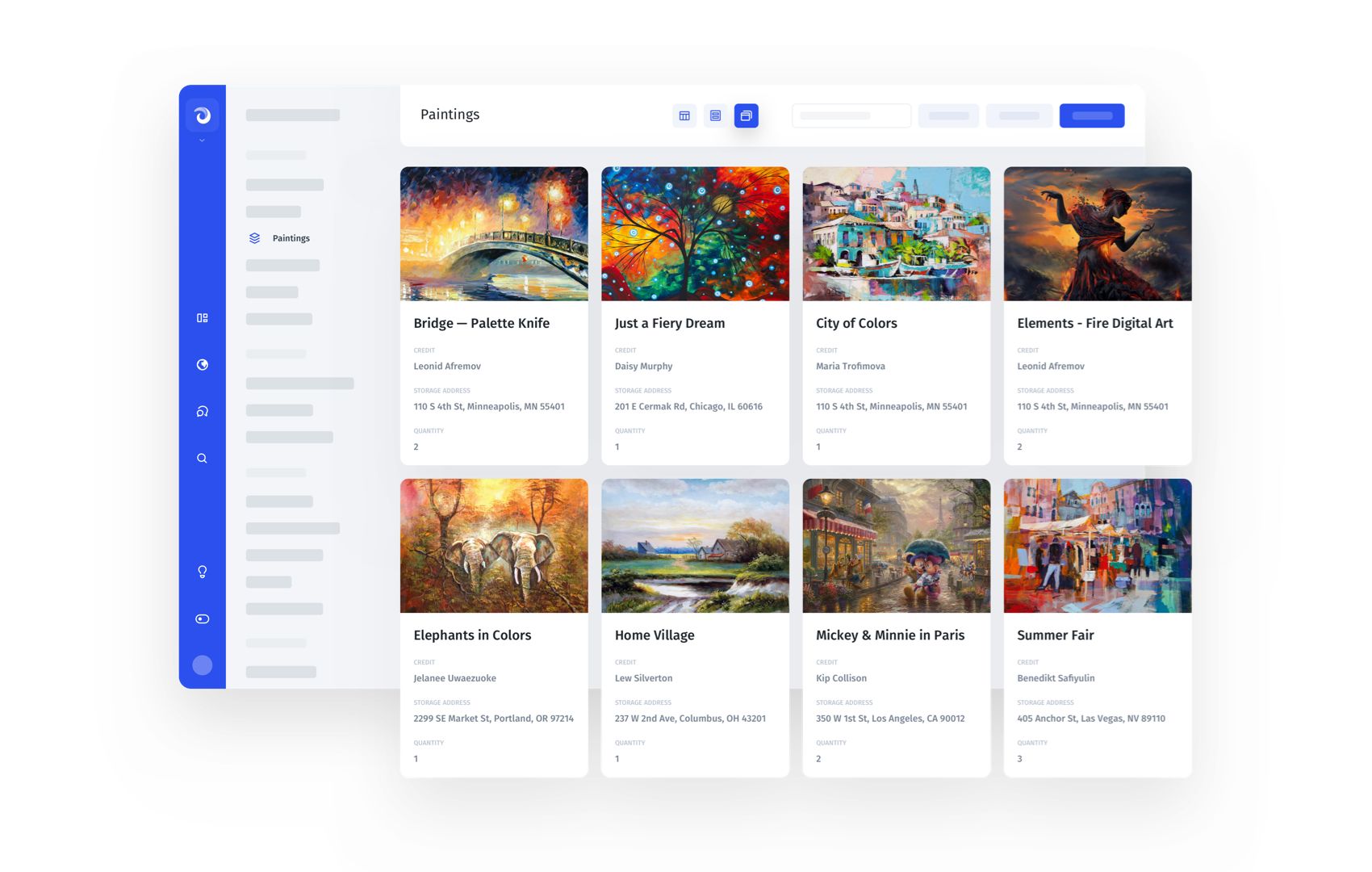 Results

Thanks to Jet Admin, VIVART has been able to save a considerable amount of time and resources needed to develop an admin panel from scratch or set up an open source bootstrap solution. Jet's sophisticated architecture ensured improved data safety, while a set of operational tools has made the management of crucial day-to-day tasks easier than ever. The team focused on faster order processing and delivery to provide the best-in-class customer service to their clients.
---
Thank you for reading! Jet Admin is a ready-to-run admin panel designed to fit the operational needs of your business. Integrate our API with your web application's database and enjoy!
Try Jet Admin live demo for free.