So you've just set up a front page for your e-commerce project - congrats! Now it's time to think about how you're going to manage your application data and get insights about orders, transactions, and website users.

Given that building and designing internal tools might take several months, it's a great idea to start out by using an e-commerce admin template. Admin templates are a kit of pre-built web-pages, developed with HTML, CSS, Bootstrap, or any other JS library, that create the user interface of your admin panel.

All of the packages we've gathered below are mobile-friendly and responsive as well as come with a ready-made admin dashboard, analytical charts, cards, widgets, and several color themes. Most of the providers offer customer support.

There are a few things to consider, though, before you make a purchase.
License types

Everything costs money, folks, and admin templates aren't an exception. Most of quality admin UI kits available on the market come with several license options. A license gives you a non-exclusive and non-transferable right to use the template in your project. Licenses as well as their terms and conditions may vary from provider to provider, but generally there are just 3 types: Regular, Developer, and Extended. So which one should you go for?

The answer is it depends on your project and the website you're purchasing a template from.

Although regular licenses tend to have much more attractive prices, oftentimes they are only eligible for web applications that are going to be free to customers, which is...you know, not at all what e-commerce is about. To save you some time, we excluded these from the article, so you will only see regular licenses, if they're eligible for commercial projects.

Developer and extended license types usually offer more benefits, such as the permission to use a template for commercial project(s) and develop a theme or template for redistribution or resale. Again, the conditions may vary, so make sure you look into it before purchasing a product.

If you're sure that an admin template is the best option for your project, here's our Top-10 e-commerce admin templates:

Azia Admin

Azia Admin is a modern and clean Bootstrap 4 admin template that offers a wide range of customization options. There are about 1000 font icons and 500 UI elements that come out-of-the-box along with the WYSIWYG editor. If you value your time and what you do with it, you'll be pleased with 10 pre-built dashboard templates and 3 navigation layouts. (Just don't get lost in all the options, or it will play the opposite trick on you).

The template package also offers a variety of pre-built apps to enhance your workflow. For instance, you can integrate a mailbox, chat, contacts, and calendar. It might not seem like a crucial feature, but trust us on this one – it will significantly reduce the time you're spending on processing customer feedback, resolving issues, and setting up meetings, which is essentially what any company is trying to do.

Price: A Regular license for a single personal or commercial website/app retails for $39, a Developer – $99, and an Extended – $249.
YoraUI Admin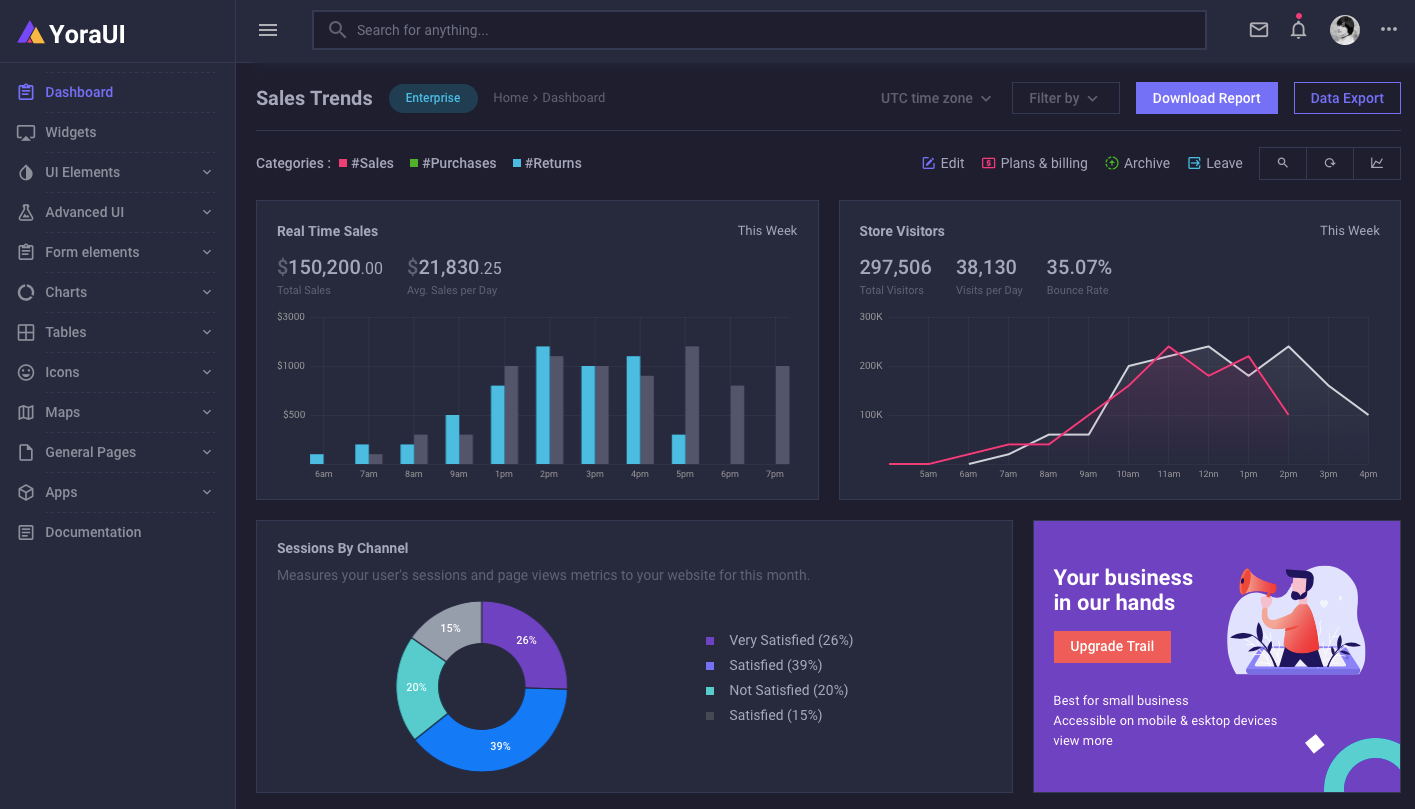 If Apple made admin templates, they would probably look somewhat similar to YoraUI. It's just very elegant and well-structured. There are 11 themes to choose from: vertical light, horizontal dark, fixed sidebar, toggle sidebar – you name it. In total, you get more than a 1000 icons, a fully responsible layout, and several chart libraries.

YoraUI is built with SCSS and integrated with tools like npm and gulp to make sure you can easily customize your admin. As a bonus, they offer a free well-written documentation and extended 12-month support for just $7.88.

Price: An Extended license retails for $700.
Philbert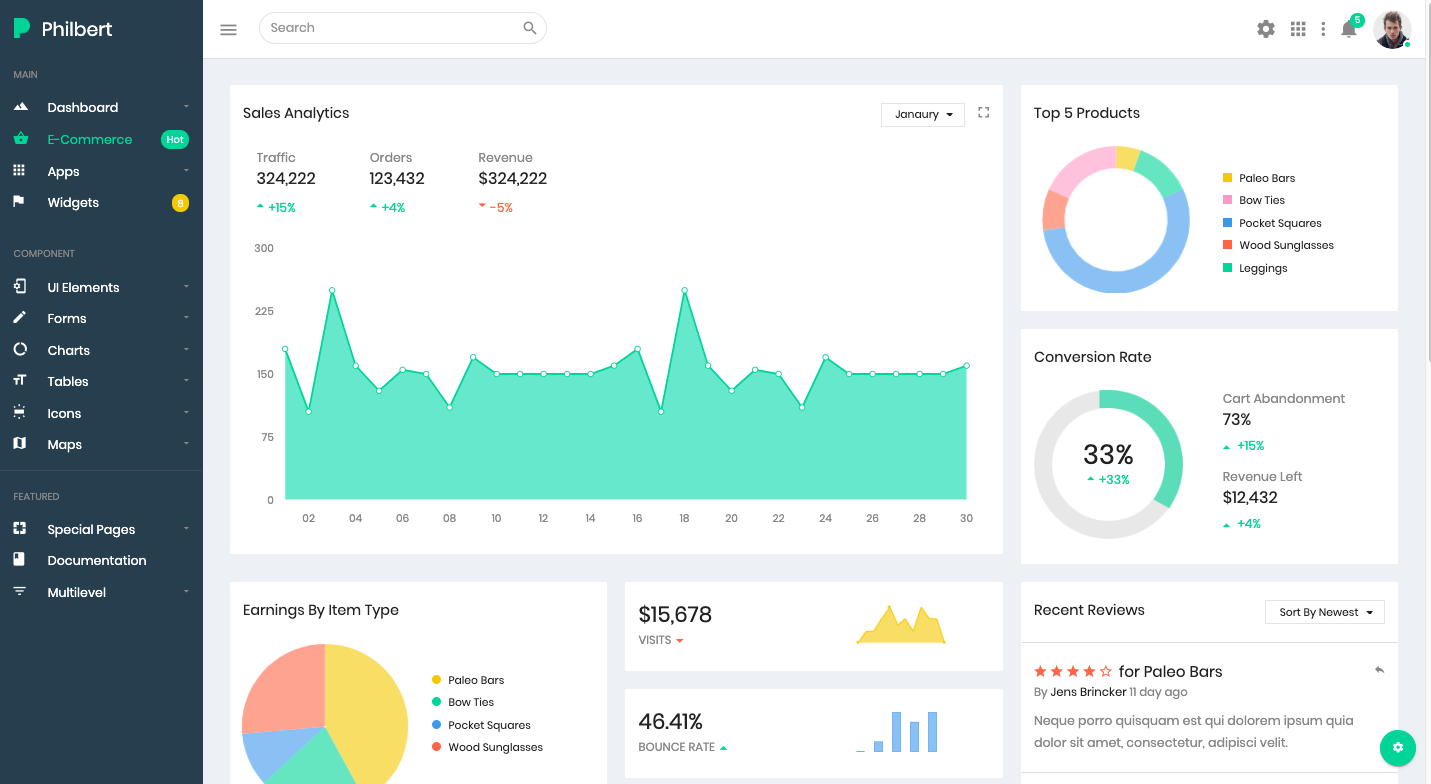 Philbert is yet another great Bootstrap-based admin template, powered by Grunt, Bower, and SCSS. You will benefit from a set of dashboards for monitoring demographics, analytics, and user profiles. What's superb is that they have pre-made e-commerce dashboard and pages as well. With 8 color schemes, it's easy to customize your admin panel and please everyone on the team.

Ever wanted to see what the Kardashians are up to during your work? Well, Philbert's live Twitter and Instagram feeds will make your dreams come true. All jokes aside, this is a great feature for social media marketing and user retention.  (No, seriously). It is way more effective to manage your social media presence from your admin panel than switching between a thousand web pages every time you have to look something up or post an update.

Price: An Extended license retails for $1200.
Hound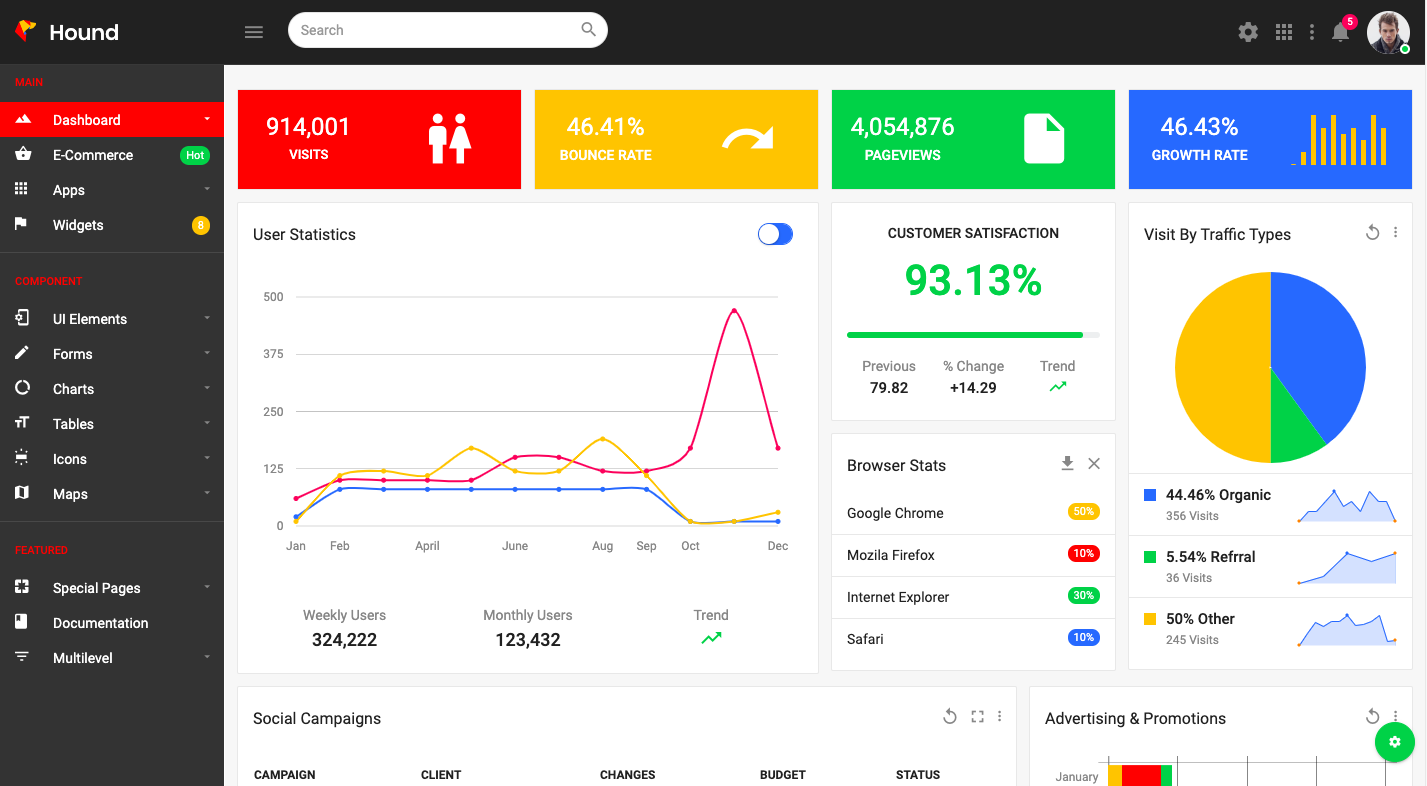 Hound is a responsive HTML admin template with 90+ pages, 2000+ icons, and 500+ interface elements. Although we have to admit that the color themes are a bit disappointing, the great number of charts and widgets can easily make up for it, especially if you're not chasing after the aesthetics.

On the plus side, the admin template package comes with working calendar and weather apps, integrated vector and google maps, and To-do lists. On top of that, the Hound team provides 24/7 support to their customers. So if your goal is to organize all of your operations in one place and prevent any minor bugs from damaging your business, Hound might be exactly the admin template you need.

Price: An Extended license retails for $900.
Severny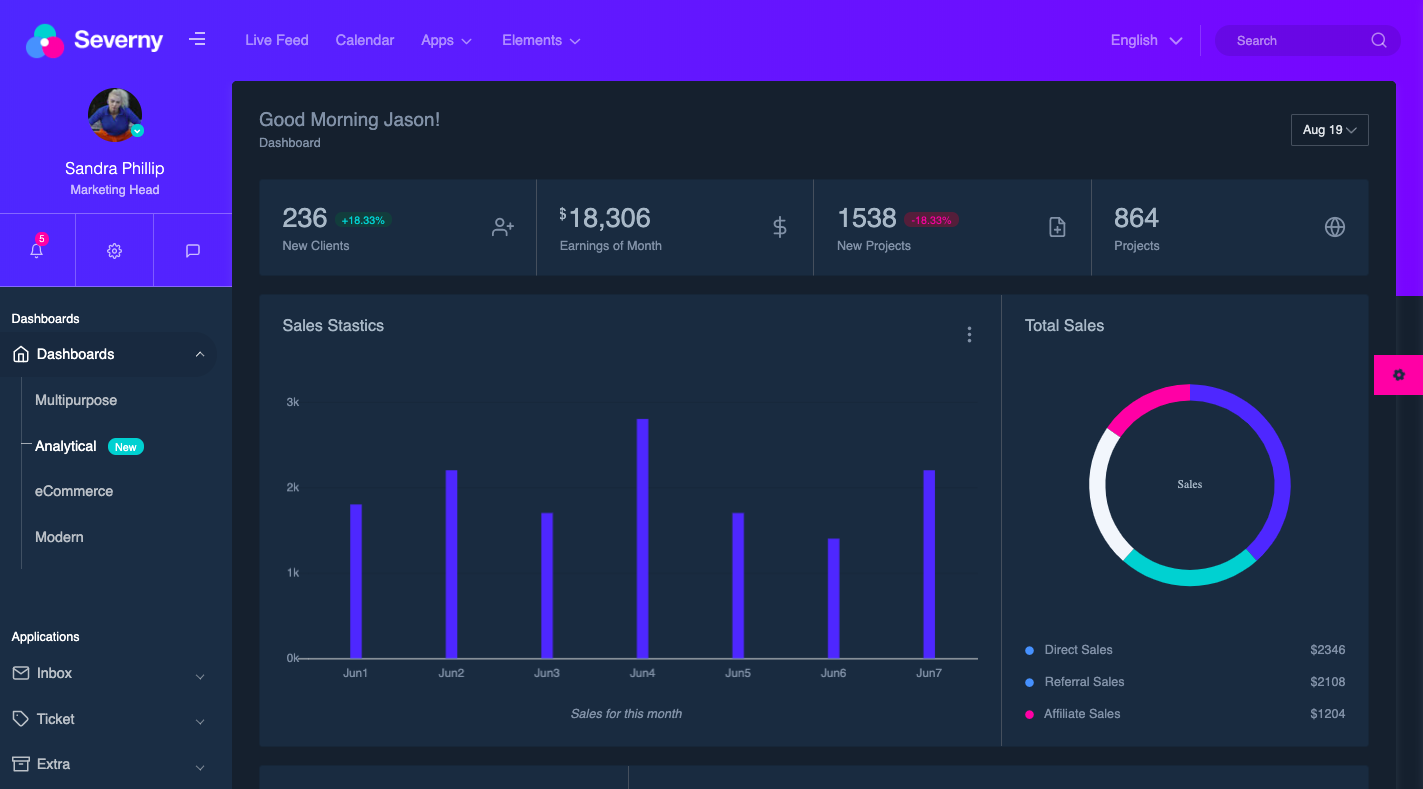 Severny Bootstrap is an admin template that was created specifically for e-commerce projects. The kit provides more than 150 web pages, mostly e-commerce oriented, and even includes gallery options for you to showcase your products. The recent activity window is a great addition to the pack – here you can view all notifications about recent orders, new support tickets, and messages from clients.

What's worth special attention is Severny Admin's validation forms and chart options. Also, you'll be able to see your sales sorted by location on the map widget right on your main dashboard, which is nice. Overall, Severny easily has one of the best UI's in the admin template game at the moment.

Price: An Extended license retails for $399.
Stack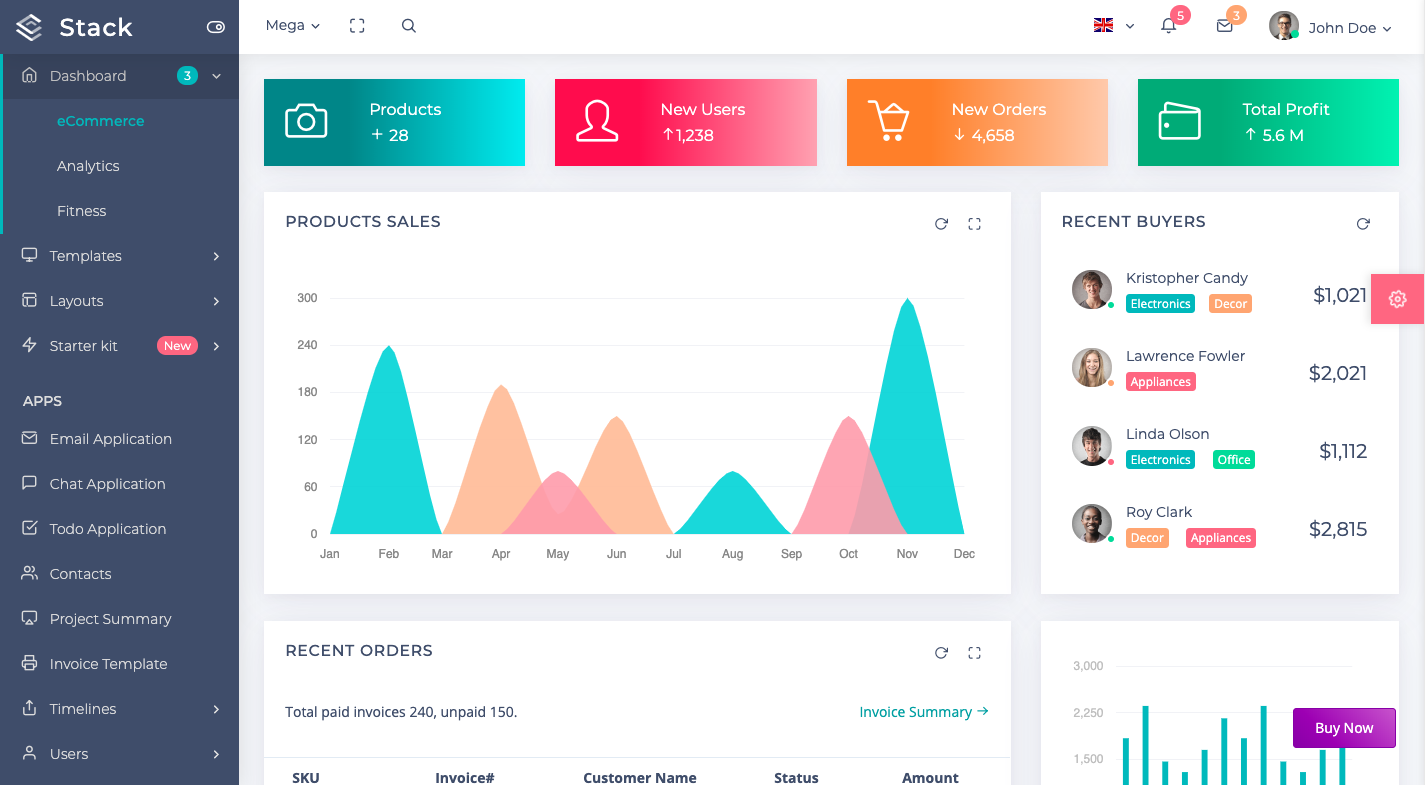 If you're searching for a most reviewed and reliable template, look no further. Apart from 1500+ positive comments across the web and excellent customer support, Stack even has an introduction video and Gitlab page, which is pretty rare. Among other benefits are regular updates and 8 ready-made layouts.
Stack is made for high performance – its loading time is only 2.66 seconds. As far as productivity and operational tools go, here are tons of very well-built applications in this admin template. You get a chat widget, email app, to-do list, project summary page, app full calendar, and contacts.

Stack Admin provides more than 230 HTML pages for all the commonly used pages like Users, Invoice, Search, Gallery, etc.  Other than that, there are over a hundred charts and cards and over 500 popular UI components.

Shockingly, the mobile version of the Stack e-commerce template is just as good as the desktop one. There you have a great fully functional mobile menu that operates through swipe gestures like any other great app you love.
Price: An Extended license retails for $699.
Xtreme
Xtreme Bootstrap admin is an xtremely efficient template for e-commerce applications. (See what we did there?) It is a truly aesthetically pleasing template available in 10 different styles and offering 10+ different dashboards and 10+ demos, 5 ready to use application designs and 3000+ font icons.

It is also very easy to customize the admin's interface since all UI elements are located in the sidebar. All you have to do is just pick the type of an interface component and proceed to configuration.

You might find especially useful Xtreme's Recent Comments and Recent Chats apps. This way it is much easier for customer support specialists to do their job without having to pay hundreds of dollars monthly to dedicated services. For the price that Xtreme charges, this versatile admin template is a great investment.

Price: An Extended license retails for $399, a Multiple Extended license – $999.
Metronic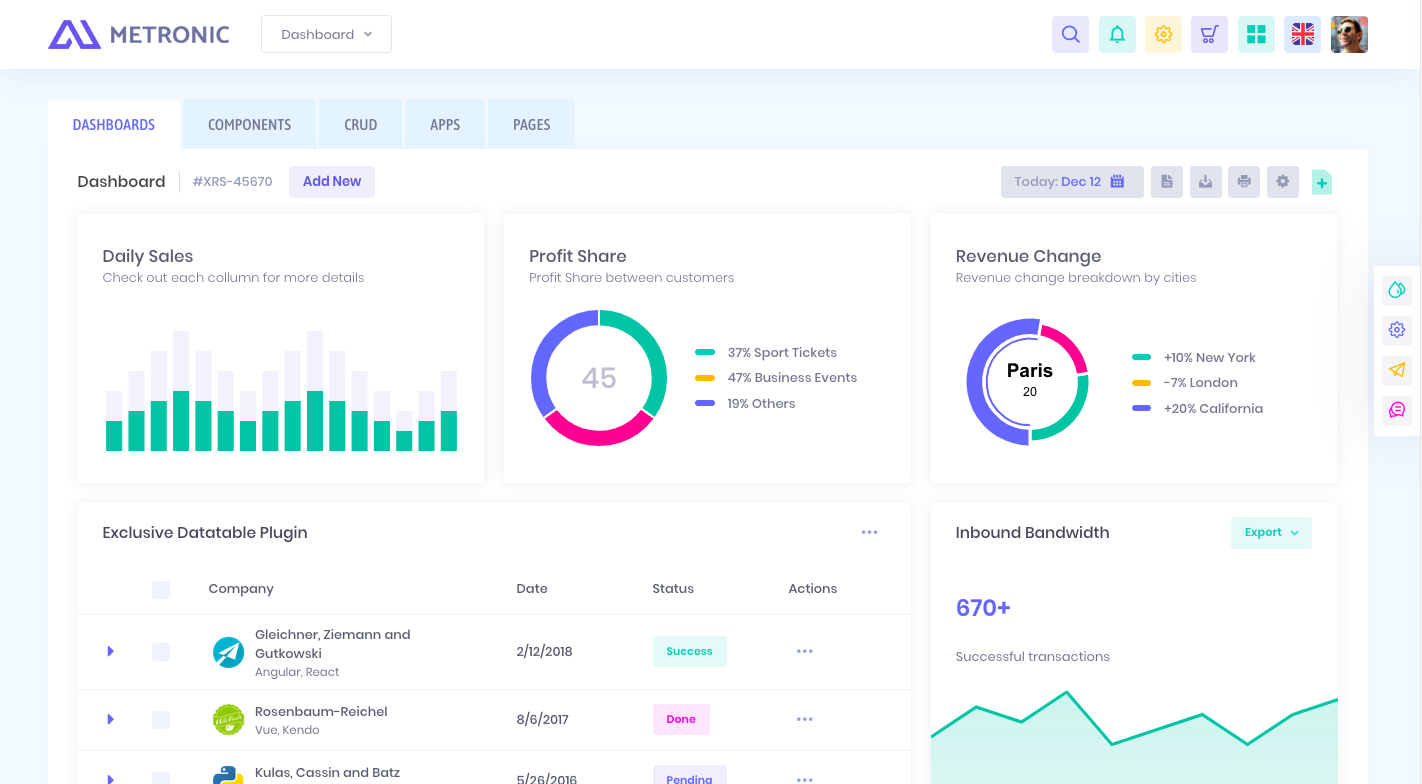 With native Angular 8, ReactJS and HTML versions, and a wide range of integrated plugins, angular template, Metronic is a powerful and effortlessly customizable admin template. It is perfectly suited for all level of developers: you can boost your development with npm, gulp, and SASS, complete Angular 8 implementation, and use React Redux material classic jQuery, angular components, angular cli. You can also get access to the latest development code, report bugs and issues, and merge new updates on Metronic's GitHub page.
The Metronic team is one of the few in this sector that really care about their reputation and customer experience. That's why they uploaded a lot of video tutorials on how to kick start your project and set up an admin in the most efficient way.
What we personally loved about Metronic is their well-developed widgets. For example, you get a Best Sellers widget to identify your best-selling products, Support Tickets to manage customer's complaints on time, and Tasks that can be sorted by date, week, and month.
Price: An Extended license retails for $1200.
Dashforge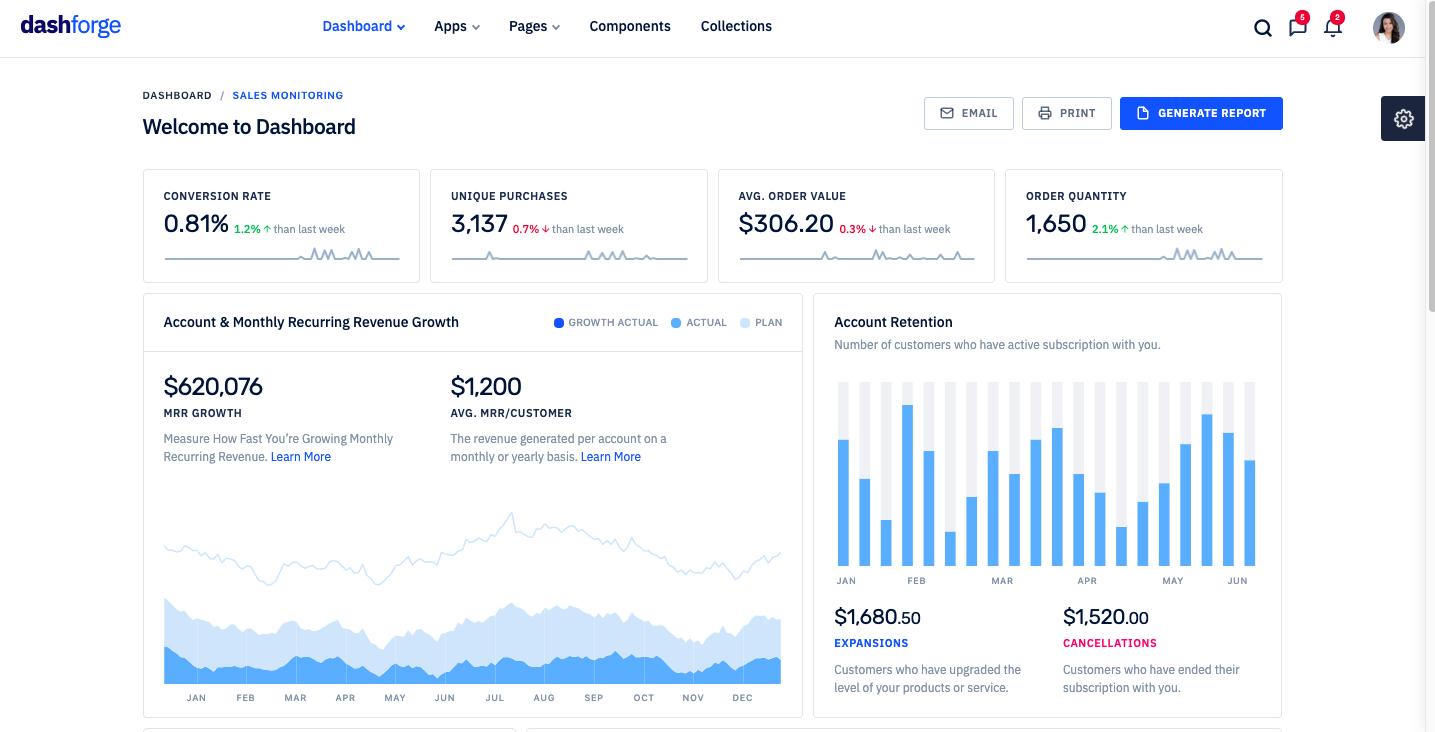 Dashforge admin template challenges you to only focus on what matters to your business. The design is clean and fresh with nothing that could potentially distract or annoy you or your teammates. You can choose from horizontal or vertical navigation layouts and three navigation skins.

4 pre-built dashboard templates, 1000+ font icons, 500+ reusable components, and tons of ready-made widgets and UI components. With Dashforge, your day-to-day work becomes much easier. Out of the box, you get integrations with Google Maps, Leaflet Maps, jQVMap, and various custom jQuery powered plugins. Not only that, but you can also take advantage of a mailbox app, chat, contacts, file manager, calendar, etc.

Price: An Extended license retails for $599.
CalmUI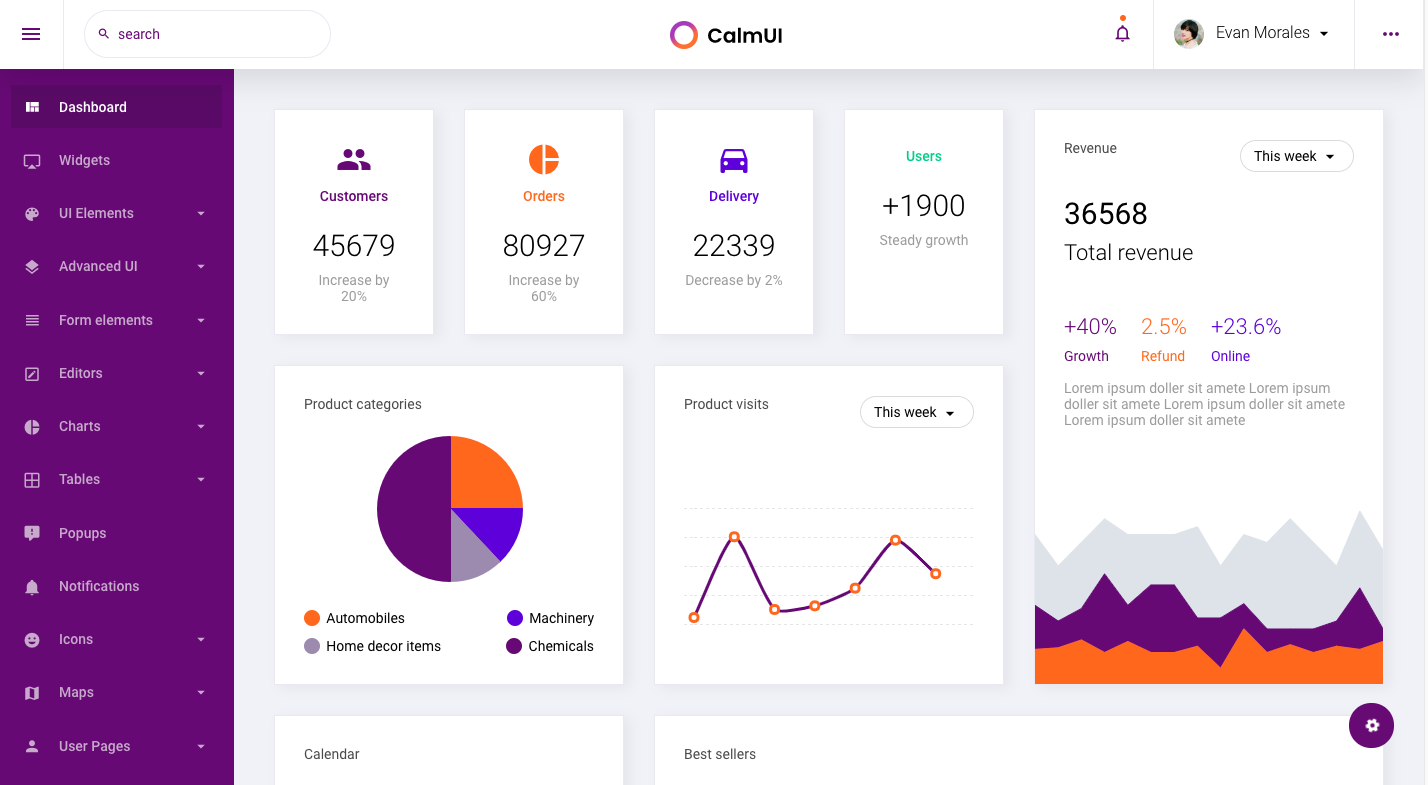 Anything with a "UI" in its name ought to have a beautiful interface, right? In the case of Calm UI admin template, it is exactly the truth. It's clear to see that the team really paid attention to details while creating this kit. You will make use of different styles of web pages, layouts, map widgets, tables, charts, cards, and more.

What's more, CalmUI's clean code gathered many positive comments and said to be exceptionally easy to comprehend by developers of all levels. Again, a lot of useful widgets, configurable alerts and popup notifications, an advanced UI elements will be more than enough to manage daily operations of any e-commerce startup.


Price: An Extended license retails for $700.
Do you actually need an admin template?
Before you roll your eyes and scroll past this paragraph, let us sort it out for you. Admin templates are a rather simple and elegant tool, but they might not be the right fit for everyone.

In general, they are great for testing an MVP due to a relatively cheap price and the simplicity of use. However, if your application or website already has a complex business logic and is growing by day, you'll be better off looking for flexible and scalable admin solutions instead of anchoring yourself to any given template architecture. The next reasonable question would be what solutions are scalable enough?
Jet Admin – Admin Template without code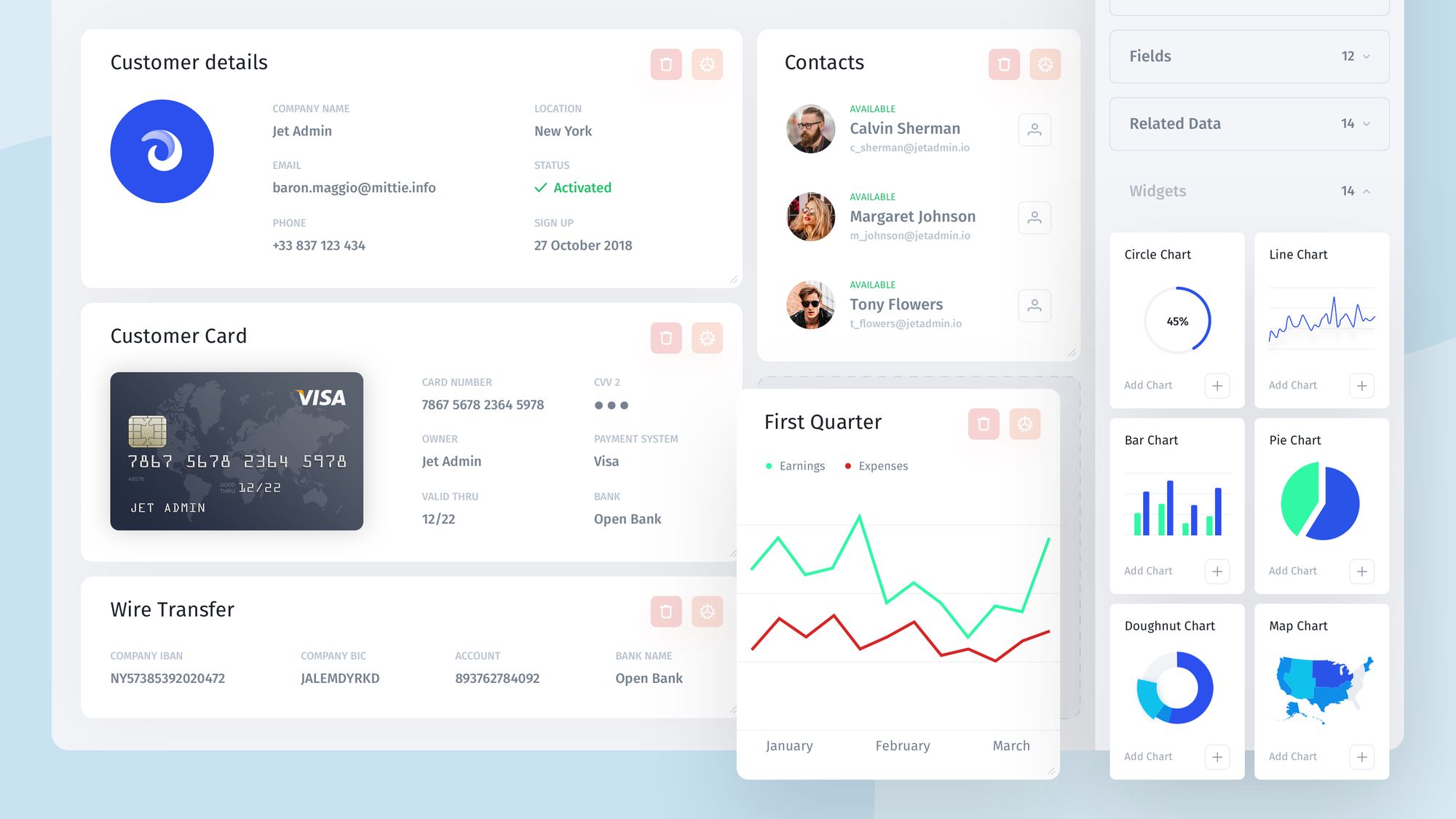 Jet Admin is able to automatically generate an admin interface for your web application based on your data in 1 min. Jet Admin offers all the tools any e-commerce project might need: tracking KPI on the dashboard, manage orders and products, onboarding new customers, and more with powerful multiple layouts, fully responsive. Check out a success e-commerce story here.
Jet is a fully customizable solution that allow you to create a new app without coding. (We see you and appreciate you, non-tech guys). Needless to say, the admin panel is maintained by the provider, so you don't have to write a single line of code to keep it going.
* * *

We hope this article helped to clarify your doubts about e-commerce admin templates and alternative options. However, if you're still uncertain about choosing an admin panel solution, do yourself a favor and read our guide on how to set up an admin panel and what things to consider before making up your mind. Take care!