Customer support can pose a serious challenge at times for one's company. Mastering dealing with people and trying to meet their expectations is no easy task. It takes a great system and an even better team to really get on top of it.

We've compiled a handful of tedious tasks that we've automated for ourselves and some of our clients that are bound to be of some help to you and your customer support team.

In short, we're going to show you how we automated:
Client Onboarding
Refunding money
Client Support Management
Marketing Campaigns
Content Management
So let's begin!
Automating the Client Onboarding Process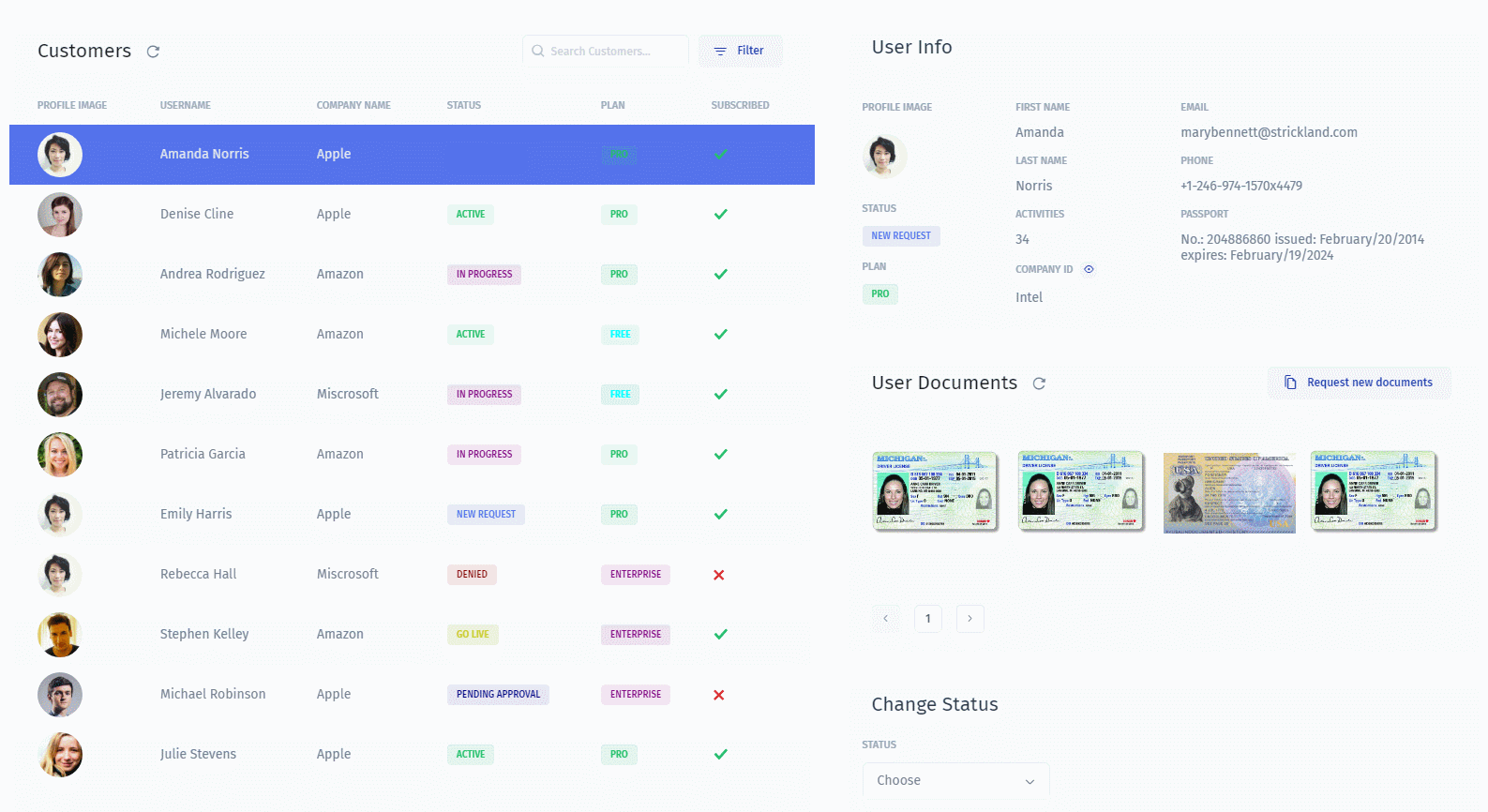 Customer's onboarding is a critical step in the banking (KYC/AML onboarding), mobility, healthcare industry as companies need to comply with regulatory requirements in addition to providing a stellar customer experience.

Here are the common problems for tackling this challenge:
It takes a lot of time to build a custom tool, and the currently available CRMs or Excel don't support these kinds of custom flows. Aside from that, it takes a lot of integrations to make it function properly.
Scalability issue: In this case, if your company is growing fast, you need to expand your customer support team, which isn't always optimal.
High Time to Resolution and Lower NPS. Your customers need to wait a while until you handle their request.
Onboard new customer support employees how to use an ever-growing tech stack becomes increasingly difficult. With every new hire, you need to onboard them by explaining the workflow of services you use (Zendesk, Stripe...).

Here's how customer support teams usually operate, without the help of Jet Admin:

Track an onboarding request in CRM, Excel, or some other solution
Verify the customer documents
Request missing documents by email/SMS/push using SendGrid/Twilio
Send approval to another department or team member
Provide service access to customer
Notify user of request statuses

If you've previously used Excel or any other CRM that's not built for onboarding your customers, you've undoubtedly noticed that it becomes challenging to develop and automate an onboarding flow with different active statuses and manage when people need to implement changes. By passing through different versions and formats, they often break due to incompatibility.

Besides, Excel and other CRMs don't provide an advanced analytics overview, which is sometimes needed for gaining new insights.

Many people opt for using a CRM, but they quickly realize that most CRM's are aimed at salespeople for sales purposes. While they are handy for most use cases, they are limited in functionality because of their robustness.

For such reasons, many companies decide to go for something more custom-tailored to their needs. This is where JetAdmin comes in.
Imagine if you could finally organize your onboarding process in a Kanban board style, create workflows, email campaigns, all from a single interface.

That would be cool, right? What if we can show you how to make personalized dashboards and automate your customer onboarding?

JetAdmin is a no-code tool builder that focuses on automating many of your difficult tasks with no engineering or developer help whatsoever.

Here's an overview of just how simple using JetAdmin can be to create a personalized customer onboarding to ensure customer deliverability and satisfaction but also work efficiency for to your team:
You can also:
Show where customers are in the onboarding process with critical milestones and status info.
Add dynamic buttons that display relevant actions for each onboarding step.
Enable file uploads, creation of new records, and more to finish setting up accounts.

Custom-tailored to your needs in a matter of minutes, depending on how advanced you want your onboarding tool to be.
Get started with building your onboarding tool with our pre-built template!
Refunding Payments To Customers Within Seconds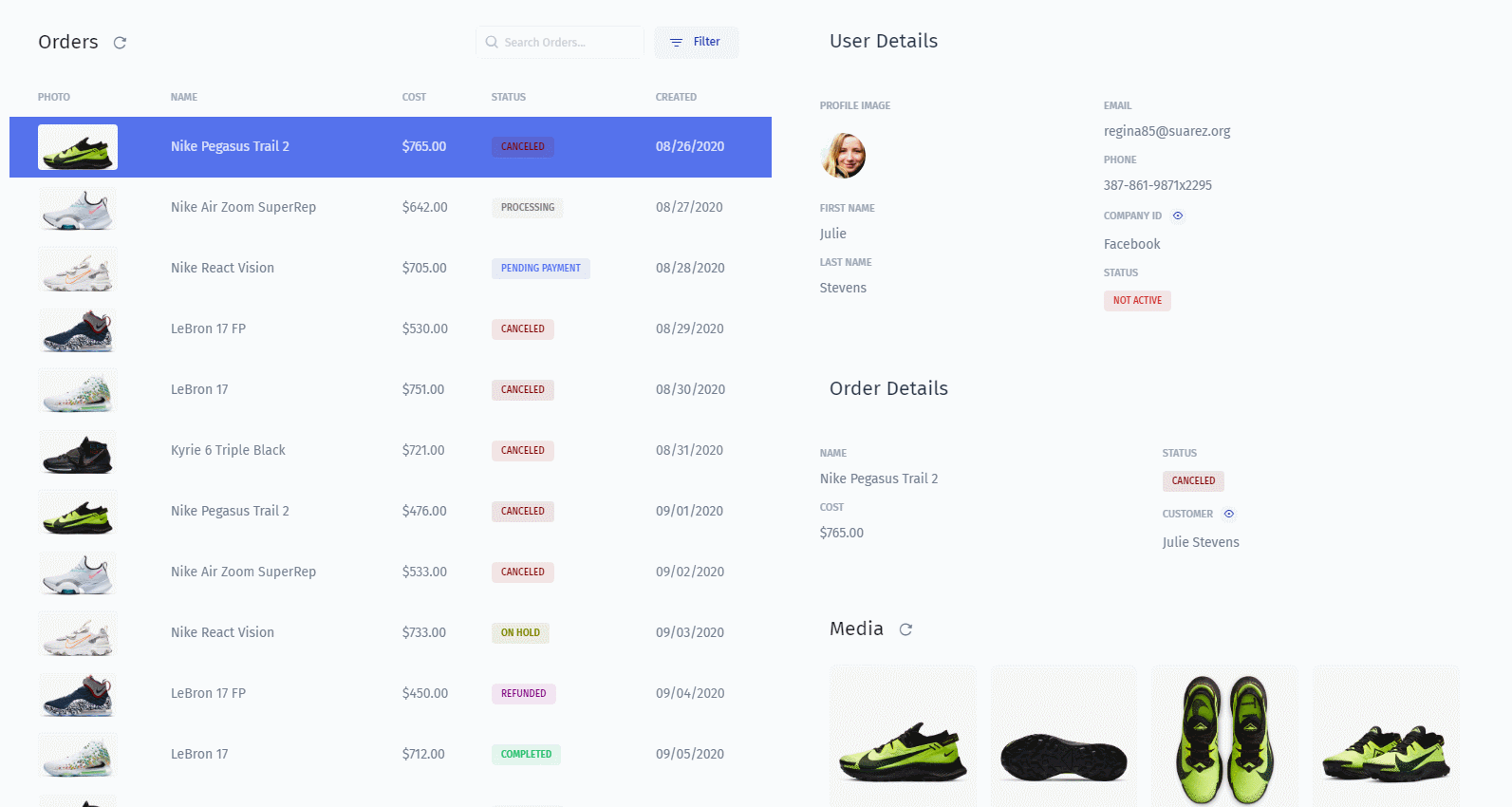 Refunding payments can be quite tiresome sometimes. The issue usually isn't that one particular refund takes a lot of time, but when you have to refund a payment hundreds of times, it can be annoying and frustrating.
Here's how a company would usually do it:
Tracking tickets. Firstly, you start with your ticket system like a Zendesk where you track all customer requests.
Using the ticket information like customer and order details you search the order in your database or CMS to find transaction details.
You make a refund. To make a refund you need to find the transaction and make a refund in a Payment tool such as Stripe or whatever else you're using.
You need to notify the customers by email/SMS/push, update your data in the database, and close a ticket in Zendesk.
These operations take a lot of time from your customer support team.
Each team member needs to be onboarded to use various services (Zendesk, Stripe, ...). But what happens if you have millions of requests per month?!

With many companies relying on manual actions, logging in and out of different payment platforms, they're left asking: "Is there a better way to do this? Is there a way to automate this, once and for all?"

Well, we think we're onto something.

A tool powered by Stripe to issue full or partial refunds to your customers, cancel payments, and automatically send notifying emails via SendGrid.

Sounds time-saving, right?
You're able to view and manage your customers' orders with ease.

Show all order details in one place, regardless of where they live.
Add a button to create, change, or cancel orders.
Connect Stripe to view payments records and administer refunds.

Everything in a single platform, with as many data sources you need to pull to have a complete and detailed profile of all your customers.

Here's a pre-built template for the Stripe Refund Tool you can try out, right now!


Manage All Your Customers/Clients From A Single Dashboard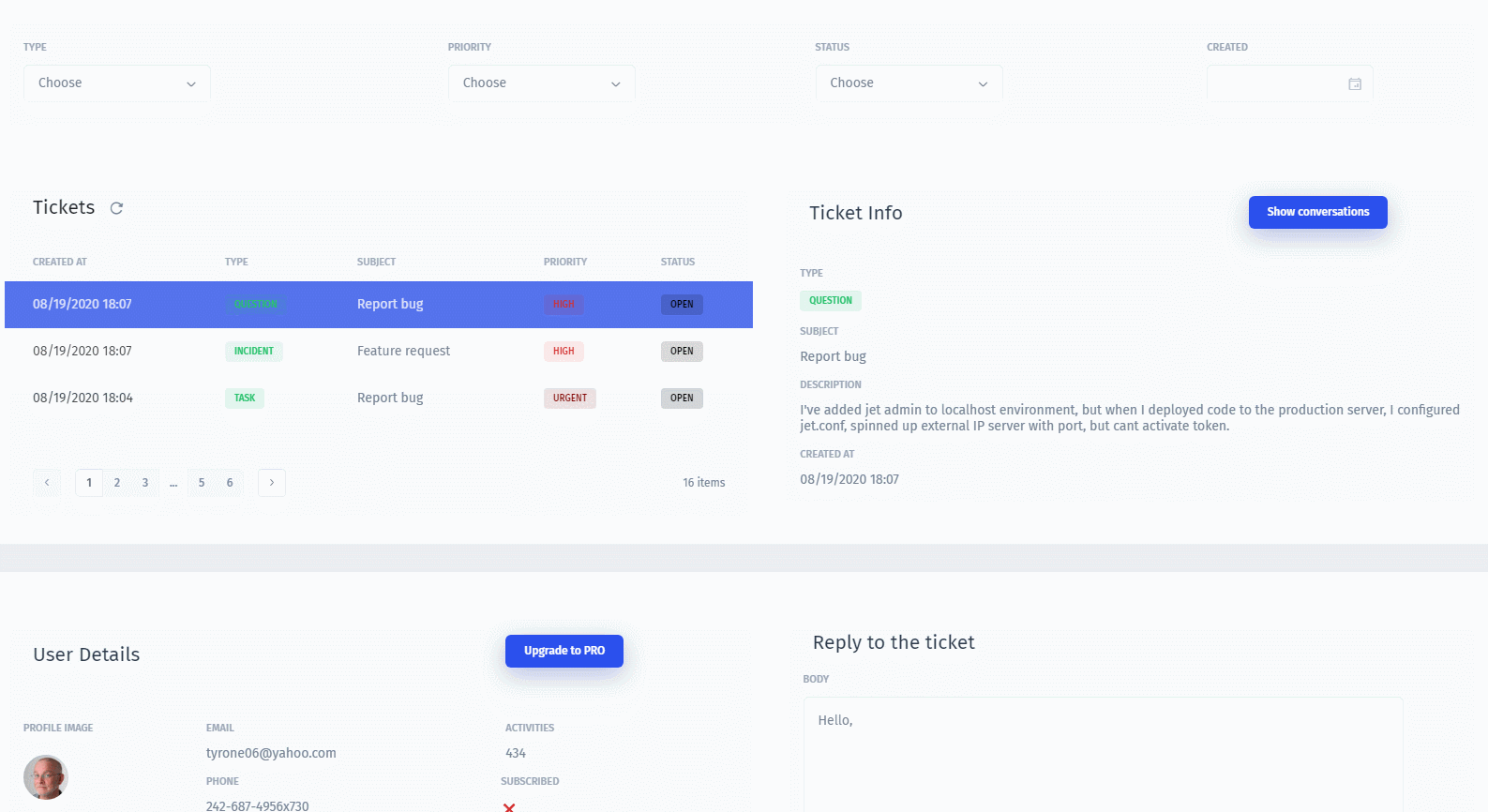 CRM, but for customer service teams?

CRMs are great, but they are mainly aimed at salespeople. And many of us have thought before, what if we could customize and turn our CRM into customer service, customer-tracking machine?!

But not only that, what if we could compile all of the client's information that we've collected through different sources into a single place to get a complete overview of everything necessary.
Besides using multiple platforms, CRMs, and Chatbots and looking at each data set manually, you can automatically bring all of that together.
No more complications, confusion, and time spent wasted.
Here are just some of the things you can do:
Import lead information from Intercom and Zendesk to Jetadmin
Set up a ticketing workflow
Chat with your clients online and create charts to measure the quality of your service

All without leaving the platform. And to get started right away, we've prepared a pre-built template for managing all your clients in one place.
Create an Admin Panel for Content Management Within Minutes
Manage your application data, such as users, orders, transactions, and more, with one neatly organized admin panel.
Most of the time, smaller companies rely on clunky CRMs, spreadsheets, and weird custom integrations to glue everything together into a working ecosystem. In contrast, more prominent companies build their internal tools from scratch.
Which is okay if you're just starting out and need rapid business development without focusing on efficiency and productivity.

Fortunately, now, there's a way to integrate all of your essential data sets into a single platform, enabling you to bypass all of the messiness of using multiple tools in an unorganized manner.
With JetAdmin, you can empower teams to easily manage content in your database to power the user experience, with features like:
Add an editor that writes back directly to your source of truth (your database).
Enable one-click publish/unpublish with dynamic buttons.
Control who can view or edit fields and track all change history.
It's as simple as:
Creating the desired layout (or using a completely premade template)
Insert your data set (or multiple data sets)
Customize and sort the displayed data
Publish and share it with the rest of your team!
Imagine how fast you, or your team, can finish your tedious, boring, daily processes by creating an internal tool for your team to utilize and increase work productivity.
Here's our pre-built template for getting you started with building your own Admin panel within minutes.

Sending Promo Codes to Customers Within Seconds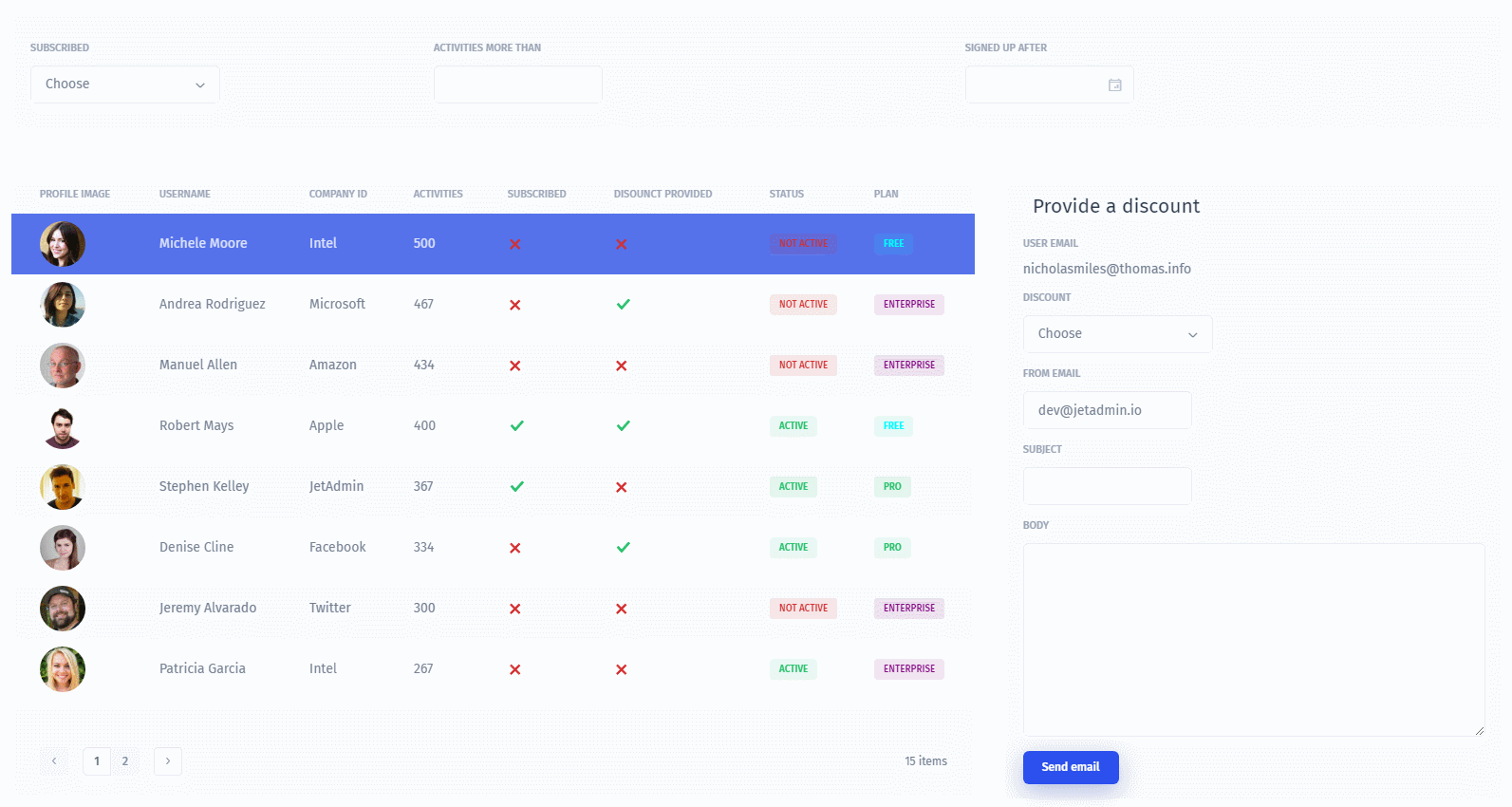 Have you ever tracked how much time, on average, your team spends sending promo codes to your specific customers on a daily, weekly, or monthly basis?
As you might have imagined, it's quite more than anticipated.
With back-and-forth switching between apps, getting authorization from senior management, and making sure no technical mistakes are made that produce errors and lose the company money, plenty of companies opt to simply avoid the whole thing altogether.
JetAdmin changes that by providing an all-in-one tool to manage marketing campaigns. Create coupons that clients can apply to your offers via Stripe, get the word out in a newsletter emailed via SendGrid, and send personalized messages with Twilio.
Discounts and promo codes are an excellent way to promote customer loyalty and stimulate sales.
Here are some of the additional functionality it offers:
Show customers and orders details with search and filtering capabilities like:
Number of orders
Life-time-value (LTV) and so on.
Ability to create promo codes and manage their discounts, descriptions, and expiry dates
Connect SendGrid, Twilio, Firebase to send emails and or do SMS and push notifications
Cool, right?
Read our short post in which we explain how one of our clients, FoodBerry, uses JetAdmin for not only coupon management but also for employee management, customer delivery, and as a CRM.
Here's a pre-built promo code/coupon template that you can use right now to get started!
Bottom line
The whole idea behind using JetAdmin is to avoid a person opening dozens of tabs in the browser to navigate through and hopefully not make errors in the process but have the whole process in a single platform, with an ability to automate tasks and work much more efficiently and productively.
If you see any of these processes as tiresome and dull, and you wish your team could focus on more productive and vital tasks, then JetAdmin could be your go-to internal tool builder.
Did we mention there's a live demo with which you can play around and get a feel for things before investing a penny?
Additionally, with our 14-day onboarding process, you won't have to worry about getting stuck on a particular implementation. You and your team can truly focus on the company tasks at hand and not spend time only building tools without any results to show for it.
Here's a youtube video showing you how easy it is to create your first internal tool!
Thank you for reading!